Would George Harrison Like the New Video for 'My Sweet Lord'?
Since George Harrison died in 2001, his son, Dhani, has done an impeccable job safeguarding his legacy. He's helped finish his father's posthumous album, Brainwashed, represented George at all sorts of Beatles events, and recently remastered George's crown jewel, his solo debut, All Things Must Pass. Now, he's produced a new music video for George's first solo No. 1 hit, "My Sweet Lord."
However, knowing what we know about George, we can't help but wonder what he'd think of the new music video, which boasts some great cameos from rockstars and comedians alike. It's a tricky situation. If anyone knew George the best, it would be Dhani, but we're not a hundred percent sure George would appreciate the video.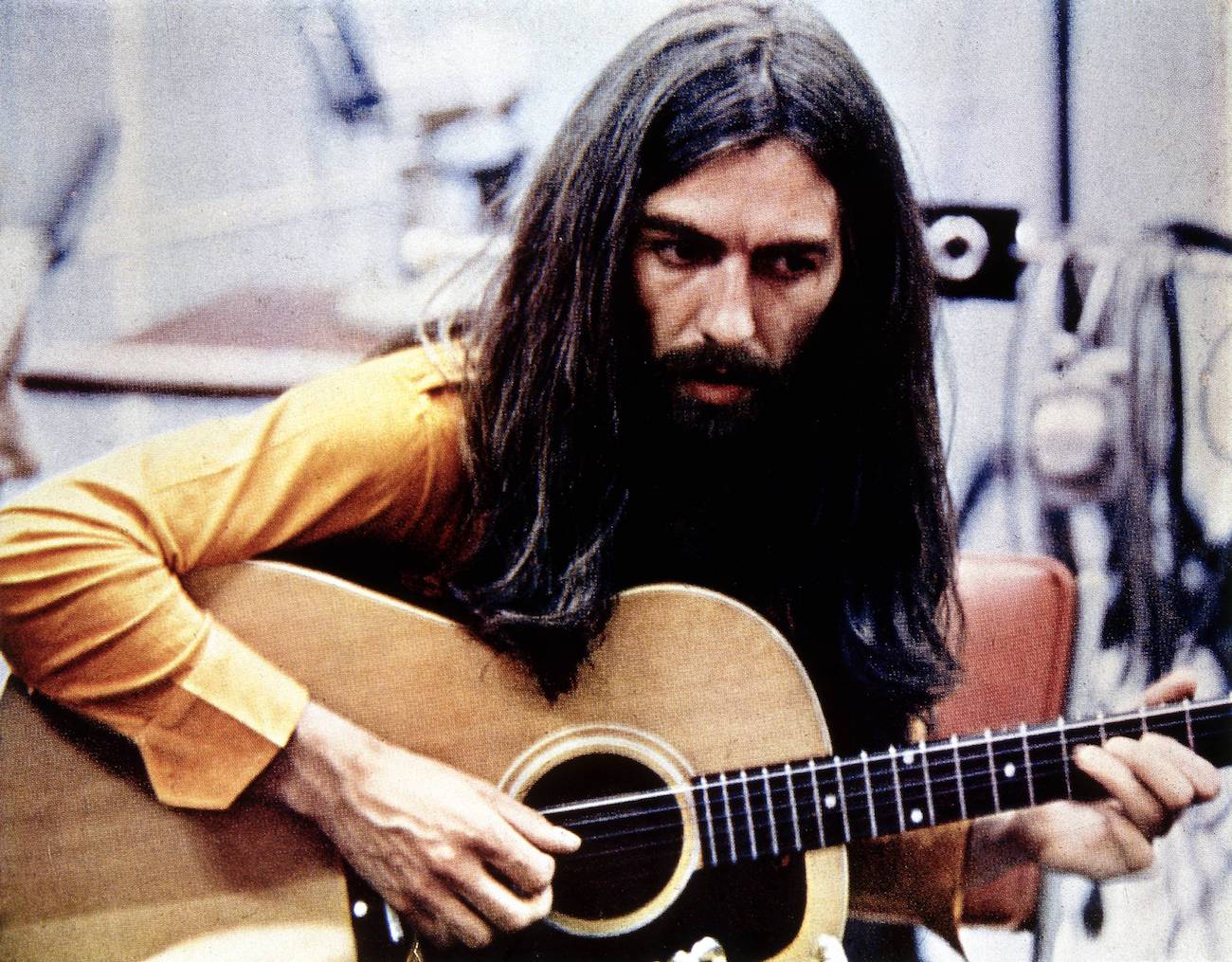 George Harrison's new video for 'My Sweet Lord' has some surprise guests
There's a lot to unpack in the new video for George's "My Sweet Lord." Lance Bangs wrote and directed it and Dhani and George's estate runner David Zonshine produced it. It's cameo-packed.
Mark Hamill gets a call from "the bureau" that "it's happening again." Comedians Fred Armisen and Vanessa Bayer, metaphysical special agents, are called to find whatever the bureau wants them to see. He hands Armisen a flashlight and the bureau's "latest scanner."
Then, the duo travels through a wonky bookshop, scanning various objects. Que a crisp sounding "My Sweet Lord." Armisen and Bayer encounter Natasha Legerro, then split up. As Armisen is driving, he passes George's friend Jeff Lynne and bumps into Reggie Watts on the street. Then, Darren Criss ushers him into a cinema. Patton Oswalt checks tickets at the door while "Weird Al" Yankovic serves at the concession stand.
In the theater, the audience is watching some of George's home videos. Next, Armisen disrupts Ringo Starr and Joe Walsh, who throw popcorn at him. Then Jon Hamm tells him that he's sending some backup over a video call.
Some of the back-ups are Rupert Friend, Dhani himself, Taika Waititi, Angus Sampson, Eric Wareheim, Tim Heidecker, Garfunkel and Oates (Kate Micucci and Riki Lindhome), and George's widow, Olivia Harrison.
Armisen and Bayer reconvene and reveal they haven't found anything. Armisen says he didn't even realize what was playing in the theater. However, once the car radio starts playing "My Sweet Lord," they listen in wonder. Could this be what they were looking for?
RELATED: George Harrison Named the Traveling Wilburys After a Slang Term He Used in the Recording Studio
George would have liked the video's random humor and deeper meaning
Comedy was a big part of George's life. He was pals with the guys in Monty Python, including Eric Idle, and even produced Monty Python's Life of Brian. George himself had a very tongue-in-cheek sense of humor. So, the video's random comedy would have probably made George laugh.
However, the video's overall message is what George would have loved the most. Whatever the special agents are looking for, it seems as if Dhani wanted to keep it ambiguous. But we can bet that what the agents are seeking, what is right in front of them, is spirituality, God, or any of the other things George spent his life looking for. That's what George is talking about in "My Sweet Lord."
Jim Merlis of Big Hassle Media wrote in a press release, "Along the way dozens of agents team up to look high and low for what may have been right in front of their face all along, mirroring the seeking nature of the song… This music video pays tribute to Harrison's sense of humor and his indelible impact on both music and comedy."
"Making this was one of the most fulfilling experiences of my life," Bangs said in the press release. "The approach was to represent the song visually while these agents and inspectors kept missing the metaphysical wonder around them. Images are choreographed to the sounds of vocal melodies, guitar strums, drum patterns, chord changes.
"George threaded a sense of humor through all of his videos, so we kept that spirit and filled the cast with friends and admirers of his music, many coming from the current comedy landscape. I tracked down vintage prime lenses from some of the films George's HandMade Films had produced, and I hope that viewers can feel a sense of wonder and searching while they watch it, and that the song continues to add to all of our lives."
So, the video perfectly combines George's love of comedy and spirituality. But some would argue that George was very serious about the spiritual message of "My Sweet Lord." He also didn't like promoting himself.
RELATED: George Harrison Said Newer Music Didn't Give Him 'a Buzz' but His Son Introduced Him to 1 Band That Did
George may not have liked making a spectacle of 'My Sweet Lord'
Although the video touches on two crucial things in George's life, it might not be something he would have liked simply because he didn't like promotion.
The video aims to help promote the 50th anniversary of All Things Must Pass, which took Dhani months to remaster. Therefore the version of "My Sweet Lord" that we hear in the video is the sparkly new version Dhani just released.
In 1979, George told Rolling Stone that he hated promotion. It was one of the reasons he'd stopped making music in 1977.
"I still enjoy writing a tune and enjoy in a way making a record," George explained. "But I hate that whole thing of when you put it out, you become a part of the overall framework of the business. And I was a bit bored with that. If I write a tune and people think it's nice then that's fine by me; but I hate having to compete and promote the thing. I really don't like promotion.
"In the Sixties we overdosed on that, and then I consciously went out of my way at the end of the Sixties, early Seventies, to try and be a bit more obscure. What you find is that you have a hit and suddenly everybody's knocking on your door and bugging you again. I enjoy being low profile and having a peaceful sort of life."
None of us, not even Dhani, can genuinely say what George would have thought about the video for sure. But we trust Dhani's judgment. Just as we did when he said his father would have liked Peter Jackson's new documentary, The Beatles: Get Back, even though George hated Let It Be.
We're never going to know the answer, but that's what the video for "My Sweet Lord" says. We can search for answers all our lives, and they might be staring us right in the face.