George Harrison Once Lived Next to an All-Girls School That Didn't Give Him Any Privacy
In 1964, George Harrison purchased his first home, a bungalow in Surrey, England. Living there started George's interest in domesticity, although he didn't quite live as he did at Friar Park, his second and last residence.
However, George quickly learned that there were some downsides to purchasing the property. His bungalow sat precariously close to an all-girls school. At the height of Beatlemania, that was not ideal.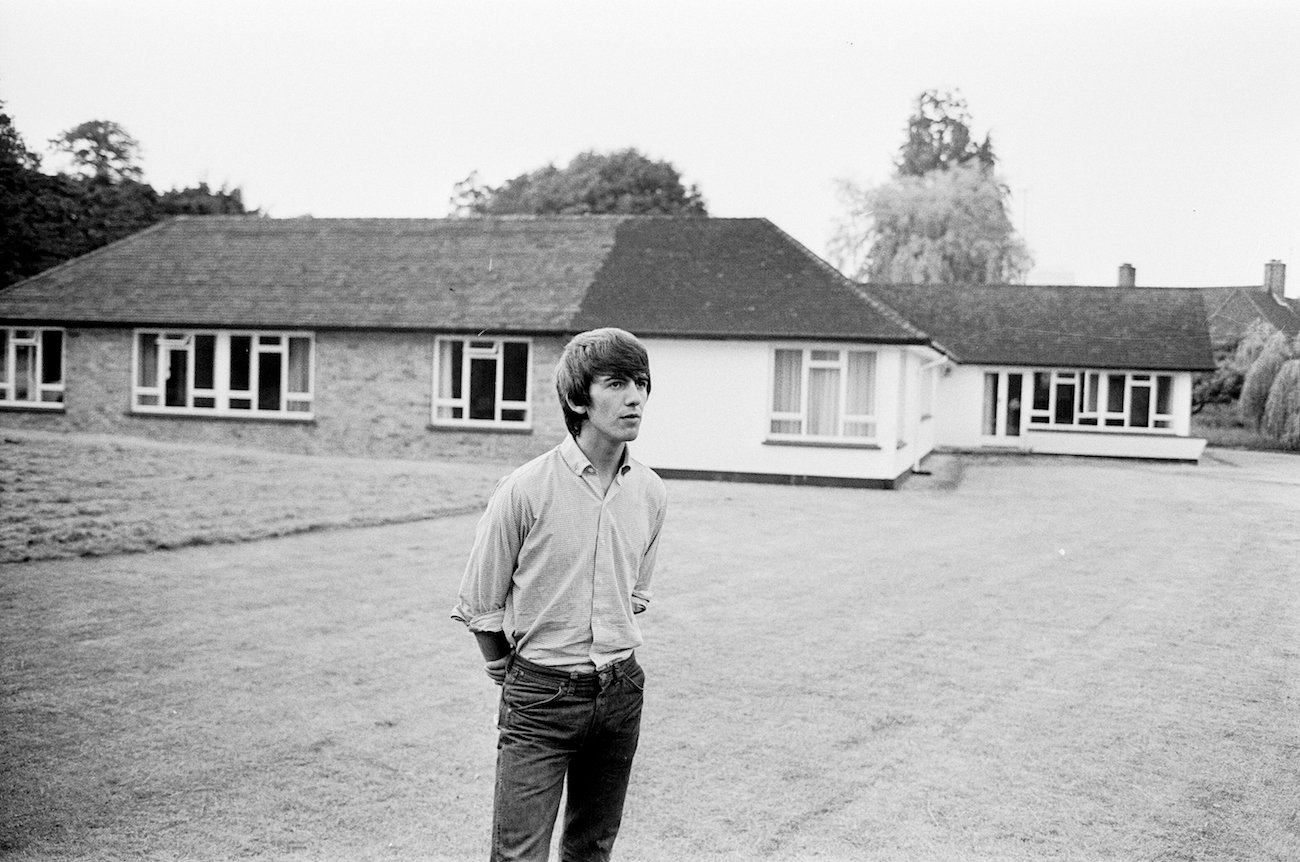 George Harrison bought a bungalow in Surrey in 1964
While The Beatles were on location in the Bahamas filming their second movie, Eight Arms to Hold You, eventually named Help!, George gave a magazine interview with The Beatles' press officer, Derek Taylor. Ashley Kahn recorded the interview in George Harrison on George Harrison: Interviews and Encounters.
In the interview, George talked about his recently purchased bungalow, Kinfauns, in Surrey, England. He said he had a woman named Margaret Walker who cooked and cleaned.
However, the George who lived at Kinfauns was different from the George who later resided at Friar Park, the dilapidated mansion he bought in 1970.
George started loving gardening when he bought Friar Park. He spent the rest of his life fixing and tweaking it. However, George didn't have his green thumb yet while living at Kinfauns. He told Taylor that gardening was too much trouble but that he liked having someone else take care of it. George also said he liked the house the way it was, a stark contrast to the George who worked tirelessly on fixing Friar Park for years.
There was also another big difference between George's homes. Friar Park had extensive grounds, a gate, and therefore more privacy. Kinfauns didn't.
RELATED: The Doors: John Densmore Said George Harrison's Words Helped Him Grieve Ray Manzarek
Kinfauns was close to an all-girls school
During his interview, George said some fans knew where he lived, especially the students of an all-girls school down the road.
"Actually there's a girls' school right next to it but the head mistress was good and she told the kids to give me a bit of privacy," George told Taylor.
Still, other fans found the property. There's a video of some fans getting their autographs signed by George right on his front porch.
RELATED: Doctors Prescribed George Harrison Medicine That Contained Morphine When He Was Sick in 1963
George craved his privacy
Being a Beatle afforded little to no privacy, which carried on for the rest of George's life. In a special edition of Rolling Stone called "Remembering George," Elton John explained George's views of privacy perfectly.
"He didn't like celebrity," Elton John said. "I think he'd had enough by 1970 to last three lifetimes. George just relished his gardening and his motor racing, and he loved his privacy."
However, a deranged fan breached that privacy during a home invasion into Friar Park in 1999. The fan almost killed George and his wife, Olivia. At that moment, George probably preferred the intrusion of the young girls from the school down the street from Kinfauns.
At least George had the privacy he deserved at the end of his life.
RELATED: What Happened With George Harrison's Photographer Lawsuit That Was Hinted in 'The Beatles: Get Back'?