George Harrison and Mick Fleetwood Were Ex-Brothers-in-Law Who Bonded Over a Love for Maui and Ukuleles
It doesn't happen very often in showbiz, but George Harrison and Mick Fleetwood were briefly brothers-in-law. The Fleetwood Mac drummer became George's brother-in-law when he married Jenny Boyd, the younger sister of George's wife Pattie Boyd, in 1970.
Although both their marriages ended, the musicians remained friends and bonded over their shared love of tropical climates, Maui, and ukuleles.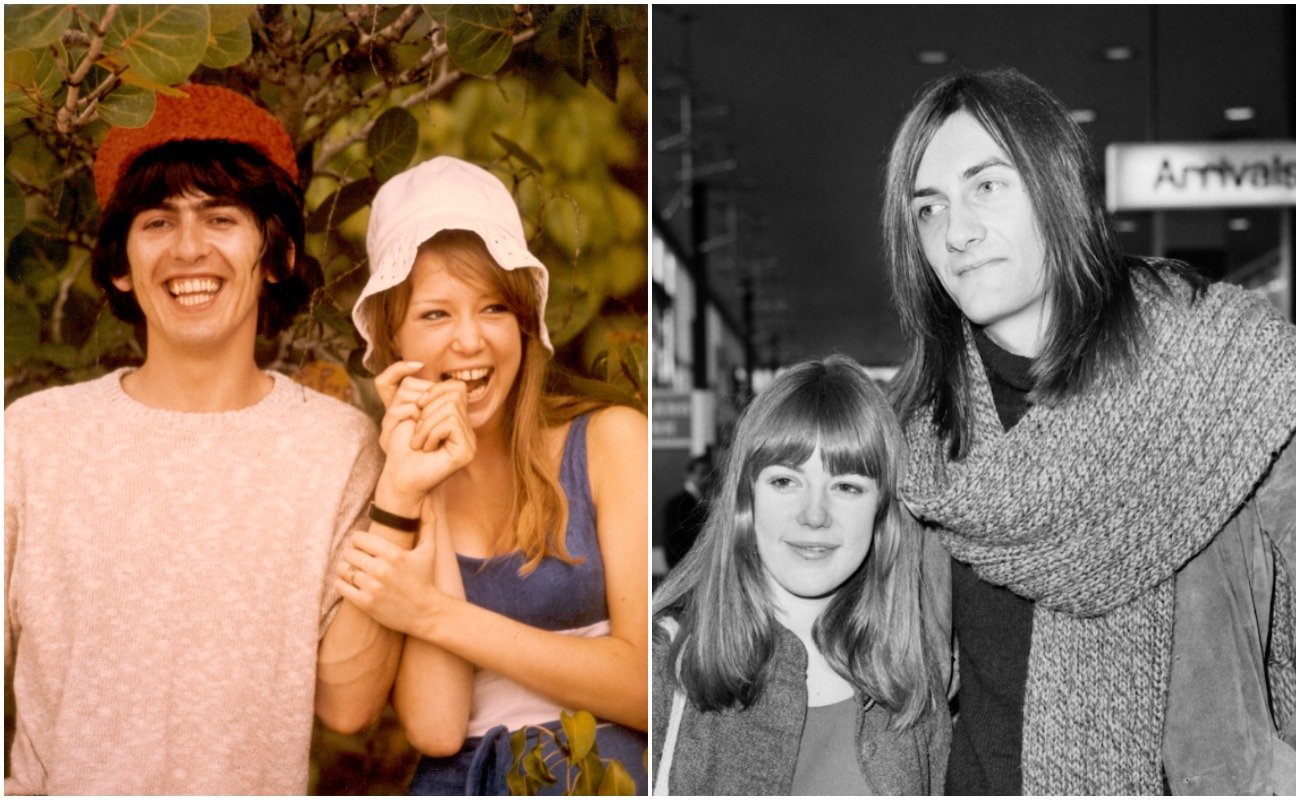 George Harrison taught Mick Fleetwood the importance of spirituality
The lead guitarist met Pattie while The Beatles filmed A Hard Day's Night in 1964. He asked her to marry him the first day they met, but they didn't tie the knot until 1966.
After a turbulent 11-year marriage, George and Pattie officially divorced in 1977. Although, they'd split in 1974 after George cheated on Pattie with Ringo Starr's wife, Maureen, and Pattie and Eric Clapton revealed they were in love.
Fleetwood wed the younger Boyd sister in 1970. They had two daughters, Amy and Lucy. However, their marriage didn't survive either. The pair divorced in 1975, briefly remarried in 1977, only to divorce again in 1978.
Whenever their paths crossed, George taught Fleetwood about spirituality. The Beatle had locked into Hinduism in the mid-1960s. By the early 1970s, he was writing love songs to God.
"He was friendly, kind, thoughtful, natural in his own skin, and loved to laugh," Fleetwood recalled of George in Play On: Now, Then, and Fleetwood Mac: The Autobiography. "George taught me the value of spirituality because even as a young man he was very in touch with his soul."
RELATED: Stevie Nicks Revealed Her Favorite Beatle: 'I Had Some Nice Moments With Him'
George and Fleetwood bonded over their love of Maui and ukuleles
Even though George and Fleetwood were only brothers-in-law for a brief time, they bonded over their shared interests. In an interview with Playboy (per Fleetwood Mac News), Fleetwood gave a tour of his Maui mansion. There were reminders of George all around the house.
Playboy wrote that George was often a visitor. Fleetwood said he had some nice shots of George hanging in one of his rooms. There's a reason why Fleetwood hangs pictures of George around his house. They were good friends.
They shared an interest in tropical climates, specifically Maui and ukuleles. "The moment I set foot on this island I had… a thing," Fleetwood said. "I literally felt like I'd lived in Maui all my life and that I'd finally come home."
Playboy wrote that Fleetwood even enjoys conversing about past-life regression therapy. George's spiritualism allowed him to believe in reincarnation.
When Fleetwood feels sentimental and wants to be alone, he goes to his cabin at his Maui home. At the time of his interview, Fleetwood said he'd been going to his cabin to think about George.
"I've been thinking about George Harrison more than ever since he died," Fleetwood said. "We were more than just brothers-in-law for a time; he was one of the very best friends I've ever had. We both loved Maui and Hawaii equally, because we both understood how special this place is.
"His song 'Cloud 9' really captures how he felt about this place, and I find myself thinking of the line 'I'll see you there on cloud nine' when I think about how much I miss him. George is the reason I'm playing ukulele lately too. He was such a great player, and he was obsessed with it.
"He used to drive around Maui with literally 20 of the things in his trunk, handing them out to friends, hawking the wares of this local guy who made them."
RELATED: George Harrison Gave George Martin a Statue of Ganesha the Hindu Elephant God After Martin Had Ear Surgery
The Beatle appeared on Fleetwood's 'Walk a Thin Line'
Fleetwood re-recorded Fleetwood Mac's "Walk a Thin Line" for his 1981 debut solo album, The Visitor. According to the Herald Courier, George played slide guitar on the song. However, it was unplanned. George was visiting when Fleetwood asked him to collaborate.
"Harrison, who was Mick Fleetwood's ex-brother-in-law, was invited to visit the studio during the recording of the song. While there, he contributed slide guitar and backing vocals to the song," the Herald Courier claims.
In 2020, Fleetwood covered George's "The Inner Light" in a home video. The cover came in response to the Material World Foundation and George family's "Inner Light Challenge."
Fleetwood is just one of the many people who miss George, though. Although, not all of those people got to be his brother-in-law.
RELATED: George Harrison Once Surprised Michael Caine by Playing Ukulele All Night