George Harrison Missed The Beatles' Days in Hamburg, Germany
George Harrison said he missed The Beatles' days in Hamburg, Germany. He enjoyed their camaraderie and carefree performances that went on late into the night. It was every band's dream.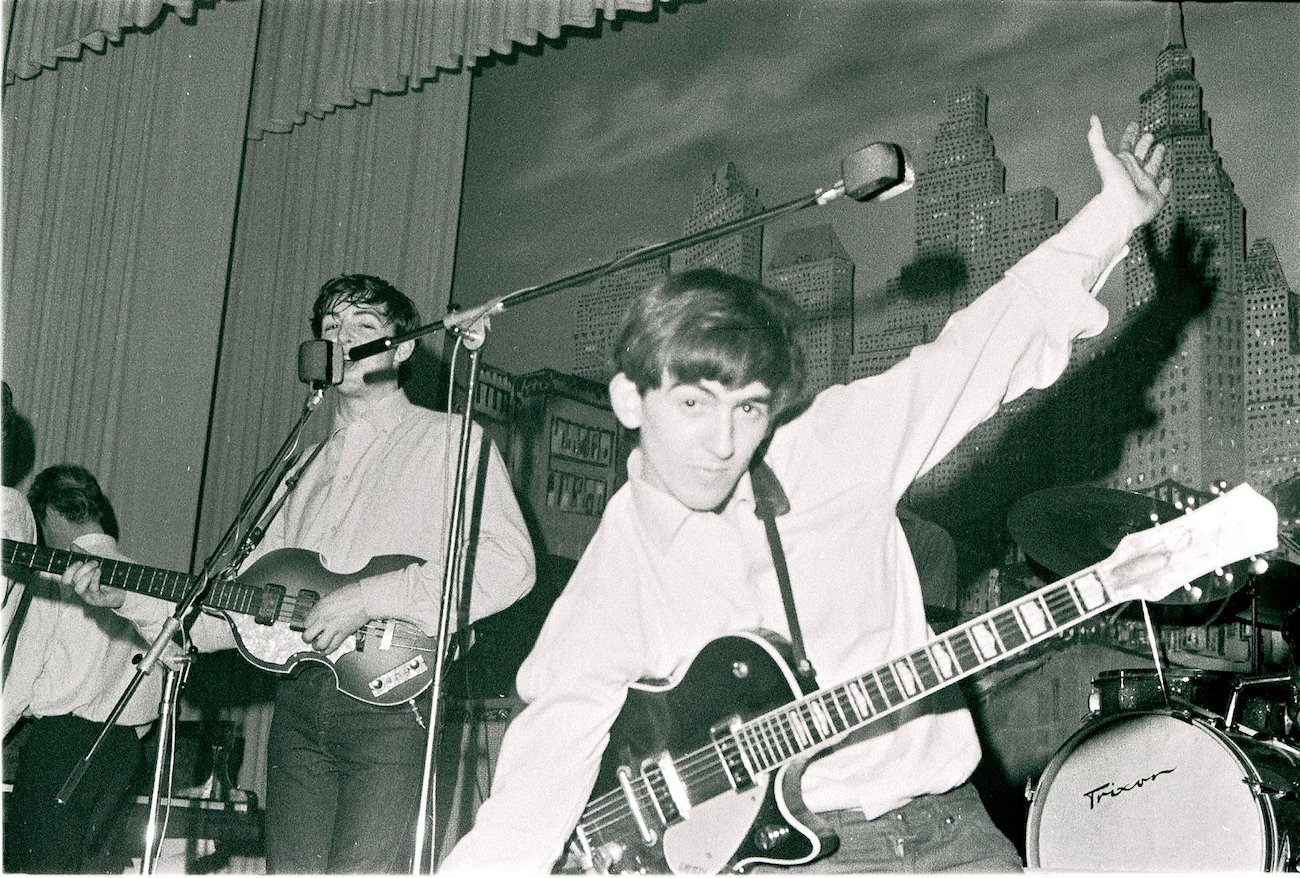 The Beatles set out for Germany in 1960
In 1960, The Beatles' first manager, Allan Williams, organized their residency in Hamburg, Germany. They set out in August, and a couple of days later, they arrived in the Reeperbahn, Hamburg's red-light district. The streets were crowded with gangsters, gunrunners, gaudy clubs, and seedy restaurants.
To George, it was the most exciting place.
"It was good fun, you know, but when we moved into the second club we were becoming so popular with the crowd of regulars, that we never got in any problems with all these gangster sort of people," George told Crawdaddy in 1977 (per George Harrison on George Harrison: Interviews and Encounters).
"They never tried to beat us up, because they knew, you know, the Beatles… In the Hamburg days we had to play so long and really rock it up and leap about and foam at the mouth and do whatever."
George missed The Beatles' time in Hamburg
Once The Beatles became famous, their residency in Hamburg became just a memory. When George and the band went on world tours, playing the same 10 songs repeatedly, he started missing their carefree shows in Hamburg.
"I just had such a good time just playing, you know," George said. "That's what I miss. Even when we sold records and started doing a lot of tours, it was a bit of a drag because we'd go on the road and we'd play the same tunes to different people and then we'd drop a few and add news ones all the time, but basically it was the same old tunes.
"It got stale. I felt stale, you know because you play the same riffs da-dada-ding-ding-dow, you know, 'Twist and Shout' and things. By the time you came off the road, been touring the world, I'd just want to not particularly … [look at an instrument]."
George said The Beatles 'didn't have a clue' before going to Hamburg
In 1992 George told Guitar World that before Hamburg, The Beatles "had no clue."
"We'd never really done any gigs," he said. "We'd play a few parties, but we'd never had a drummer longer than one night at a time. So we were very ropy, just young kids. I was actually the youngest-I was only 17, and you had to be 18 to play in the clubs-and we had no visas.
"They wound up deporting me after our second year there. Then Paul and Pete Best got deported for some silly reason, and John just figured he might as well come home. But when we went there, we weren't a unit as a band yet. When we arrived in Hamburg, we started playing eight hours a day-like a full workday. We did that for a total of 11 or 12 months, on and off over a two year period. It was pretty intense."
According to the L.A. Times, the band's contract required them to perform for 30 hours, six nights a week, earning a generous $51 in those days. "Hamburg was really like our apprenticeship, learning how to play in front of people," George later said. Playing non-stop for 48 nights straight couldn't hurt their playing, after all.
"We were forced to learn to play everything," George told Guitar World. First, The Beatles played music from their heroes. Then, they "had to stretch and play a lot of stuff that we didn't know particularly well… Eventually, it all combined together to make something new, and we found our own voice as a band."
When George turned 18, The Beatles returned to Hamburg and started a residency at the Top Ten Club. The Beatles' performance excelled even more. The Beatles left Germany for good in 1962 and emerged as a fully-fledged band ready to take on America and the world.