George Harrison Named the Traveling Wilburys After a Slang Term He Used in the Recording Studio
George Harrison loved hanging out with his friends. Being close to them meant he was closer to God. Harrison would turn up to their houses late at night, expecting jam sessions, which they could never turn down because they loved him just as much. So, if they all liked jamming and hanging out together, why not establish one of the world's biggest supergroups?
The product was the Traveling Wilburys; the band Rolling Stone called the supergroup to end all supergroups. Harrison was the founder and leader, but he and the rest of his bandmates, including Tom Petty, Jeff Lynne, Roy Orbison, and Bob Dylan, treated each other as equals. They checked their egos at the door and let the band roam wherever it wanted.
However, since the band happened by chance, it was only fitting that they named it after Harrison's slang term for an accident.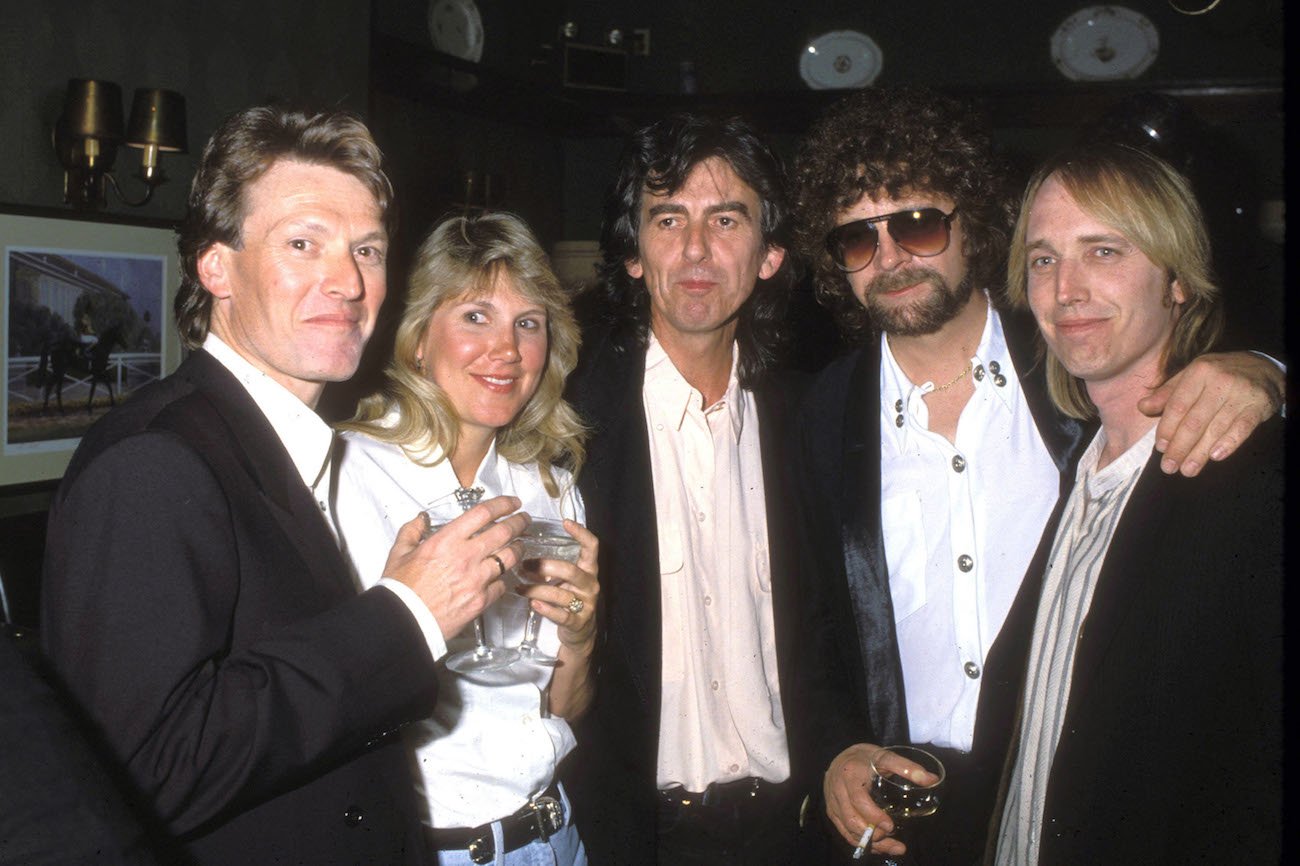 George Harrison formed the Traveling Wilburys by chance
The way Harrison told the story, the Traveling Wilburys formed by accident. He told Count Down in 1990 that he was in a bit of a pickle after he recorded his 1987 album, Cloud Nine. In Europe, they wanted an extra song for a 12-inch single, and Harrison was one song short.
He had to go to the studio the next day to quickly write and record a song. That night, he told his friends Jeff Lynne and Roy Orbison all about it over dinner. Harrison asked Lynne to help him, but Lynne didn't know where they'd get a studio and engineer so quickly.
Orbison told the guys to call him if they did something because he wanted to watch. Then, Harrison remembered that Bob Dylan had a studio in his garage. So, Harrison called him and asked if they could use it.
Then, Tom Petty came along because Harrison had to pick up his guitar from Petty's home. When Harrison and Lynne started writing the song, Harrison thought it was silly having Orbison watching, so he asked him to sing on the new tune. Harrison and Lynne first wrote the music, but it still lacked words.
However, as Harrison looked around Dylan's garage, he saw a box that said, "Handle With Care." So, they formed the lyrics around that. Then he thought he might as well get the whole crew to perform on the song. Harrison knew "Handle With Care" was too good to give to Europe for a 12-inch. He kept hold of it until he decided to get everyone to record a whole album. Suddenly the Traveling Wilburys were born.
George Harrison named the band after a slang term he used in the recording studio
Harrison once said that if they tried to plan something like the Traveling Wilburys, it would have never have happened. Yet, with a bit of magic, it did happen. "Maybe there was a full moon that night," Harrison said.
So, if the band itself was an accident, it was only fitting they named the band after a slang term Harrison had for accidents in the studio.
According to Rolling Stone, Harrison invented the word "Wilbury" while working on Cloud Nine with Jeff Lynne. When the faulty equipment caused recording errors in the studio, Harrison always assured Lynne, "We'll bury 'em in the mix." Eventually, he shortened that to "Wilbury," a slang term that described all mistakes or accidents.
When the supergroup reconvened for just nine days to record a whole album centered around "Handle With Care," they had to create a name for their band. Initially, Harrison suggested "the Trembling Wilburys." Either Lynne or Dylan suggested "Traveling" instead. So the band's name really means the Traveling Accidents, which they were.
George Harrison loved being a Wilbury
The whole point of the Traveling Wilburys was for five friends to jam and not get too hung up on everything. They just wanted to see what happened and to have fun.
Harrison continued to tell Count Down that he hated when famous musicians formed supergroups because they did it for all the wrong reasons, and nothing good ever came out of them anyway. Not the Traveling Wilburys, though.
Petty told Rolling Stone that Harrison's idea of a band was so that they could all hang. "From what he told me, the Beatles were that way," Petty said. "They were very, very tight. He really wanted the Traveling Wilburys to be like that. Like, 'If we're going to the party, we're all going.' I'm so glad I got to be in a band with him. He taught me so much."
Harrison loved the Wilburys, and Petty said that his enthusiasm was infectious. "I loved 'End of the Line.' I remember the day he wrote it. He had started it off on the piano," Petty explained. "And we all kind of sat in a group. 'Handle With Care' I like. His enthusiasm was very contagious in a recording session, in a writing session. He just had unbridled enthusiasm.
"George absolutely adored the Wilburys. That was his baby from the beginning, and he went at it with such great enthusiasm. The rest of his life, he considered himself a Wilbury."
All Harrison was ever concerned about was jamming with his friends. He cared less if they released music together. That's not why he established the Traveling Wilburys. He just loved his friends and music. Why not combine them?