Why George Harrison Was Not a Fan of Neil Young: 'I Can't Stand It'
George Harrison and Neil Young weren't friends, and for a very good reason. George was not a fan of the 'Heart of Gold' singer at all.
George Harrison was always quite a blunt person, but he really didn't hide his feelings about a fellow musician, Neil Young. All musicians are critical about certain things, but George didn't enjoy Young's music even a little bit. Here's what George had to say about the "Heart of Gold" musician.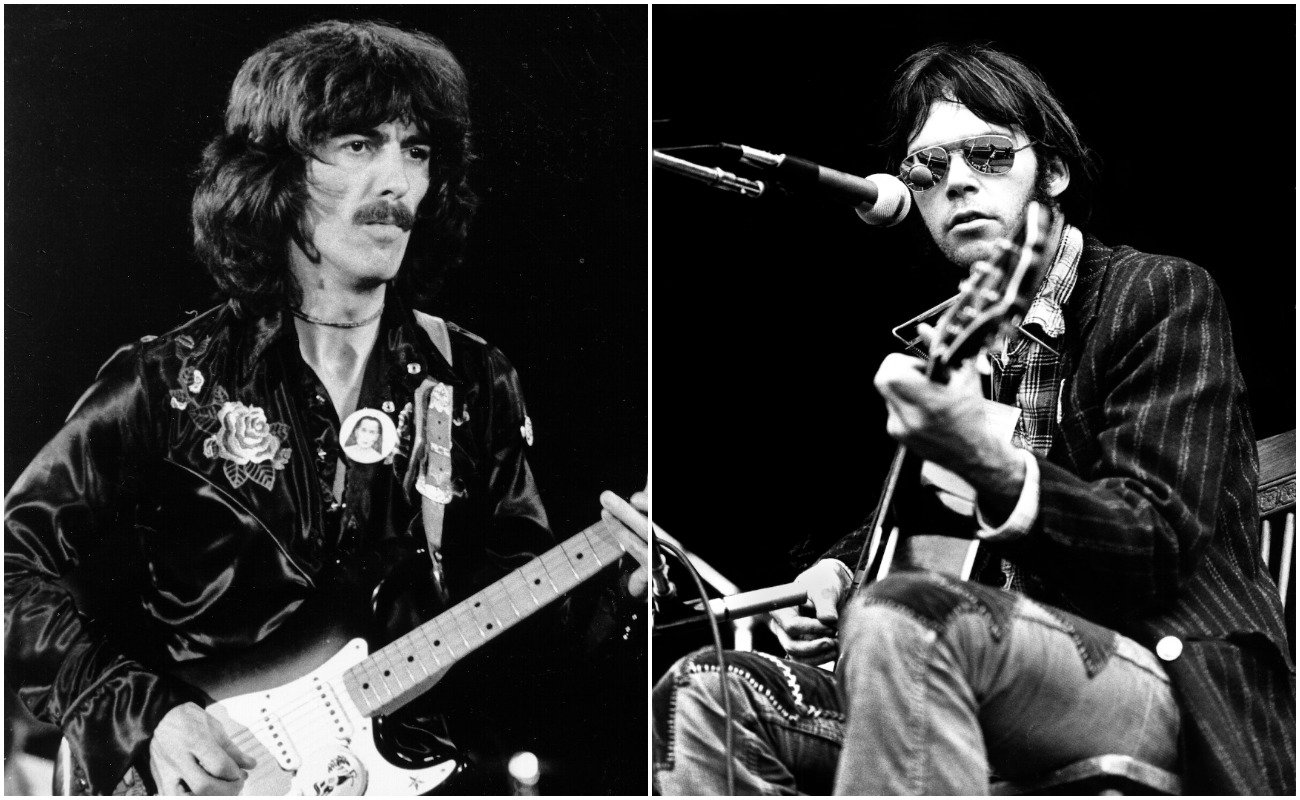 George Harrison wasn't a fan of Neil Young
In a piece of rare footage from 1992, George works in the studio with Dave Stewart, Bob Geldof, and Chucho Merchán. While they work, Geldof asks the ex-Beatle what he thinks of Young's "Around The World."
George's response was as brutally honest as it could get.
According to Far Out, George replies, "I'm not a Neil Young fan." Geldof continues to say that he thinks Young is a good guitar player, but George interjects with: "I hate it, yeah I can't stand it."
George then mimics Young playing the guitar and adds: "It's good for a laugh. We did this show with him, I saw it from the other side of the stage and looked around, I looked at Eric and said, 'What's going on?' He did the solo in the middle, then he kind of looked at me like – 'Don't look at me, it's not me.'"
Still, Geldof praises Young by saying he likes the musician's 1979 album, Rust Never Sleeps. Again, George gives a blunt response. "It's mainly his voice," George says, "I liked some of his songs but I hated the sound of his voice, his singing is even worse than me."
John Lennon wasn't a Young fan either
George wasn't the only Beatle to dislike Young. In a 1980 interview for Playboy (per Grunge), John Lennon explained what he thought of Young's 1977 song, "Hey, Hey, My, My (Into the Black)."
"I hate it," he said. "It's better to fade away like an old soldier than to burn out. If he was talking about burning out like Sid Vicious, forget it. I don't appreciate the worship of dead Sid Vicious or of dead James Dean or dead John Wayne. […] No, thank you. I'll take the living and the healthy."
Young later explained that the song discussed the spirit of rock 'n' roll and not individual musicians. Still, that harsh criticism must have stung, especially because Young was a Beatles fan.
Young was a Beatles fan
The Beatles opened the door for musicians like Young. So, of course, he was inspired by them.
In 1975, Young told Rolling Stone (per Far Out), "I remember singing Beatles tunes… the first song I ever sang in front of people was 'It Won't Be Long' and then 'Money (That's What I Want).' That was in Calvin High School [Winnipeg] cafeteria. My big moment."
Young had a few brushes with The Beatles over the years. He inducted Paul McCartney into the Rock and Roll Hall of Fame in 1999, and the two have performed together too. Young has even performed with George. They shared the stage at the Dylan 30th anniversary Concert in 1992.
Whatever George and John thought of Young, he clearly didn't take it to heart that much. Young had many other battles to fight.