George Harrison Had His Own Personal Bob Dylan Bootlegs Because He Was Fascinated With Everything Dylan Did
George Harrison was constantly amazed by Bob Dylan. Everything he did and said, especially how he wrote and recorded music. So, George took to recording Dylan whenever they were together. The ex-Beatle had his own personal Dylan bootlegs.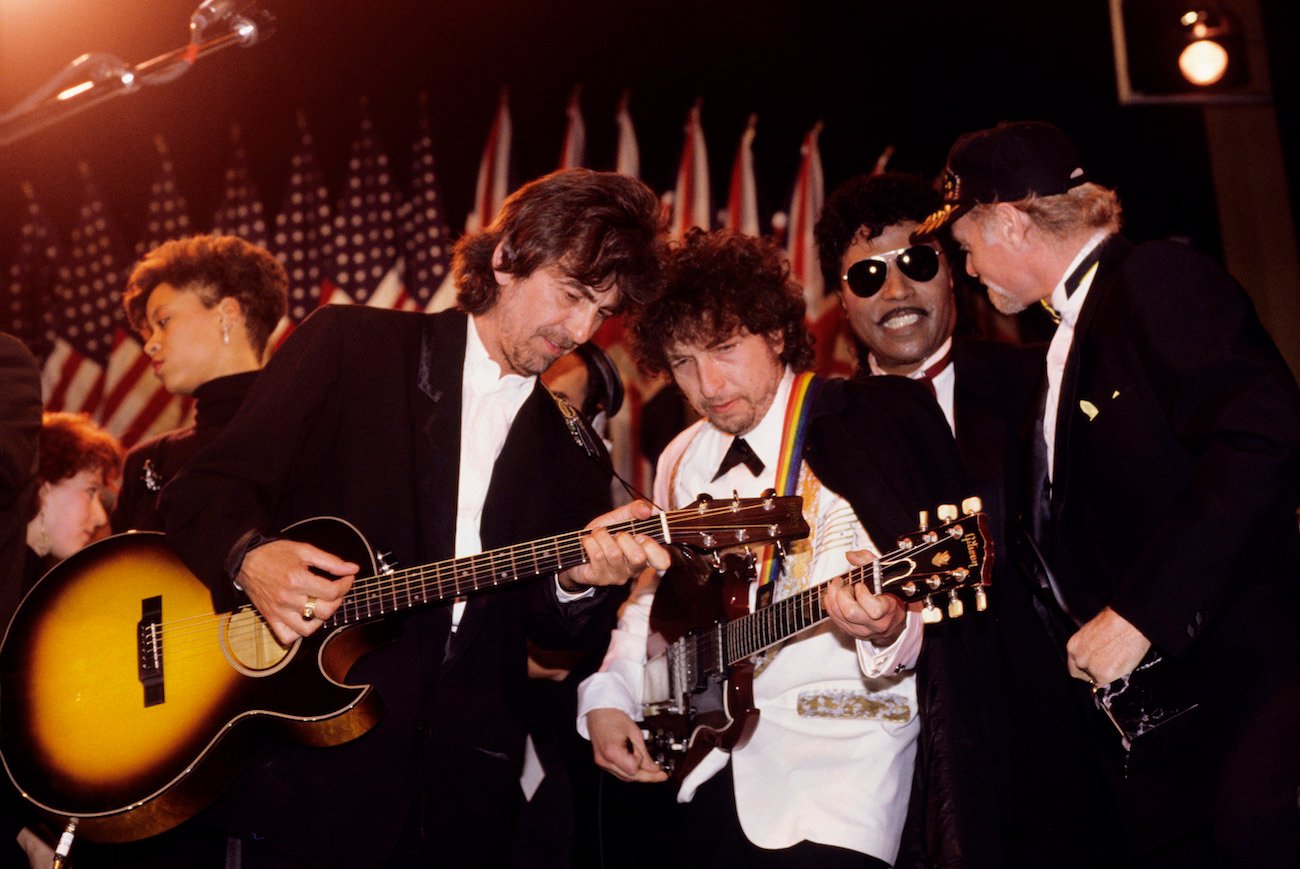 Tom Petty said George Harrison had his own personal Bob Dylan bootlegs
In a 2002 special edition of Rolling Stone called "Remembering George," Tom Petty talked about what it was like being in a band with George and Dylan. Along with Jeff Lynne and Roy Orbison, the trio formed The Traveling Wilburys in the late 1980s.
Petty said that George was fascinated by everything Dylan did, so George tended to film him.
"George quoted Bob like people quote Scripture," Petty said. "Bob really adored George, too. George used to hang over the balcony videoing Bob while Bob wasn't aware of it. Bob would be sitting at the piano playing, and George would tape it and listen to it all night."
"So George had his own private Dylan bootlegs?" Rolling Stone asked.
"Yeah," Petty said. "One day George was hiding in the hedge at the house where we were recording. As everybody flew off, George would rise up out of the bushes with his video going. And he did that with Bob."
George loved how Dylan worked in the recording studio
In a video about the making of The Traveling Wilburys Vol. 1, George talked about working with Dylan. He was astounded by how Dylan worked on the track "Tweeter and the Monkey Man."
George recorded everything Dylan and Petty were talking about, "Americana stuff," which George and Lynne didn't understand. They transcribed everything they said, and it turned into the song.
"It was just fantastic watching him do it because he had like one take warming himself up and on take two, he sang 'Tweeter and the Monkey Man' right through and what he did was change some of the lyrics," George said. "Maybe in about four places, he'd change a couple of lines and improved them and dropped those lines in. And that was it.
"The way he writes the words down, like very tiny. Looked like a spider's written it. You can hardly read it. And that's the amazing thing. It's just unbelievable seeing how he did it."
The pair had an epic jam session
According to Rolling Stone, George and Dylan had an epic jam session at Columbia's Studio B in New York City on May 1, 1970. The world had just learned that The Beatles planned to split. 
They were to start work on Dylan's New Morning. However, the musicians started jamming and recording it all.
Dylan's camp firmly denied it happened. Rolling Stone wrote that George and Dylan covered an "amalgam of new Dylan stuff, Beatles songs, and a number of early Sixties tunes. About five of the numbers are reportedly of high enough quality to merit inclusion on a future Dylan album."
At that time, Rolling Stone didn't know what they'd recorded. However, someone leaked the tapes. George and Dylan jammed on songs including "If Not For You" (which appeared on All Things Must Pass), "Mama, You Been on My Mind," and "Don't Think Twice, It's All Right."
Eventually, they even jammed on some of their favorites, including Sam Cooke's "Cupid," Carl Perkins' "Matchbox," and the Everly Brothers' "All I Have to Do Is Dream." They even played The Beatles' "Yesterday."
According to Variety, Dylan released some of the songs on a deluxe reissue entitled Bob Dylan – 1970 in Feb. 2020. The recordings undoubtedly give fans a rare glimpse into George and Dylan's friendship. However, some would love to see George's personal Dylan bootlegs too.