Why George Harrison Played Bass on The Beatles' 'She Said She Said'
George Harrison unexpectedly played bass on The Beatles' "She Said She Said." The Fab Four rarely swapped instruments, but in this case, The Beatles needed George to fill in at the recording studio.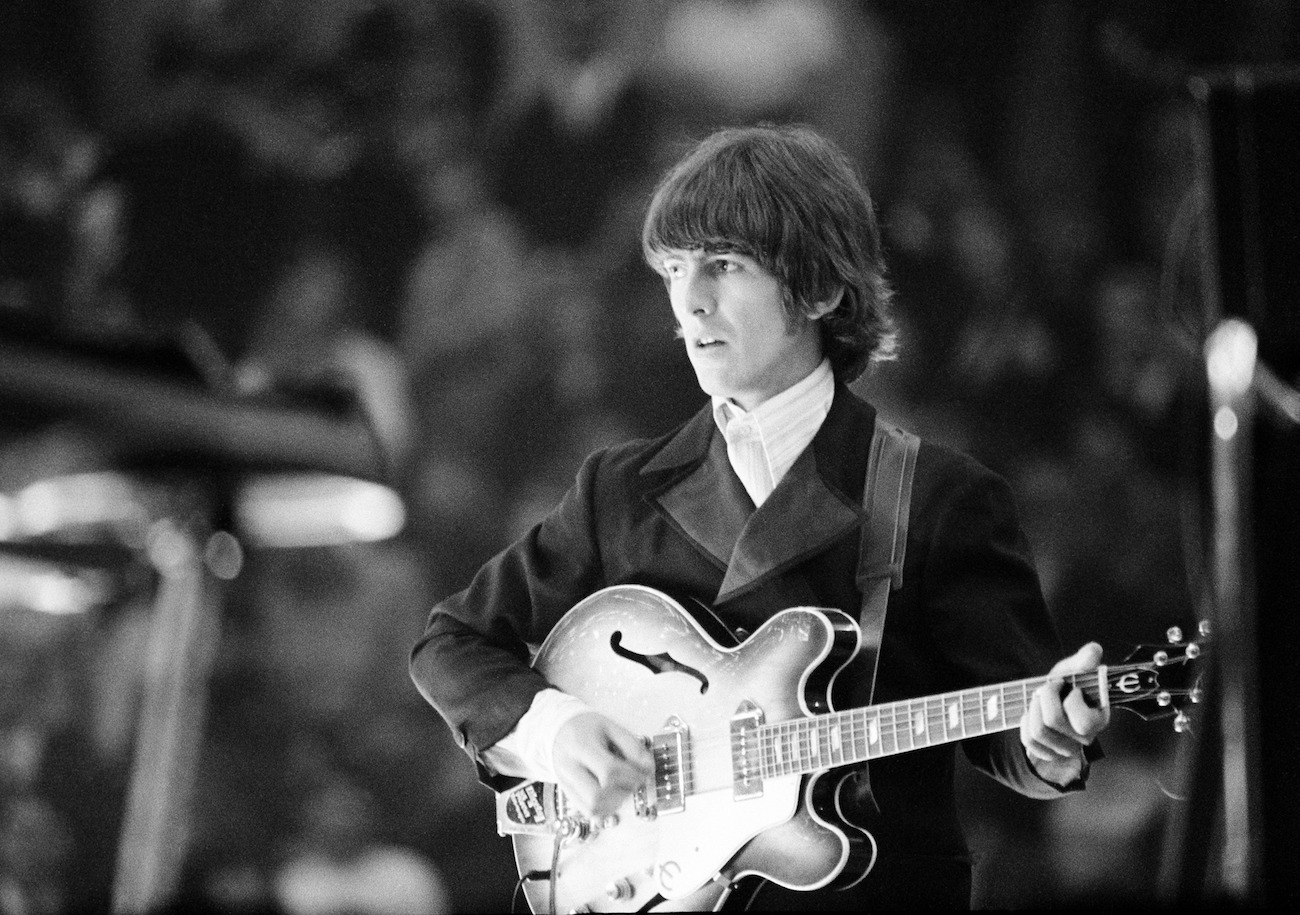 John Lennon wrote 'She Said She Said' after having an LSD-influenced conversation about death with Peter Fonda
According to Rolling Stone, John Lennon's Revolver tune, "She Said She Said," began with "bad vibes."
In late 1965, The Beatles stayed in Los Angeles' Benedict Canyon during their tour of the West Coast. One night, actor Peter Fonda showed up with Roger McGuinn and David Crosby of The Byrds. An LSD party commenced, although Paul McCartney didn't join.
George started feeling like he was dying, so Fonda tried to console him. It didn't work. He told George he survived a near-fatal surgery as a boy.
According to Beatles Bible, Fonda said, "I told him there was nothing to be afraid of and that all he needed to do was relax. I said that I knew what it was like to be dead because when I was 10 years old I'd accidentally shot myself in the stomach and my heart stopped beating three times while I was on the operating table because I'd lost so much blood."
John passed by at that point and overheard Fonda's comments on death. "John was passing at the time and heard me saying, 'I know what it's like to be dead.' He looked at me and said, 'You're making me feel like I've never been born. Who put all that s*** in your head?'"
"We were all on acid, and John couldn't take it," McGuinn later recalled (per Rolling Stone). "John said, 'Get this guy out of here.' It was morbid and bizarre."
Later, John wrote "He Said He Said" about the incident. He changed it to "She Said She Said" and "shifted the song from pure recrimination to a spirited­ argument about ego and immortality," Rolling Stone wrote.
However, the "bad vibes" didn't disappear.
RELATED: George Harrison Hated School but He Always Craved More Knowledge
Why George Harrison played bass on The Beatles' 'She Said She Said'
When John wrote "She Said She Said," he had some help from George.
"I was at his house one day – this is the mid-Sixties – and he was struggling with some tunes," George explained (per Beatles Bible). "He had loads of bits, maybe three songs, that were unfinished, and I made suggestions and helped him to work them together so that they became one finished song, 'She Said She Said.' The middle part of that record is a different song."
Recording the tune was another issue. "She Said She Said" was recorded after The Beatles realized they needed one more song for Revolver. They practiced the song more than 25 times and then recorded three takes of the rhythm track.
Then came John's lead vocals and backing vocals from John and George. They then overdubbed John's Hammond organ track. However, they did all this without Paul. He'd stormed out of the recording studio after a fight with John, leaving George to add the song's bass.
In Barry Miles' Many Years From Now, Paul said, "John brought it in pretty much finished, I think. I'm not sure but I think it was one of the only Beatle records I never played on. I think we'd had a barney or something and I said, 'Oh, f*** you!' and they said, 'Well, we'll do it.' I think George played bass."
RELATED: Tom Petty Said He Didn't Think George Harrison 'Had Much Interest in Rock Music Past About '57'
George also added some bass to The Beatles' 'Back in the U.S.S.R.'
A lot of drama happened when George and The Beatles recorded The White Album. The band's longtime engineer Geoff Emerick, frustrated with their fighting, quit midway through the album's recording sessions.
However, recording "Back in the U.S.S.R." proved to be just as hard as "She Said She Said." This time, another Beatle was absent following a walkout. By the time they started to record Paul's Beach Boys homage, Ringo Starr had quit the group. He eventually returned, but at the time, the remaining Beatles had to record without him.
Rolling Stone claims George and John overdubbed additional bass to "flesh out a composite track; they also contributed extra drums, with McCartney's tense kit work mixed loudest amidst the 'ooh-ohh' harmonies."
George, John, and Paul realized Ringo's importance in The Beatles. They also learned how important it was to play their own instruments.
RELATED: George Harrison Taught Tom Petty That 'There's Nothing to Be Gained by Bitterness or Anger, Hatred'