George Harrison Proposed to Pattie Boyd The First Day They Met
George Harrison and his first wife, Pattie Boyd, first met on the set of The Beatles' film 'A Hard Day's Night,' in 1964. They were attracted to one another right from the start.
At the height of Beatlemania, it seemed like every girl on the planet wanted to become either Mrs. Lennon, Mrs. McCartney, Mrs. Starr, or Mrs. Harrison. For George Harrison, finding love in that climate wasn't the greatest. For a Beatle, dating was hard and best left forgotten. So George probably didn't expect to meet his future first wife, Pattie Boyd, on the set of A Hard Day's Night. It was practically love at first sight too.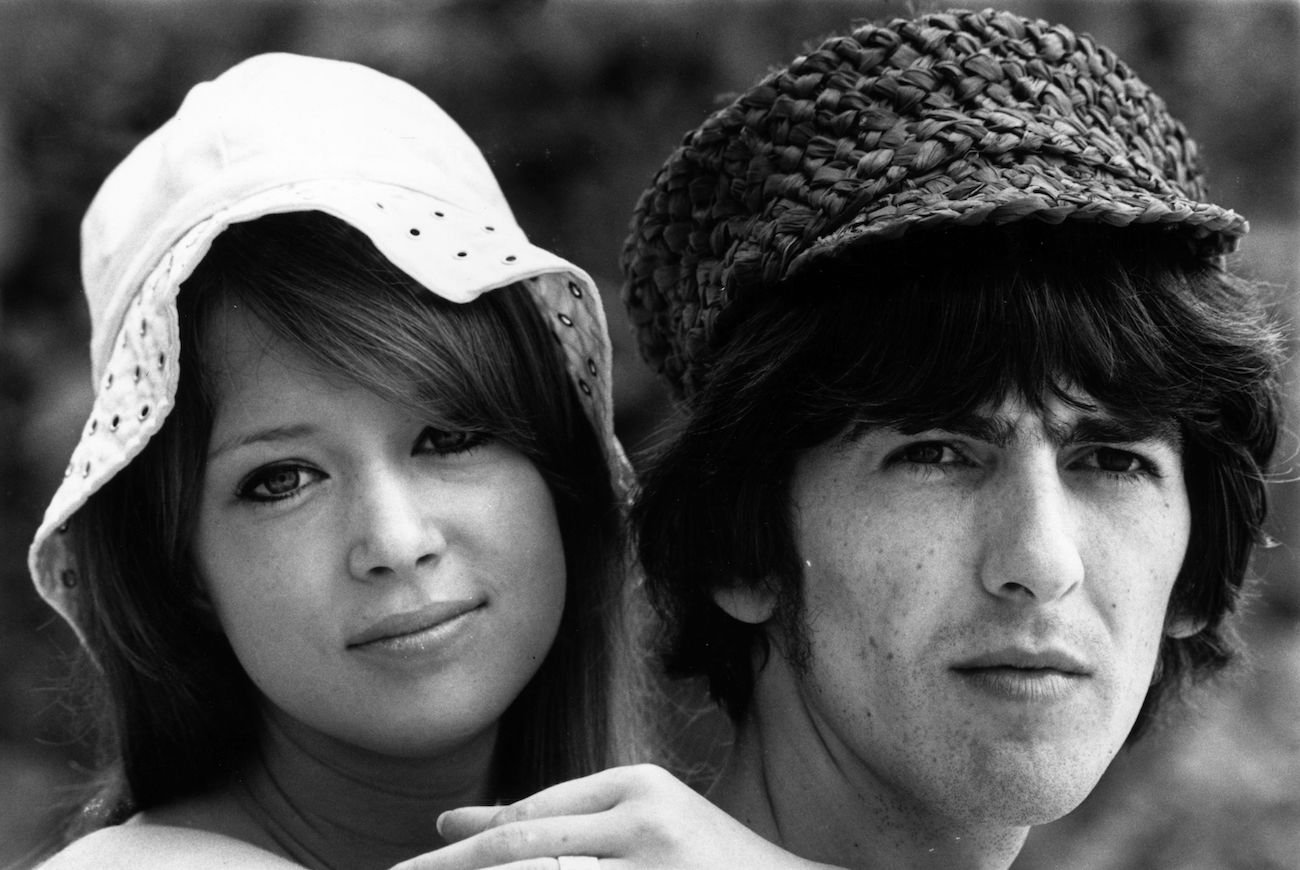 Pattie Boyd almost didn't star in 'A Hard Day's Night'
In Pattie Boyd's early modeling career, she almost worked herself into the ground. She moved out of her parent's home, moved into a small apartment in South Kensington, London, with a friend, and work came gradually until she was doing three to four jobs a day.
She landed jobs with designer Ossie Clark and photographers Brian Duffy and David Bailey. In 1963, she had a few lines in a Smiths Crips TV commercial directed by Richard Lester, who later directed The Beatles' A Hard Days Night. According to Far Out Magazine, Boyd said, "For someone who was as cripplingly shy as I, it was quite an ordeal."
It was such an ordeal for the shy model that she never forgot about it. Unfortunately for Boyd, at the time, her agent, Cherry Marshall, booked her an appointment with a casting agency for what she thought was just another commercial. It turned out to be another project with Lester, but a very secretive one. Boyd did the audition, knowing virtually nothing about the project. However, she did something right because Lester chose her.
When Boyd's agent called to tell her the great news, that she was starring in The Beatles' first feature film, A Hard Day's Night, Boyd was shocked and scared. "No, I don't want to do it! I can't do it!" she told Marshall. She was terrified but, somehow, Marshall was able to convince her to go.
George Harrison proposed to Boyd the first time they met
When Boyd showed up on set, it was pandemonium. But through the crowds of girls at the train station, Boyd could make out four boys coming onto the train. Her first impression of George was that he was the best-looking man she'd ever seen.
"On first impressions, John seemed more cynical and brash than the others, Ringo the most endearing, Paul was cute, and George, with velvet-brown eyes and dark chestnut hair, was the best-looking man I had ever seen. At a break for lunch, I found myself sitting next to him. Being close to him was electrifying," Boyd recalled.
She filmed her first scene, which involved Paul's grandfather (Wilfrid Brambell) warning Boyd and the group of girls to steer clear of the Fab Four, and the day ended shortly after. But before Boyd left the train, George turned to her and said, "Will you marry me?" She laughed, unable to decipher whether George was kidding or not. The Beatles had been flirting with all the girls throughout the day. What made her special?
When Boyd didn't respond, George continued to say, "Well, if you won't marry me, will you have dinner with me tonight?" Boyd was dating photographer Eric Swayne, so she declined George's offer, even though she didn't really like being with Swayne. Her friends couldn't believe she'd turned down a Beatle. So she considered rearranging her life to accommodate the larger-than-life pop star.
Boyd left her boyfriend for George
After her friends convinced her to leave Swayne, she went to break things off with him. "He might have sensed what was coming," Boyd recalled. "When I'd told [photographer] David Bailey about the film job, he predicted I would fall in love with Paul McCartney and had told Eric he'd be left on his own. I felt cruel, and I was worried about him but I couldn't change the way I felt. In the end, I had to get up and walk away."
Later, Boyd finished up her work on A Hard Day's Night. She hoped she'd run into George and ask him if he'd reconsider their date. Her scene involved running up to The Beatles and playing with their hair. She ran up to George, who asked her how Swayne was doing. She replied they broke up. George smiled and asked her out again.
They went to the Garrick Club in Covent Garden that night, chaperoned by The Beatles' manager Brian Epstein. "I didn't resent his [Brian Epstein's] presence on our first date—he was good company and seemed to know everything about wine, food, and London restaurants," Boyd said. "And perhaps if George and I, two very young, very shy people, had been on our own in such a grown-up restaurant, it would have been too intense."
After that night, the couple was inseparable. They dated for two years and tied the knot in 1966. However, Boyd didn't turn out to be the love of George's life. After nine years of marriage, Boyd left George for his best friend, Eric Clapton, and George wrote a heartbreaking song about his and Boyd's breakup. For a while, he went on a bender, feeling like he had "no voice and almost no body," until Olivia Arias came into his life.