George Harrison Once Pulled a Diabolical Prank on Phil Collins Before His Death
Phil Collins scene in The Beatles' 'A Hard Day's Night' was cut. Later, Collins worked on George Harrison's 'All Things Must Pass,' but that was cut too. Years later, George pulled an elaborate prank on Collins, concerning his cut work on the album.
George Harrison had a wicked sense of humor. He was buddies with the guys from Monty Python, after all. George knew how to have a good time, even during periods of his life that were especially grueling. His life was dark sometimes, but he always knew how to laugh, especially if it was at someone else's expense. So it's not surprising to hear that George pulled an elaborate prank on his fellow rocker, Phil Collins.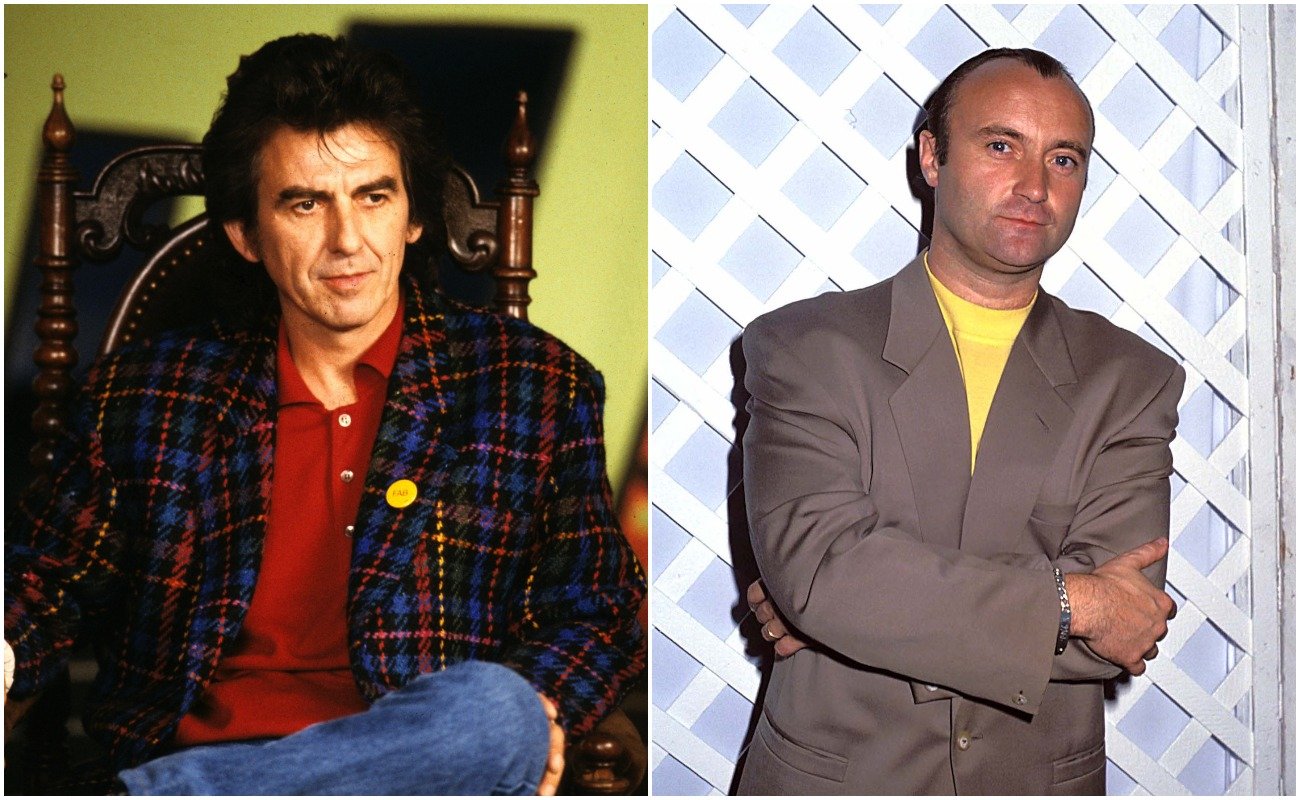 Phil Collins signed up to play the conga for George Harrison in 1970
Collins was a huge Beatles fan. So he signed up to be a session musician for George Harrison when he was recording his first solo album outside The Beatles, All Things Must Pass, in 1970. At only 19, Collins got to work with one of his heroes.
"Our manager got a call from Ringo Starr's chauffeur, who said they needed a percussionist, and he suggested me," Collins told Louder Sound. "So I went down to Abbey Road, and Harrison was there and Ringo and Billy Preston and Klaus Voormann and Phil Spector, and we started routing the song.
"No one told me what to play, and every time they started the song, Phil Spector would say: 'Let's hear guitar and drums,' or 'Let's hear bass and drums.' And I'm not a conga player, so my hands are starting to bleed. And I'm cadging cigarettes off Ringo – I don't even smoke, I just felt nervous." 
Phil Spector finally told the conga players to play, but Collins had his mic off, and everyone laughed. Then everyone disappeared, and they told Collins to leave. "A few months later I buy the album from my local record shop, look at the sleeve notes and I'm not there. And I'm thinking: 'There must be some mistake!' But it's a different version of the song, and I'm not on it."
Years later, George pulled a prank on Collins
In 2001, George was remastering All Things Must Pass as he was dying from cancer. It wasn't all doom and gloom that last year of George's life. In fact, he had the energy and the humor left in him to perform one last elaborate prank, and Collins was the recipient.
"Cut to years later," Collins continued to Louder Sound. "I bought [former F1 driver] Jackie Stewart's house. And Harrison was a friend of Jackie's, and Jackie told me George was remixing All Things Must Pass. And he said: 'You were on it, weren't you?' And I said: 'Well I was there.'" Collins couldn't have known what was coming next following that conversation.
"Two days later a tape's delivered from George Harrison with a note saying: 'Could this be you?' I rush off and listen to it, and straight away I recognise it. Suddenly the congas come in – too loud and just awful. And at the end of the tape you hear George Harrison saying: 'Hey, Phil, can we try another without the conga player?'
"So now I know, they didn't go off to watch TV, they went somewhere and said: 'Get rid of him,' cos I was playing so badly. And then Jackie rings and says: 'I've got someone here to speak to you,' and puts George on and he says: 'Did you get the tape?' And I said: 'I now realise I was fired by a Beatle.' And he says: 'Don't worry, it was a piss-take. I got Ray Cooper to play really badly and we dubbed it on. Thought you'd like it!' I said: You f***ing bastard!"
Phil Collins tried to be an extra in The Beatles' 'A Hard Day's Night'
Years before trying to get on All Things Must Pass, Collins was an extra in The Beatles' A Hard Day's Night in 1964. The Beatles performed (lip-synced) in front of a live audience of 350 lucky fans at The Scala Theatre in London. One of those fans in the crowd was Collins, who was only 13 years old.
Collins told Michael Seth Starr, author of Ringo: With a Little Help, "We didn't know when we went that day to the Scala Theatre, which is no longer there, but…the drama school that I was at, as well as all the other drama schools in London, got a call for however many kids they could handle to go along to that theater for a job."
But when he got there, Collins was virtually the only boy amongst a sea of screaming girls. The director wanted the crowd to scream to depict a real-life Beatle audience, but the girls had no trouble with that. However, Collins didn't want to scream; he just wanted to listen to the music. Collins' scene was later cut out.
So there seems to be a running theme with Collins and Beatle-related projects. They always cut him out. But it's OK; Collins went on to achieve success in his own career as Genesis' frontman.