George Harrison Rejected Crosby, Stills & Nash's Audition for Apple Records
In the late 1960s, George Harrison rejected one of Laurel Canyon's most famous groups, Crosby, Stills & Nash. The trio hoped to score a recording contract with The Beatles' newly established record label, Apple Records.
Apparently, they weren't exactly what George had in mind.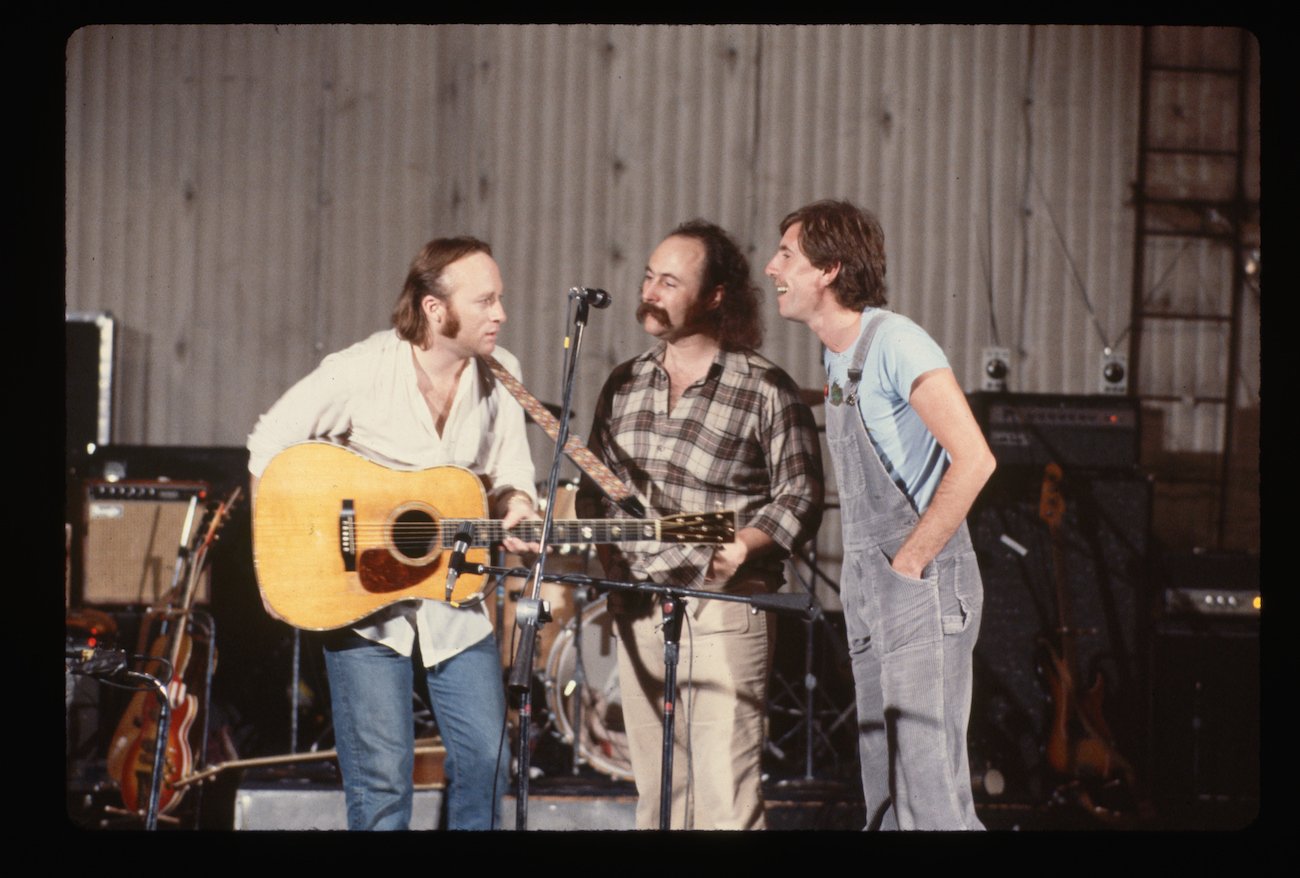 George Harrison rejected Crosby, Stills & Nash for Apple Records
After a fan tweeted about George rejecting Crosby, Stills & Nash, David Crosby explained what went down.
Crosby tweeted, "Did not record for them…live audition…sang the whole first record in London to George and Peter Asher …Apple passed on a number one record there …..ahh well …everybody makes mistakes ….Bet they regretted it later."
Another fan replied, "Wow… I can't imagine someone hearing 'Suite: Judy Blue Eyes' at a live audition and deciding to pass." Crosby responded that the trio was surprised too.
Graham Nash also told the story to the Guardian. "We had an apartment on Moscow Road in London, we were rehearsing the first record [Crosby, Stills & Nash, 1969], and we had our shit down," he said. "To hear 'Suite: Judy Blue Eyes' in our living room was pretty f***ing impressive. And they turned us down. So did Paul Simon and Art Garfunkel."
RELATED: George Harrison Used Chinese Philosophy to Write 'While My Guitar Gently Weeps'
The Beatles impressed Crosby
In an interview with Music Radar, Crosby explained that he was "knocked out" when he first heard The Beatles' Meet The Beatles. "It was so different from anything else, so fresh and fun. It was exciting," he said.
"Watching The Beatles on Ed Sullivan was wonderful," he continued. "I was shocked… in such a good way. Of course, none of us had seen that kind of reaction from kids before, not for anybody. I think most people were amazed at the reaction, the screams and the hysteria. How could you not be?
"I was amazed, too, but more so by the sheer musicality of it and The Beatles' ability to project what a confident, joyful and beautiful band they were. I'd never seen anything like them before – or since. But, you know, it's always about the music. Those guys could really play and sing. They had the goods. And they really had the songs.
"Seeing The Beatles made something else click. It changed my life. They changed my life. Let's be very specific about that. I went to see 'A Hard Day's Night' with Roger [McGuinn] and Gene [Clark] – I was with them at this point – and that was it: We knew exactly what we wanted to do. It probably blew my mind more than Ed Sullivan.
"The whole movie was magic. I'm told that I came out of the theater, grabbed a stop sign and swung around it like I was pole dancing. I was just so happy. It was like, 'Oh, man… I know how to do that! We can do that!' After that, we got Chris [Hillman] and Michael [Clarke], and things came together fast.
"We took our guitar cues from The Beatles – I had the Tennessean, the Country Gentleman, and Roger had the Rickenbacker. My whole attitude was, 'If it's good enough for George Harrison, it's good enough for me.' I wanted to be like George, but I couldn't play like him. He was a great, great guitar player."
RELATED: George Harrison Forgot That Ringo Starr Played on Two-Thirds of 'All Things Must Pass'
Crosby, Stills & Nash got close to The Beatles
George rejected Crosby, Stills & Nash for Apple Records. However, the trio became friends with The Beatles later on.
"We became friends with The Beatles when we went over to England," Crosby said. "We had a horrible promoter, who was trying to sell us as 'America's answer to The Beatles,' which was nonsense. There was no answer to The Beatles.
"Nobody could cut it with them – nobody. But they liked American groups. They liked the Beach Boys, and they loved The Byrds… They were all so wonderful and kind to us. And they knew that we weren't America's answer to The Beatles – it wasn't tough for them to figure that out.
"But they liked that we were willing to push the envelope. They would come to the gigs – and they were terrible gigs, some of the places we were playing. The guys would say to us, 'How did you even wind up here? This is horrible!' Paul would drive me home in his car after a show, and we'd talk.
"George would invite me over for dinner. Actually, George was the one I connected with the most. He was my best friend in that band, although I'm still really good friends with Ringo."
So, Crosby, Stills & Nash might not have been able to record with Apple Records, but they did get to have a pretty great relationship with The Beatles. That has to count for something. At least James Taylor nailed his Apple Records audition.
RELATED: The Doors: John Densmore Said George Harrison's Words Helped Him Grieve Ray Manzarek