George Harrison Said Being a Beatle Was Like Being a Race Car Driver
George Harrison once said that being a Beatle was similar to being a race car driver. They're both going a hundred miles an hour.
George Harrison loved really fast things, and we're not just talking about cars. Two of George's favorite things were playing music in The Beatles and watching race cars at Formula One races. When you think about it, both things share something in common. They both went at the speed of light.
So, despite craving a slow life, things that thrived in the fast lane always intrigued George.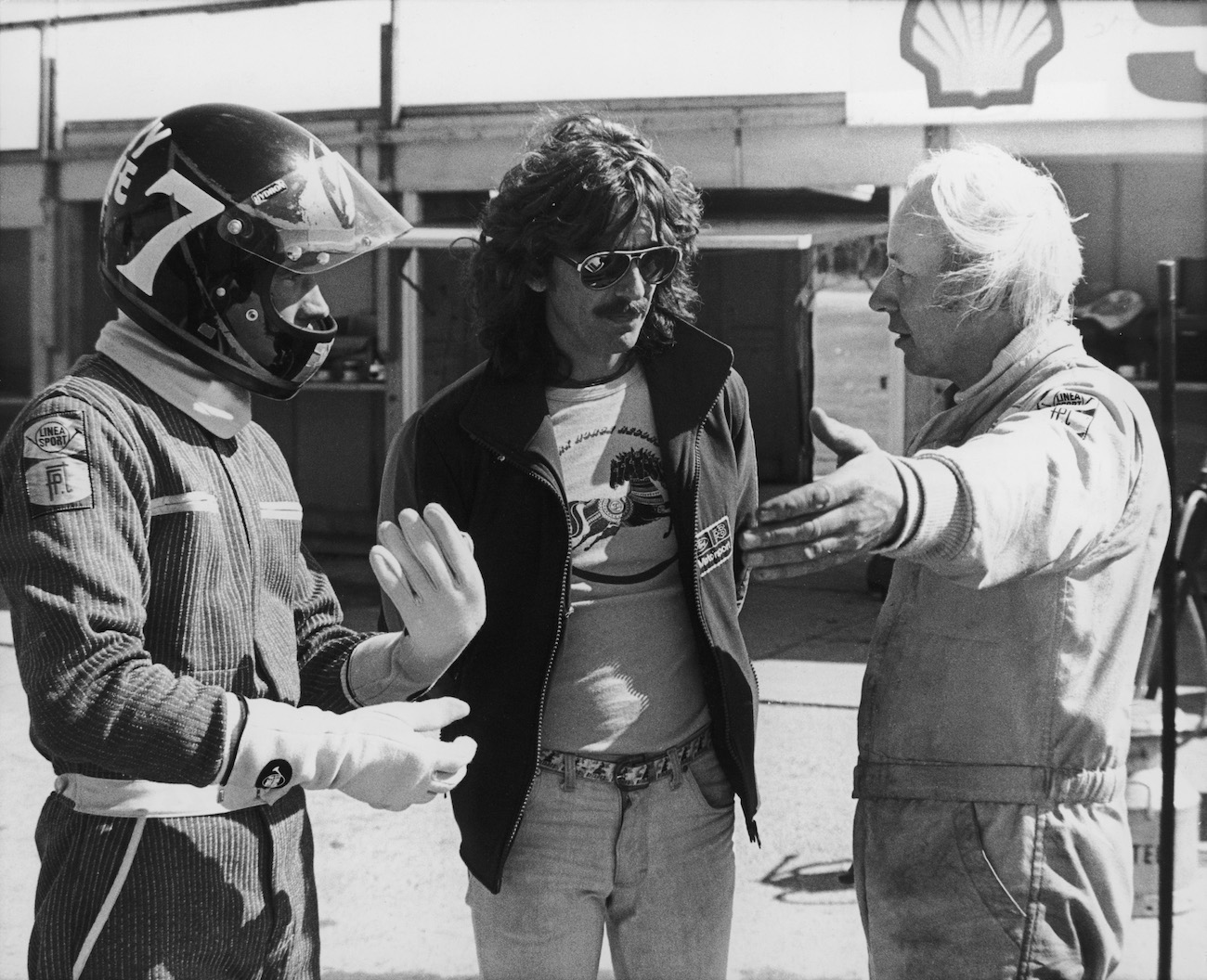 George Harrison said that being a Beatle was like being a race car driver
In 1979, George Harrison told Rolling Stone that one of his favorite songs on his new album, George Harrison, was "Faster." George wrote the song about all his Formula One pals, including Jackie Stewart.
"I like 'Faster' because I fulfilled the thing the Formula One motor-racing people kept asking me – to write a song about racing – and I did it in a way I'm happy about because it wasn't just corny," George explained. "It's easy to write about V-8 engines and vroom vroom – that would have been bulls***.
"But I'm happy with the lyrics because it can be seen to be about one driver specifically or any of them, and if it didn't have the motor-racing noises, it could be about the Fab Four really – the jealousies and things like that."
Rolling Stone then asked if that was The Beatles' life story. George replied, "Exactly, and when people keep asking, 'Why don't the Beatles keep on going?' they don't realize that you can kill yourself. Or maybe they do realize that; maybe they want you to. There's a lot of that in motor racing. I've seen people say they want somebody they don't like to crash, which is crazy."
The Beatles and race car drivers were similar
George is right; The Beatles and race car drivers are very similar for several reasons. Besides having fiercely loyal and passionate fanbases, who wanted them to continue until they were out of fumes, The Beatles and professional drivers both put their pedals to the metal, literally and figuratively.
At the height of Beatlemania, The Beatles probably felt like they were going a hundred miles an hour, just like a Formula one driver. Similarly, when a driver drove on that tarmac, he too felt what it was like being in the biggest band in the world.
Jackie Stewart said he and George bonded over their their love of heightened experiences
Initially, it might seem strange that George had a love for Formula One, considering he "often dismissed the secular world in favor of more pious pursuits." However, George's passion for the sport wasn't so much materialistic as it was spiritual. Stewart said his and George's friendship was based on their shared love of the heightened experience one gets from driving fast cars. Not so much the fast vehicles themselves.
"When you're driving a racing car to the absolute limit of its ability, and that of your own ability, it's a very unique emotion and experience," Stewart explained in Martin Scorsese's documentary George Harrison: Living in the Material World.
"When that happens, your senses are so strong," Stewart continued. "That's what I think George saw in racing. We talked about things like that a lot: heightened sense, of your feel and your touch and your feet… If you listen to a really top guitarist, or any top musician, and how they can make that guitar talk, or that keyboard talk, or the skins talk, that's another heightening of senses that is beyond the ken, the knowledge of any normal man or woman."
So, it's no wonder that George loved race car driving so much. It reminded him of being a Beatle and of his spirituality.