George Harrison Said His Best Slide Guitar Solo Appears on a Belinda Carlisle Hit—but He Forgot Her Name
George Harrison said he did his best slide guitar solo on a Belinda Carlisle hit, but he forgot Carlisle's name.
George Harrison rarely appeared on other artists' records. However, in 1989, The Go-Go's frontwoman, Belinda Carlisle, got the surprise of a lifetime when George agreed to appear on two songs off her third solo album, Runaway Horses.
The only thing George remembered about the collaboration, though, was that he gave one of his best slide guitar solos.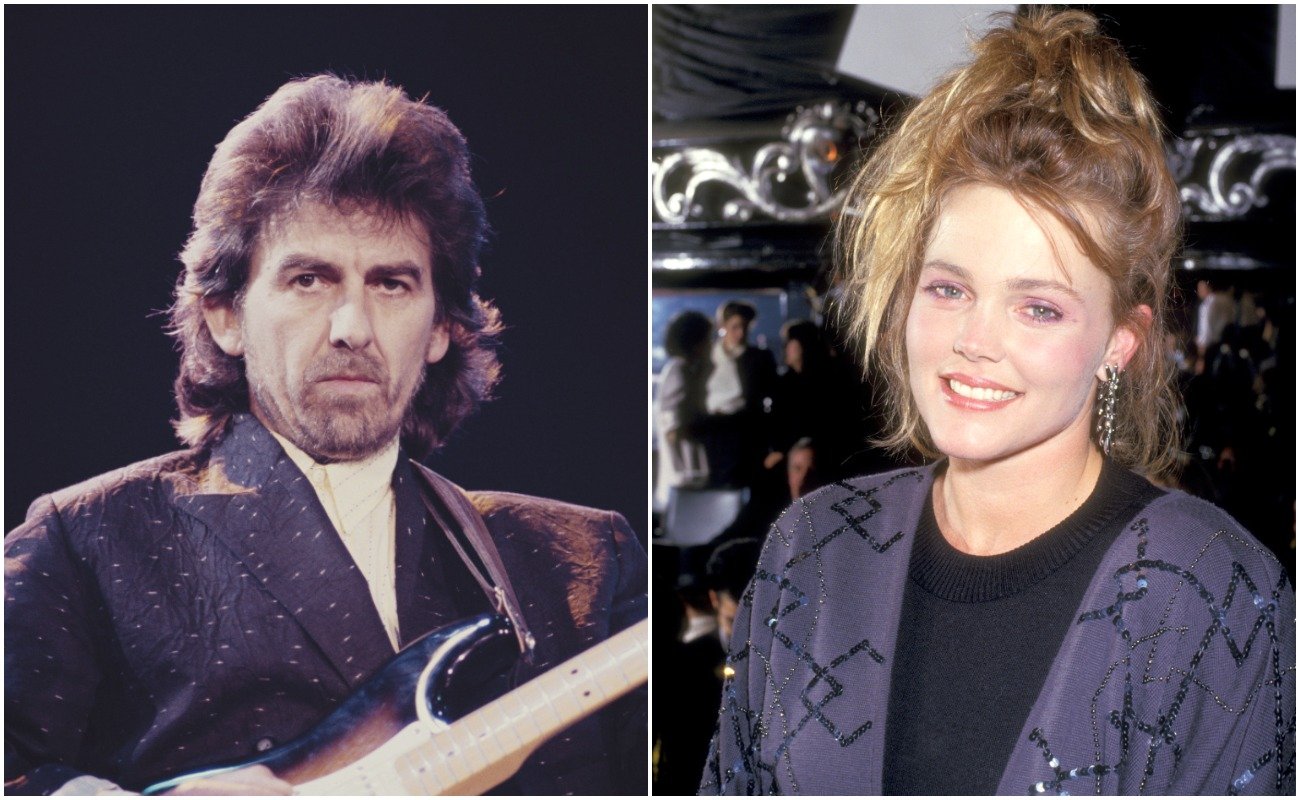 George Harrison agreed to work with Belinda Carlisle because he liked her voice
The Go-Go's frontwoman is one of the few artists that the ex-Beatle agreed to work with throughout his career. He didn't collaborate with many people. The ex-Beatle liked having other artists appear on his albums, not the other way around. He enjoyed working with Jeff Lynne on his 1987 album, Cloud Nine. George loved being a Traveling Wilbury with Lynne, Tom Petty, Bob Dylan, and Roy Orbison too.
So George's appearance on Carlisle's album was unusual, to say the least. Apparently, it happened out of the blue too. George's wife, Olivia, claims that her husband agreed to collaborate with Carlisle simply because he enjoyed her voice (per Ultimate Classic Rock).
In her memoir Lips Unsealed: A Memoir, Carlisle wrote that it was her idea.
"Rick [Nowels] said we should get someone cool and with a distinctive style to play the lead guitar part," she wrote. "I thought for a moment and said 'What about George Harrison?' I had met George briefly a few years earlier in San Remo Italy and Morgan [Mason, Carlisle's husband], through his work on Sex Lies and Videotape, knew someone who was close to [Harrison] and able to get word to him. George responded right away, saying he'd love to help out."
Working together proved beneficial for both artists.
George said he did his best slide guitar solo on a Carlisle hit
The ex-Beatle contributed guitar on two tracks of Runaway Horses, "Leave a Light On" and "Deep Deep Ocean." In a 1992 interview with Guitar World, George said he did his best slide guitar solo during his collaboration on either of the two songs. He didn't name which song, but Guitar World thinks it's "Leave a Light On."
George seemed to forget who he worked with as well. He couldn't remember The Go-Go's frontwoman's name.
"The best slide solo I ever played was on… what's her name? That girl singer who used to be with that all-girl band?… Belinda Carlisle of the Go-Go's! That's who it was," George said.
"I played on one of her albums [1989's Runaway Horses]. One of the slide solos had its own little tune which related to the tune Belinda was singing, but it's also a little composition in its own right, which I was really pleased with."
It's a good thing George was pleased with the song, whichever one it was, because he got a blister while recording his slide solo.
How the world viewed 'Leave a Light On'
Carlisle released "Leave a Light On" as a single. It narrowly missed the Top Ten on the U.S. chart, peaking at No. 11. However, it reached the Top Five in other countries, including the U.K.
George's slide guitar was a key factor in the song's success. Their collaboration was effortless. Carlisle knew George would be great on it; that's why she suggested they get him.
It must have been special working with an ex-Beatle, especially since George rarely appeared on other artists' albums. He should have done more collaborations.