George Harrison Said It Was Challenging but Fun Writing Songs With Jeff Lynne
George Harrison never wrote songs with anyone else. But when he asked Jeff Lynne to help him on 'Cloud Nine,' he found that he really enjoyed it.
George Harrison and Jeff Lynne were made to write songs together. Although, George was initially skeptical about it. We can't blame him for being hesitant to share the songwriting process with another songwriter. After being burned for years by his fellow Beatles, it's understandable.
There was a lot that George needed to do and come to terms with before he could take that step with Lynne. Firstly, he needed to forget that he'd ever shammed Lynne for copying The Beatles. Secondly, he needed to get to know Lynne to see if their personalities were compatible enough to write songs together.
After that, Lynne passed George's test with flying colors, and they started work on Cloud Nine in 1986. Lynne ended up challenging the ex-Beatle, and the pair had some fun times.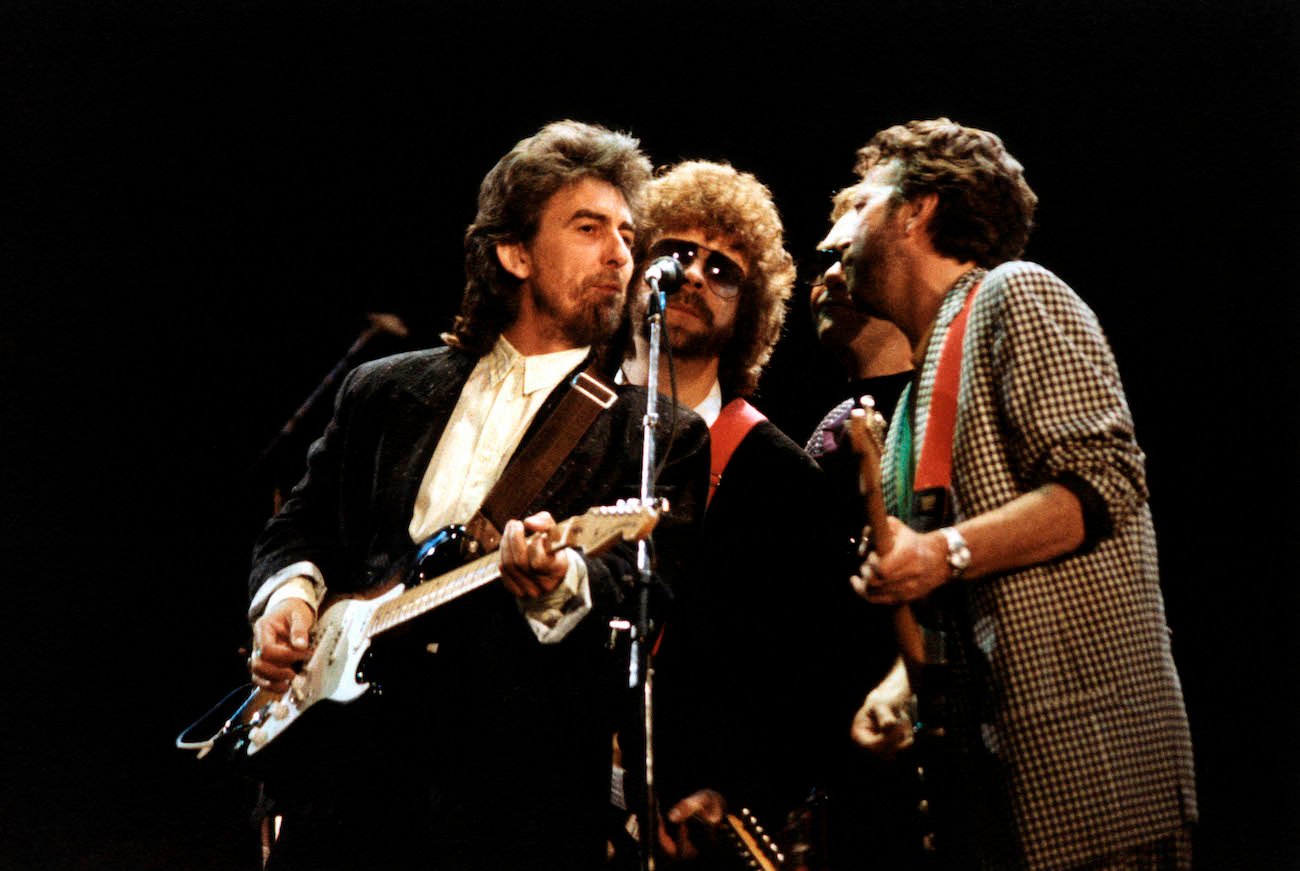 George Harrison had to get to know Jeff Lynne before they started working on 'Cloud Nine'
In 1986, Lynne heard George wanted him to produce his new album, Cloud Nine, through the music industry grapevine. So, Lynne visited George at his home, Friar Park. During his visit, George asked Lynne if he wanted to go to Australia with him.
George wanted to get to know Lynne before they started working together. He had to see if they would be able to write songs together. If they bonded during their vacation, well, that was a good sign that they could.
"When you've written on your own for so long, it's difficult to just suddenly sit down with somebody," George explained to Entertainment Tonight in 1987. "I think you need to really know the person, and it's all the stuff that doesn't really count in the song that is important.
"It's important that I know what this person feels or if he thinks I'm an idiot or if he thinks that these chords are rubbish or-all the fears and paranoias that you may have by just saying, 'Here, let's do this.' You don't want somebody fall about and say, 'What are you talking about?'
"I think it's important you get to know each other to a point where you don't have any fear about inhibition, so you don't mind making a fool of yourself, then you've got all that out the way, and you're able to begin."
George said writing songs with Lynne was challenging but fun
The ex-Beatle learned a thing or two from Lynne when they began writing songs together on that trip to Australia and beyond. Working with Lynne was challenging for George in a good way. However, the pair did have a lot of fun.
"I think with Jeff, it was a matter of I knew a lot of his songs and I could relate to them… and it was just a question of getting to know him a bit more, and it was sort of, not easy, but it was definitely fun because Jeff worked so hard at writing a song," George said.
"We'd get through the first bit and get to the next bit, and he'd go back, and he'd say maybe that bit can be a bit better. He's a real hard worker at it, and it made me think a bit more about what we were doing, but we've had times when it was just fun as well.
"You know, we'd just put a microphone up, to write the lyrics, it was always fun because we'd just have a few beers and then just sing anything and see what came out."
It's hard to tell what George or Lynne wrote on 'Cloud Nine'
It turned out that George and Lynne were more similar than they thought. It seemed they knew how to write a song that sounded like the other had written it. George wrote something, and it sounded like a song by Lynne's band, Electric Light Orchestra. When Lynne wrote something, it sounded like something George would write.
Entertainment Tonight pointed out that "Fish on the Sand" on Cloud Nine sounded the most like ELO. However, it wasn't Lynne who wrote it; it was George. "That is the one song that didn't have anything to do with him," George said.
"That song, I wrote that the night before we started the sessions. The only thing about that that could be ELO is that Jeff played a little keyboard part in the break in the lyrics… I wrote all the words and all the chords and even just did it in my arrangement.
"That's the good thing about the production because I wanted somebody who'd help me make my record; I didn't want somebody who would help me make their record."
When they worked on "When We Was Fab," George wanted it to sound like it came from The Beatles era. Entertainment Tonight said the sitar riff at the end sounded like George's "Within You Without You."
"It's not intended to be, specifically, but it does sound a bit like that doesn't it?" George said. "The first four notes sounds like that. But Jeff Lynne played that on an autoharp. Jeff played that, so you see, he may have intended it to be similar or may not."
George said "This Is Love" sounds the most like a Jeff Lynne song, but at the same time, it also sounds like a George Harrison song because of the slide guitars.
However similar they were in their songwriting, George said Lynne's input was enormous. One thing's for sure, George and Lynne's friendship only got stronger after they worked on Cloud Nine.