George Harrison Said He Didn't Initially Think About Writing Songs-Here's What Changed His Mind
George Harrison once revealed what changed his mind about writing songs early on in The Beatles. While John Lennon and Paul McCartney soured as songwriters, George was left to his own devices.
Initially, George Harrison didn't write songs. In the early days of The Beatles, John Lennon and Paul McCartney were the chief songwriters, and they did a great job. Their songs catapulted the band into stardom, Beatlemania, and beyond. So, George didn't really need to bring his own tunes to the studio.
The thought of writing songs didn't even cross George's mind, actually. But something eventually made him realize he could. Whether he was welcome to bring them forth was another issue.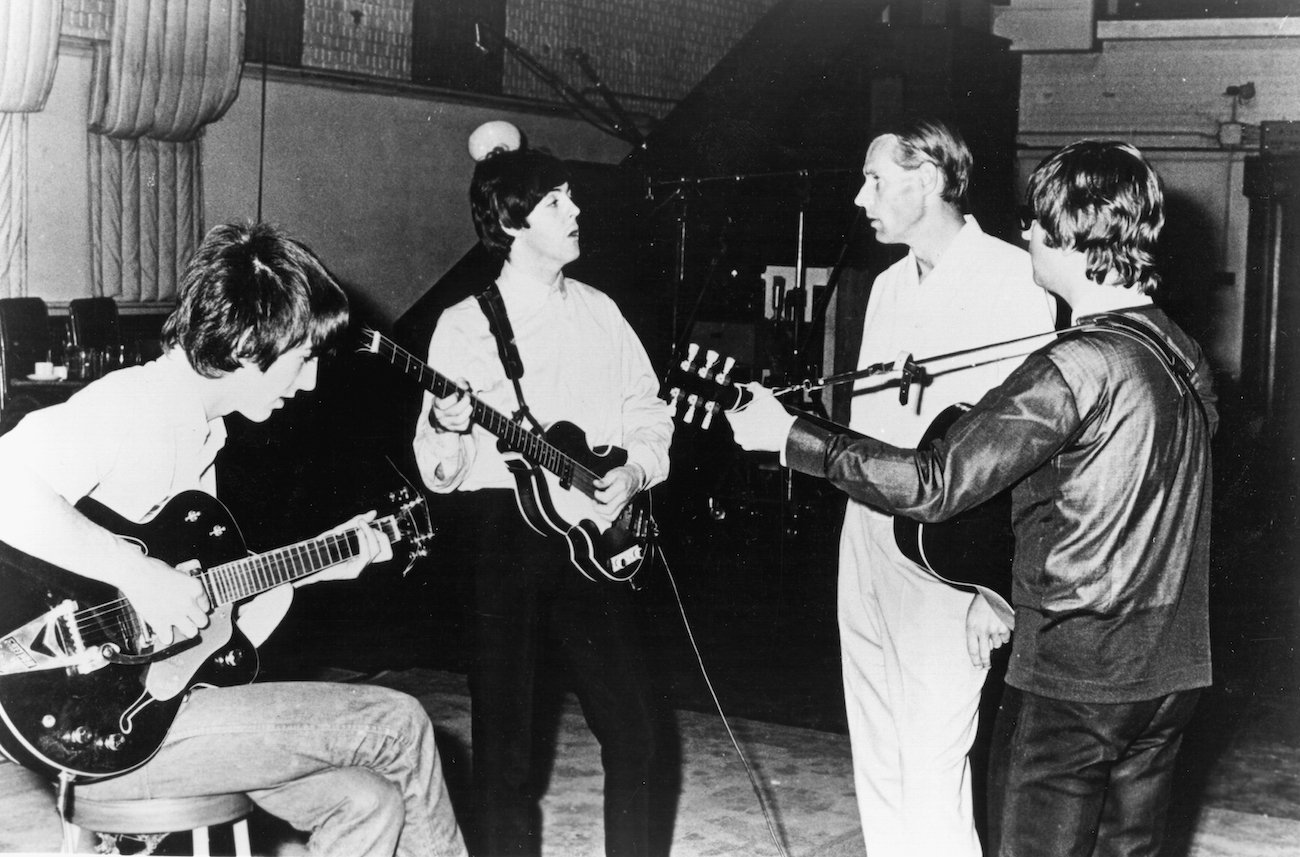 George Harrison didn't even think about writing songs
During a 1992 interview with Guitar World, George was asked how difficult it was squeezing in his songs between the "two most famous writers in rock." George replied he didn't initially think about writing songs in the group's early days. At least until he saw how successful John and Paul were.
"To get it straight, if I hadn't been with John and Paul I probably wouldn't have thought about writing a song, at least not until much later," George explained. "They were writing all these songs, many of which I thought were great. Some were just average, but, obviously, a high percentage were quality material. I thought to myself, 'If they can do it, I'm going to have a go.'"
However, once George started to write songs tentatively, he still had the arduous task of confronting the band with them.
George would 'meekly' approach the band with one of his tunes
For George, the most challenging part wasn't writing a song as good as a Lennon/McCartney original. George had the fun task of approaching the band with his tunes and getting them to use them.
"But it's true: it wasn't easy in those days getting up enthusiasm for my songs," George explained. "We'd be in a recording situation, churning through all this Lennon/McCartney, Lennon/McCartney, Lennon,/McCartney! Then I'd say [meekly] can we do one of these?"
The Beatles were never interested in George's songs. They almost turned down some of his biggest hits. "When we actually started recording 'While My Guitar Gently Weeps' it was just me playing the acoustic guitar and singing it [This solo version appears on the Anthology 3 CD-GW Ed.] and nobody was interested," George explained. "Well, Ringo probably was, but John and Paul weren't."
"When I went home that night, I was really disappointed, because I thought, Well, this is really quite a good song, it's not as if it's s*****!"
George Martin didn't like George coming with tunes either
The Beatles' producer, George Martin, didn't like George coming forward with songs because he wanted "to concentrate on the guys who were giving me the hits," Martin told CNN. He didn't like George coming in and thinking he could be just as great as John and Paul.
Initially, George's songwriting "was kind of tolerated," Martin said. He would condescendingly say to The Beatles, "Oh, yes, we must have a George song on this thing."
Looking back, Martin regretted his behavior. According to Udiscovermusic, Martin said, "I think the trouble with George was that he was never treated on the same level as having the same quality of songwriting, by anyone – by John, by Paul or by me. I'm as guilty in that respect.
"I was the guy who used to say: 'If he's got a song, we'll let him have it on the album' – very condescendingly. I know he must have felt really bad about that. Gradually he kept persevering, and his songs did get better – until eventually, they got extremely good. 'Something' is a wonderful song."
Eventually, George got so good at writing songs that they just flowed out of him. Eventually, he had to start stockpiling them. Most of the pile included the songs The Beatles turned down. However, when the band disbanded, he had enough songs for a triple album.