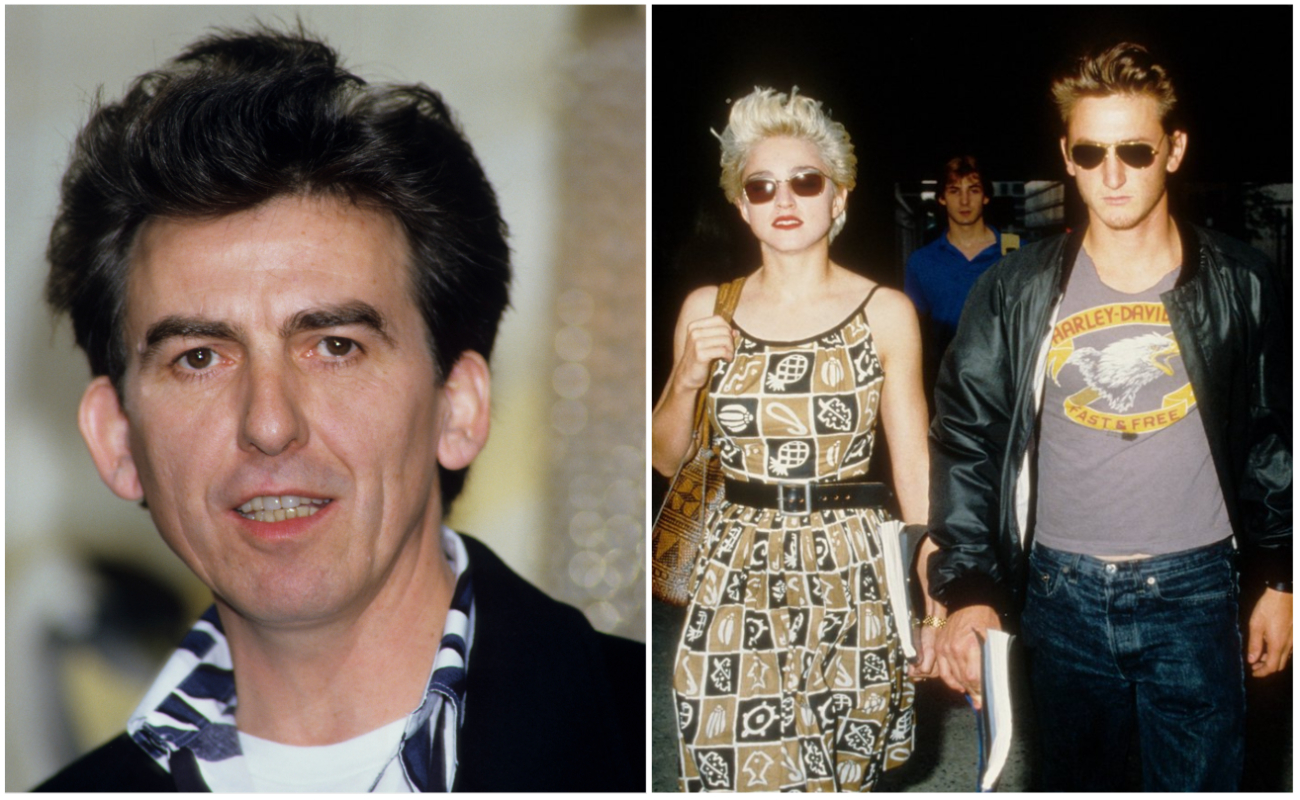 George Harrison Said Getting a Good Performance out of a 'Pissed off' Sean Penn for 'Shanghai Surprise' Was Hard
George Harrison said it was hard getting a good performance out of a 'pissed off' Sean Penn while George and his film production company HandMade Films made 'Shanghai Surprise' in 1986.
George Harrison co-founded HandMade Films in 1978 with his business manager, Denis O'Brien, to help his Monty Python friends make Life of Brian. However, neither George nor O'Brien imagined that they'd make a film that scored two Hollywood A-Listers, Madonna and her then-husband Sean Penn.
Shanghai Surprise was not HandMade Films' best movie, though. Quite the opposite. George said getting a good performance out of an often pissed-off Penn was hard.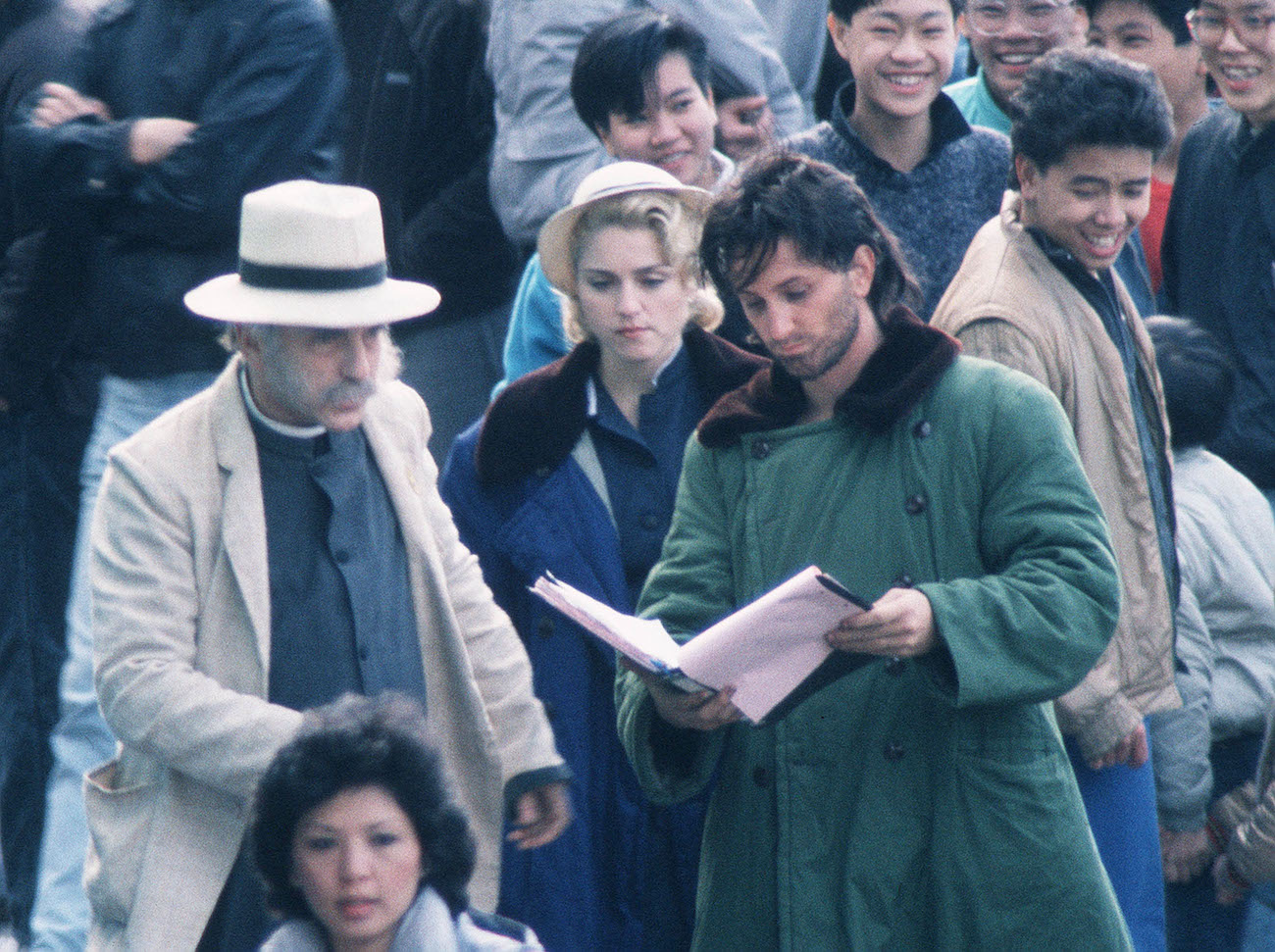 George Harrison was 'dubious' from the start about Sean Penn and Madonna's film, 'Shanghai Surprise'
In a 1988 interview, Film Comment asked George why he and HandMade Films agreed to make Shanghai Surprise. The film had a $15 million budget and a "temperamental, high-profile husband-and-wife team."
"I was dubious from the first," George replied. "I get afraid by things like that. And a lot of others at HandMade didn't want to make that film. Denis himself was just a couple of days away from just shelving the whole thing when suddenly the producer informed us that Madonna and Sean had agreed to be in it.
"At that time, it sounded like a good idea. But when we went ahead with it, it proved to be very painful for most of the people involved—the technicians as much as anyone, because of the attitudes of the actors.
"It was like 'Springtime for Hitler' in The Producers: we got the wrong actors, the wrong producer, the wrong director. Where… did… we… go… right??? It wasn't easy, but I was determined not to let it get me depressed."
George once said that Shanghai Surprise was "doomed" from the start. Working with Penn and Madonna was a real headache for him.
The then-newlyweds played love interests, Glendon Wasey and Gloria Tatlock. Set in 1938, Shanghai Surprise follows a failed salesman (Penn) as he helps a missionary nurse (Madonna) obtain opium to ease her patient's pain.
George said getting a good performance out of an often pissed-off Penn was hard
According to Yahoo! News, paparazzi often invaded set for snapshots of the new high-profile couple. Things weren't going well between Madonna and her new husband either.
"The stars' behaviour, particularly Penn who hated the press intrusion and perhaps felt he had been convinced to appear in the film as a favour to his new wife, grew ever more tempestuous," Yahoo! News wrote. During filming, Penn punched a photographer, bashed a window in, and made the director fire and replace Bernard Hill.
The production crew called George in to step in. Madonna's brother, Christopher Ciccone, claimed that "although Harrison felt moved to 'read the riot act' to Penn over his hostile and aggressive attitude during filming and gave the actor a stern ticking-off, he treated Madonna with 'kid gloves,'" the Daily Mail wrote.
In a 1987 interview, Creem Magazine asked George what it was like working with Penn. George liked Penn, but he was hard to work with.
"Oh, yeah, they're great, they were real­ly helpful on that movie," George laughed. "No, I like Sean, if you're seriously asking me about Sean. I know he's a naughty boy and I know he didn't try as hard as he could've to make that film better.
"I think that when he's in a good mood you see his performances are really good: there's a lot of scenes in it where he's ex­cellent. And a lot of scenes where you can see he's pissed off. He may have had a lot of reasons to be pissed off, but we all do­–we have to perform, that's what pro­fessionalism is.
"So it was disappointing because­–I think she was trying to be a little bit nice, but she doesn't have a sense of humor, which is unfortunate. 'Cause it was a comedy. And, Sean, I spent a lot of time with him and I really liked him a lot–­I had some really good laughs with him. When he's up, he's a sweetheart, he's a good actor and he's a very nice person.
"When he gets out of the pen, I just wish him well and I hope he'll be able to keep cool." George was referring to Penn's 33-day prison stay for reckless driving and assulting a film extra on the set of Colors in 1987.
Madonna said she learned a lot about how to deal with the press from the former Beatle
The Associated Press reported that Madonna said George was a "great boss." He'd given her "more advice about how to deal with the press than how to make the film."
Madonna also touched on her and her husband's violent outbursts with the press. "I have nothing to apologize for," she said. "I never imagined success could be like this."
The former Beatle, who never liked the press, called the English media "a bunch of animals" during filming. George also praised Penn. "I don't see him like you," George said. "I see him like an actor. He's a human being and very nice – a good actor. Stars are actually people. They're human beings who've become famous."
George liked working with Penn, at least some of the time. However, he was undoubtedly glad when Shanghai Surprise wrapped.