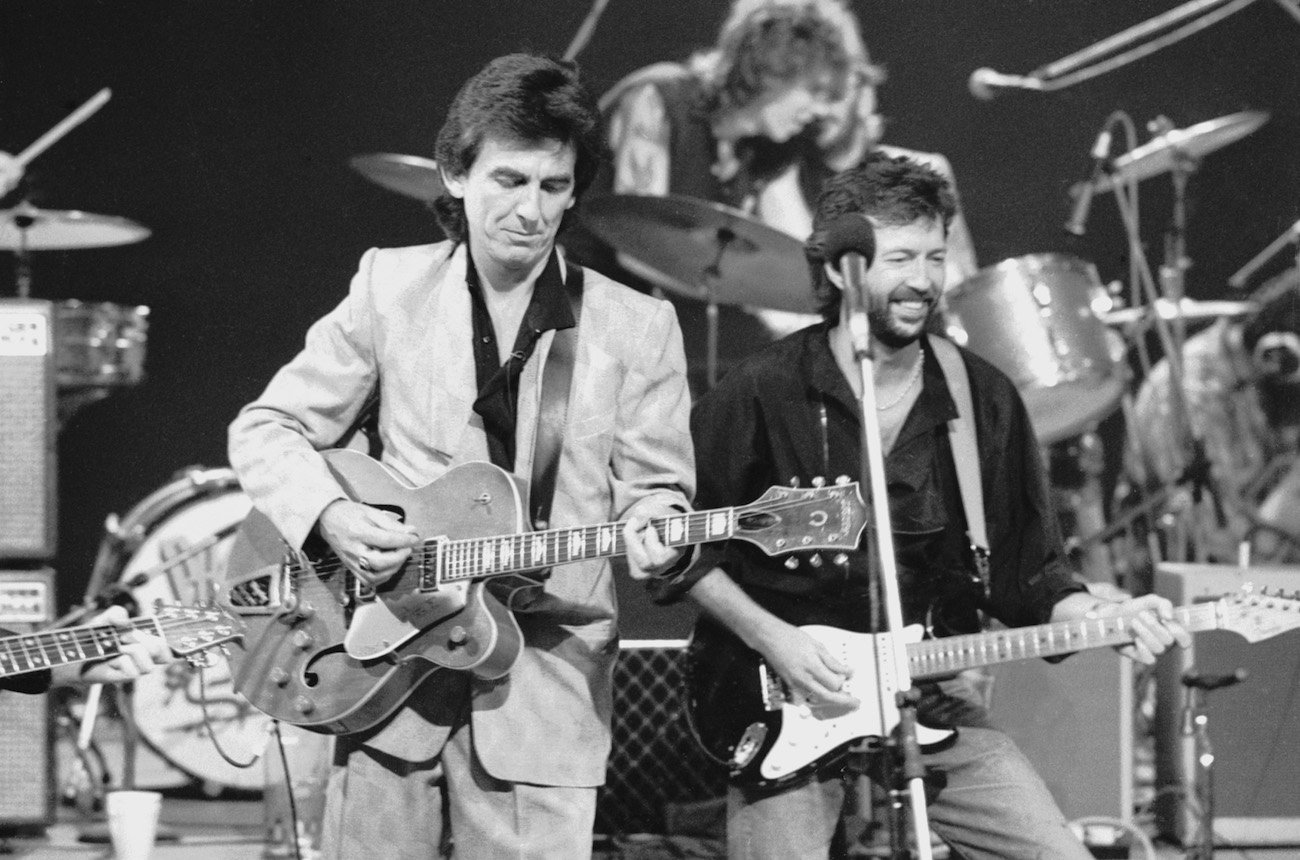 George Harrison Said Looking at Eric Clapton Was 'Like Looking at Myself'
George Harrison said looking at his friend, Eric Clapton, was 'liked looking at myself.' The guitarists had much in common.
George Harrison said looking at his long-time friend, Eric Clapton, was "like looking at myself." Maybe that's why George was fine with Clapton playing on "While My Guitar Gently Weeps" and taking his first wife, Pattie Boyd, from him.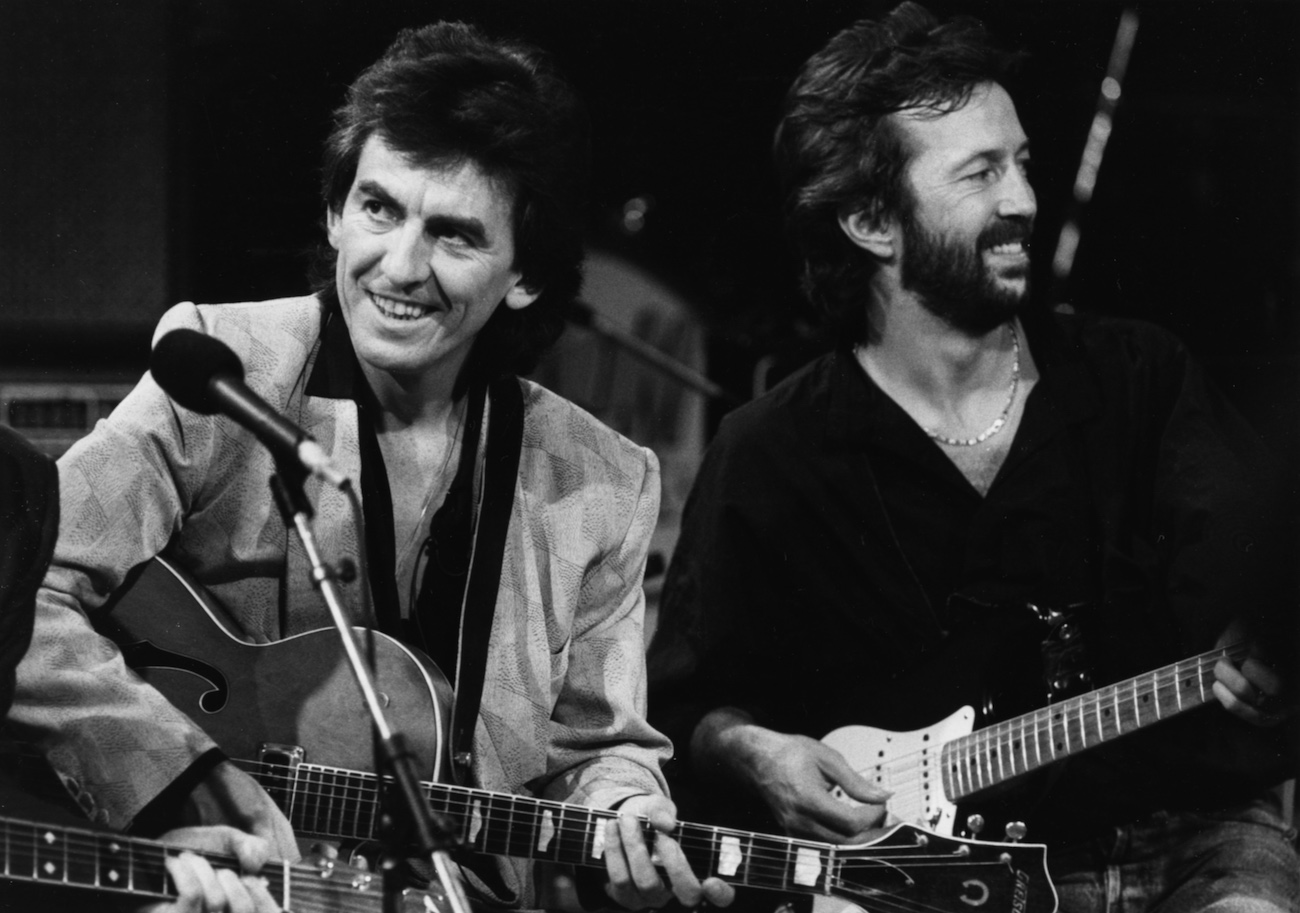 George Harrison recognized Eric Clapton as his equal most of the time
In Martin Scorsese's documentary, George Harrison: Living in the Material World, Clapton called himself Lancelot because he was a lone wolf without any direction when he met George and his first wife, Pattie Boyd. Meanwhile, the couple was like King Arthur and Guinevere in Beatledom. Clapton didn't envy George for his talents, but he did envy George's Beatle family unit.
Despite their differences, Clapton thinks George saw him as his equal. There were also things that George envied about his friend. George sometimes longed to be a free agent like Clapton.
Clapton said, "He [George] was clearly an innovator… I didn't feel threatened at all because I had quite a lot of self-confidence going in my concept of myself as being this sort of blues missionary, as it were. I wasn't looking for any favors from anybody. And George recognized me as an equal because I had a level of proficiency even then that he saw as being fairly unique too…
"I think we shared a lot of tastes too, in superficial things, cars or clothes, and women, obviously. But I think what George might have liked about me was the fact that I was a kind of free agent. I think he may have already been wondering about whether he was in the right place being in a group. There was a lot about what he had going, which I envied, and there was a lot about what I had going that he envied."
If George saw Clapton as his equal, that's likely why he asked him to play on "While My Guitar Gently Weep." George said his ego rathered Clapton play on the tune. However, there were moments when George didn't see Clapton as his equal. George told Guitar Player that the things Clapton did on the guitar took him ages to do.
George said looking at Clapton was 'like looking at myself'
Somewhere along the way, Clapton fell in love with Boyd. The drama that ensued was primarily calm on George's part. In Here Comes The Sun: The Spiritual And Musical Journey Of George Harrison, Joshua M. Greene wrote that when George discovered his friend and wife walking hand-in-hand after a concert, he yelled at Clapton never to see his wife again. Then, he shoved Boyd into their car.
When George discovered the pair conversing at a party at Robert Stigwood's, Clapton told George he was in love with his wife. George angrily asked Boyd if she was coming home with him or Clapton. She remained with George, but his own infidelities had torn their marriage apart.
On the other hand, when Boyd showed George love letters she didn't know were from Clapton, he brushed them off. Clapton approached George and said, "I'm in love with your wife. What are you going to do about it?" George nonchalantly responded, "Whatever you like, man. It doesn't worry me. You can have her and I'll have your girlfriend."
Days later, Clapton apologized. "F*** it, man," George said. "Don't be apologizing. I don't care." George's rationalization of the situation was: who better than Clapton? The guitarists had become so close that looking at Clapton was "like looking at myself."
Clapton was shocked at George's attitude toward his and Boyd's affair
According to Greene, Eric was amazed by how nonchalant George was with the entire situation. He willingly gave Boyd away and agreed to divorce her.
"He managed to laugh it all off when I thought it was getting pretty hairy," Clapton later said. "I thought the whole situation was tense—he thought it was funny. He helped us all through the split-up."
At Clapton and Boyd's wedding, George introduced himself as the husband-in-law. Later, he said, "I'd rather she was with him than with some dope."
Eventually, George found someone better suited to him and his spiritual lifestyle, Olivia Arias. They had one son, Dhani, and spent the rest of their lives meditating and traveling the world together.