George Harrison Said He Had 'No Voice & Almost No Body' Before Meeting His Wife Olivia
George Harrison went through a rough patch after he divorced his first wife, Pattie Boyd. His song "So Sad" describes what he was going through at the time. George was known for his spirituality, but during this period, he went down a dark hole. Only Olivia Arias, his future wife, could pull him out of it and give him a fresh start.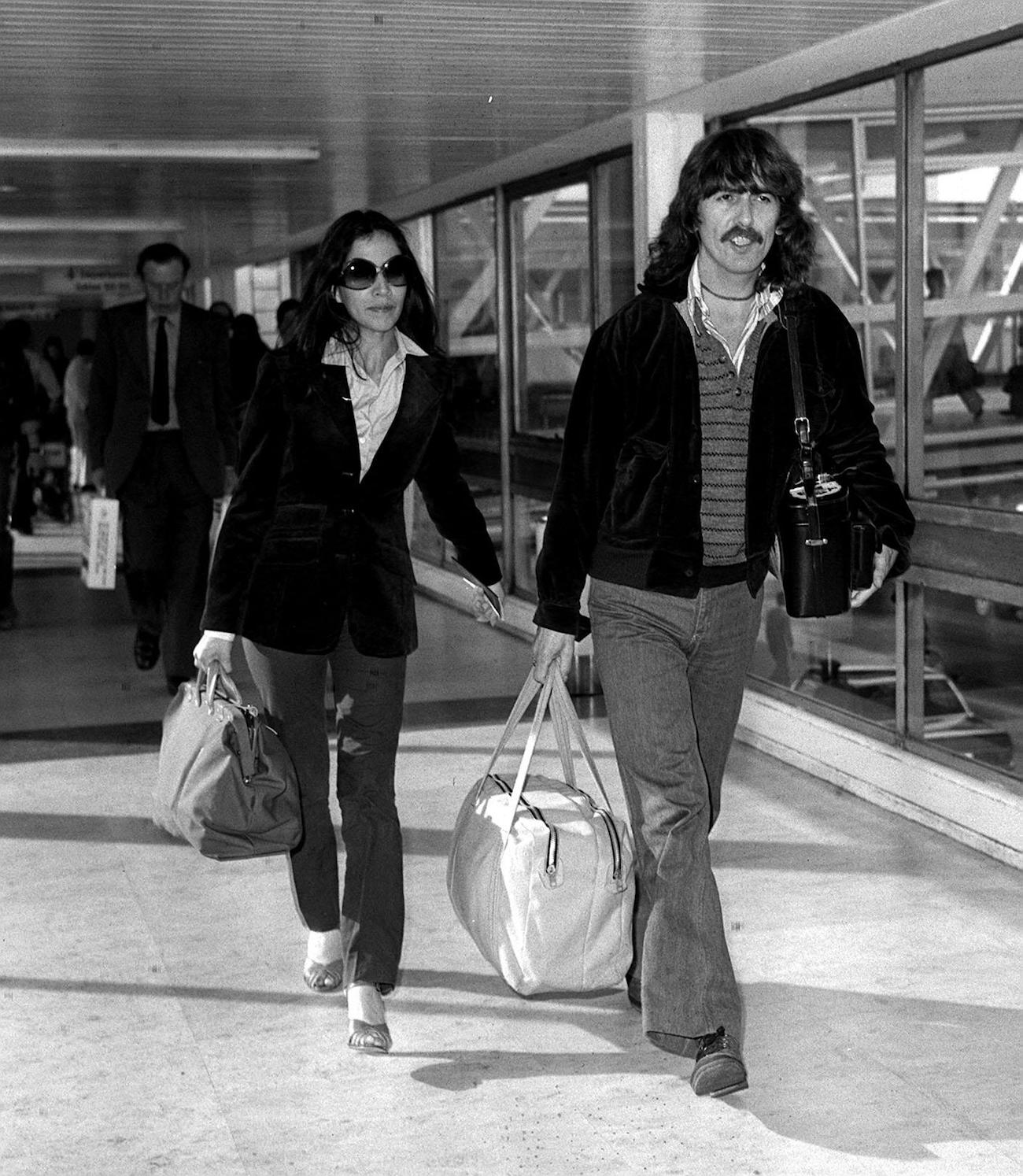 George Harrison felt like he had 'no voice and almost no body' before meeting his wife Olivia
The last couple of years of George's marriage to Pattie Boyd were some of the toughest. He'd had an affair with Ringo Starr's wife, Maureen, and Boyd had fallen in love with one of George's best friends, Eric Clapton. When they agreed to split in 1974, George went on a "bender."
Looking back on that dark period of his life in a 1979 interview with Rolling Stone, George said, "Yeah, well after I split up from Patti [Boyd, Harrison's first wife], I went on a bit of a bender to make up for all the years I'd been married. If you listen to 'Simply Shady,' on Dark Horse, it's all in there – my whole life at that time was a bit like [laughing] Mrs. Dale's Diary [a now defunct British radio soap opera]."
Rolling Stone asked if he was "going down fast." George replied, "Well, I wasn't ready to join Alcoholics Anonymous or anything – I don't think I was that far gone – but I could put back a bottle of brandy occasionally, plus all the other naughty things that fly around. I just went on a binge, went on the road . . . all that sort of thing, until it got to the point where I had no voice and almost no body at times."
RELATED: George Harrison's Father Was Less Than Enthusiastic About His Son's Career Choice
Meeting Olivia Arias changed George's life
When George met Olivia Arias, his life started to change. "I met Olivia and it all worked out fine," he told Rolling Stone. He mentioned the song he wrote about Olivia, "Dark Sweet Lady," which has lyrics like, "You came and helped me through. When I'd let go. You came from out the blue. Never have known what I'd done without you."
"That sums it up," George said. Olivia did come to George out of the blue. In 1972, Olivia started working at A&M Records. She spoke with George over the phone often because A&M was distributing George's new record label, Dark Horse.
George was impressed with Olivia and arranged for her to work at Dark Horse. The first time they met in person, Olivia greeted George outside Dark Horse's offices on the label's launch day. No one arranged a welcoming party for George's arrival nor a celebration for the launch, yet Olivia felt like someone should greet him.
"I thought somebody should," Olivia told Rolling Stone in 2020. Olivia said George drove himself to work that day. "I thought, 'Jeez, this is a big day in his life,' and I went outside and said, 'Welcome!' He said, 'What's going on?' He was very excited, but it was just me."
Olivia wasn't just welcoming George to his new label; she was welcoming him to his new life. Shortly after, they started dating, and George started taking Olivia with him on tours.
RELATED: George Harrison Hated his Time in The Beatles Before the Rest of the Band
George said getting remarried and starting a family was 'wonderful'
George's divorce from Boyd was finalized in 1977. Toward the end of that year, Olivia found out she was pregnant. She gave birth to the couple's only son, Dhani, in late 1978. Shortly after, the couple married in a quiet ceremony. George told Rolling Stone that starting a family was "wonderful." He now understood why John Lennon hadn't been making music. John and his wife Yoko Ono had just had their son Sean, and John was taking time to watch him grow up.
"Yeah, that's been a wonderful thing for me," George said. "Everybody who has a baby thinks their child is wonderful, and it is. I'm enjoying it a lot and, again, that's probably why John isn't working. After a long time of waiting, he and Yoko finally had a child and I think he wants to give most of his time to watching the child grow up."
Olivia gave George the opportunity for a fresh start. Suddenly, his life changed, and his happiness with his new life started reflecting in his music. Who knows what would have happened if George didn't meet Olivia.