George Harrison Said People Didn't Know He Was Funny Because He Made Some Religious Songs in The Beatles
George Harrison claimed people didn't know he was funny because he wrote some religious songs during his time with The Beatles. They couldn't have been farther from the truth.
During his first couple of years with The Beatles, George was content with being witty with his bandmates. The group used humor to get through incredibly arduous interviews and scary, grueling world tours. However, when George started his spiritual journey in the mid-1960s, he knew there was a deeper meaning to life. It wasn't just about making jokes with his bandmates, making No. 1 albums, or fame.
Embarking on a spiritual journey didn't mean George left his humor behind, though. Humor was one of his most significant traits.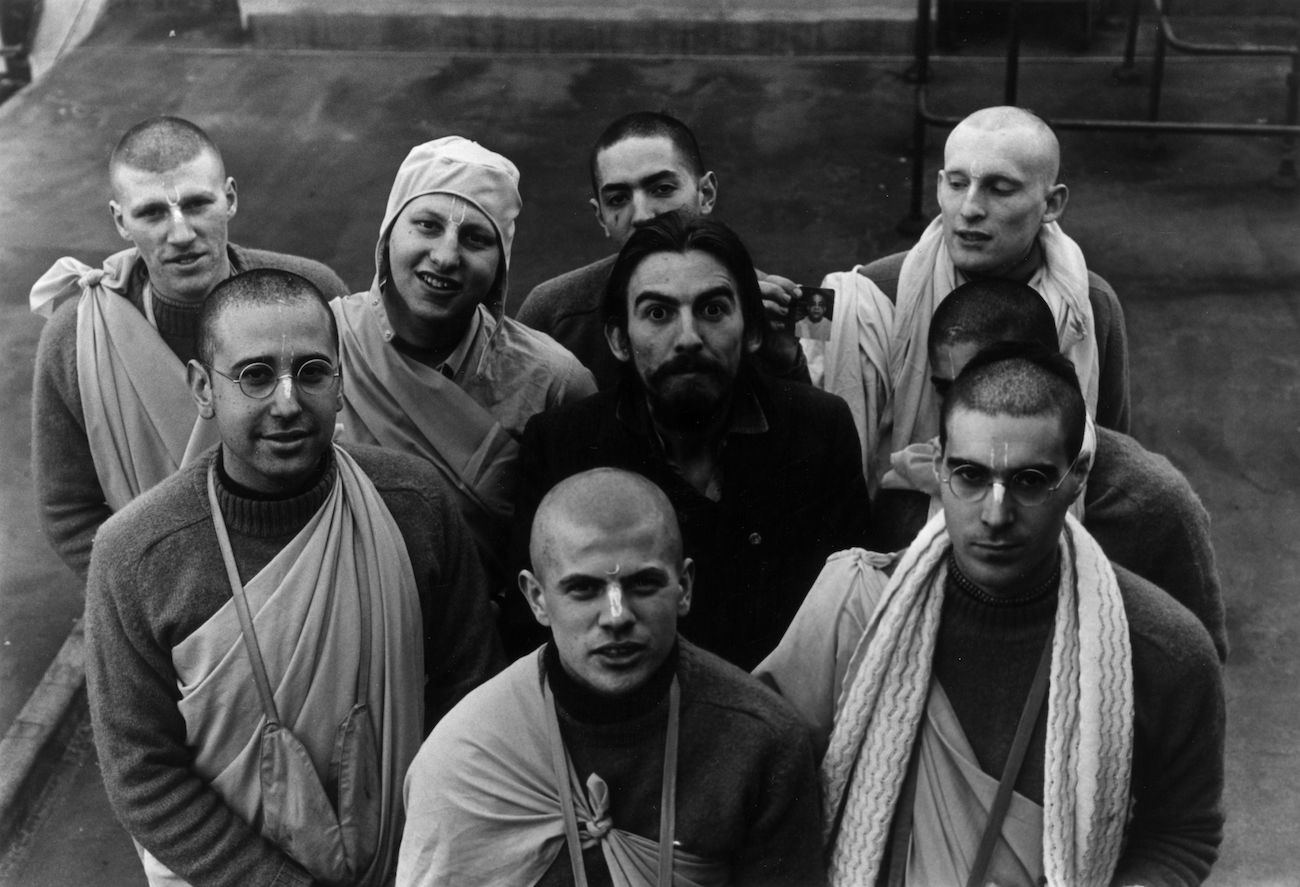 How the spiritual Beatle started his journey
There were a few things that catapulted George into spiritualism. In 1965, George and John Lennon's dentist slipped LSD into their coffee. George had a profound experience with the hallucinogen.
He told Rolling Stone (per Joshua M. Greene's Here Comes The Sun: The Spiritual And Musical Journey Of George Harrison), "Up until LSD I never realized that there was anything beyond this everyday state of consciousness… The first time I took it, it just blew everything away. I had such an overwhelming feeling of well-being, that there was a God, and I could see him in every blade of grass.
"It was like gaining hundreds of years of experience in twelve hours… From that moment on, I wanted to have that depth and clarity of perception."
However, George realized the effects of LSD were nothing compared to meditating. His first step in that direction happened when The Beatles were filming Help!
George came across a sitar on set and couldn't stop hearing its sounds. So, he bought a sitar and added it to "Norwegian Wood." Then, friends told him to listen to sitar legend Ravi Shankar.
Around that time, George had hit a wall, where nothing was funny or enjoyable anymore. In 1982, George told a leader in the Hare Krishna movement, Mukunda Goswami (per the Guardian), "It was like reaching the top of a wall and then looking over and seeing that there's so much more on the other side. So I felt it was part of my duty to say, 'Oh, OK, maybe you are thinking this is all you need – to be rich and famous – but actually it isn't.'"
George finally met Shankar in June 1965. By then, nothing gave him a buzz anymore. George told CBS This Morning (per Greene), "I just thought, well, I'm looking for something really, really beyond just the ordinary, the mundane… I wanted somebody to impress me. I didn't expect it to be this little Indian man. But, you know, good things come in small packages."
Shankar taught George "God is sound" and his first sitar lessons. Later, George received religious texts from Shankar as well. Afterward, Goerge threw out LSD and replaced it with books from some of the most inspiring yogis.
RELATED: George Harrison's Wife Olivia Has Never Considered Herself a Beatle Wife
George Harrison claimed people didn't think he was funny because he'd written a couple of religious songs in The Beatles
When George first started reading about Hinduism, he was on a trip to India shortly after The Beatles stopped touring in 1966. When he returned, he began incorporating religion into his songs.
"Norwegian Wood" was the first Beatles song to have sitar, but "Love You To" had Indian music and spiritual lyrics. Afterward, George recorded "The Inner Light," a B-side, and "Within You Without You" for Sgt. Pepper's Lonely Hearts Club Band.
The media and fans were well aware of George's spiritual interests. However, they started thinking it'd taken George's humor somewhere along the way.
During a 1987 interview, Creem Magazine pointed out to George, "You're funny, too­–and that's funny, 'cause for all those years you were thought of as being so serious…"
George replied, "'Cause I did them religious songs three or four times."
Greene added a quote from Apple employee Tony King, "When I first met George in 1963, he was Mister Fun, Mister Stay-Out-All-Night. Then all of a sudden, he found LSD and Indian religion and he became very serious. Things went from jolly weekends where we'd have steak and kidney pie and sit around giggling, to these rather serious weekends where everyone walked around blissed out and talked about the meaning of the universe."
George was serious about his spiritual journey, but that didn't mean he forgot to be funny.
He added laughter to the end of "Within You Without You" as a "way of reminding listeners not to take his pontificating seriously—search for God but don't lose your sense of humor, he seemed to admonish himself as much as his listeners."
RELATED: Tom Petty Said 1 of George Harrison's Beatles Songs Had a 'Big Effect' on Him
Friends claim George was very funny
Throughout the rest of his life, George remained spiritual and funny. His friends can attest to that. Tom Petty said George was often hilariously funny, even when he was being cynical.
"I think [spirituality], probably, was the greatest gift he gave me," Petty told NPR. "He gave me a way of understanding a higher power without it being stupid, or having tons of rules and books to read. But the best thing I can say to people that are curious about that is George was probably everything that you thought he was, and then some more. Very funny man; he could just kill me with his humor."
George also made friends with the comedy troupe Monty Python and had fun with them. So, George was a funny person. He once said people fear spiritualism because they don't understand it. It was natural for people to misunderstand that George could be funny and spiritual simultaneously.
RELATED: George Harrison's Wife Olivia Received Hate Mail and Death Threats From Obsessive Fans, Here's What She Did