Why George Harrison Said He Was Very Proud of This 'Revolver' Song: 'I Literally Invented That Chord'
George Harrison said one song on The Beatles' 'Revolver' made him super proud. The song marked a turning point in George's guitar playing.
In 1966, George Harrison felt tired and bored. The Beatles were constantly touring, and he was sick of it. Most of the group agreed, so they stopped touring. It was the best decision they ever made, mainly because it allowed them to focus on their music even more.
They progressed as musicians and songwriters. They became sponge-like, allowing so many things to inspire and influence them. The result was some of their most iconic albums, including Revolver, Sgt. Pepper's Lonely Hearts Club Band and virtually all their albums after that. By opening themselves up to the world of music, they soon became the masters influencing the rest of the world. And according to George Harrison, Revolver featured one song in particular with a lasting legacy.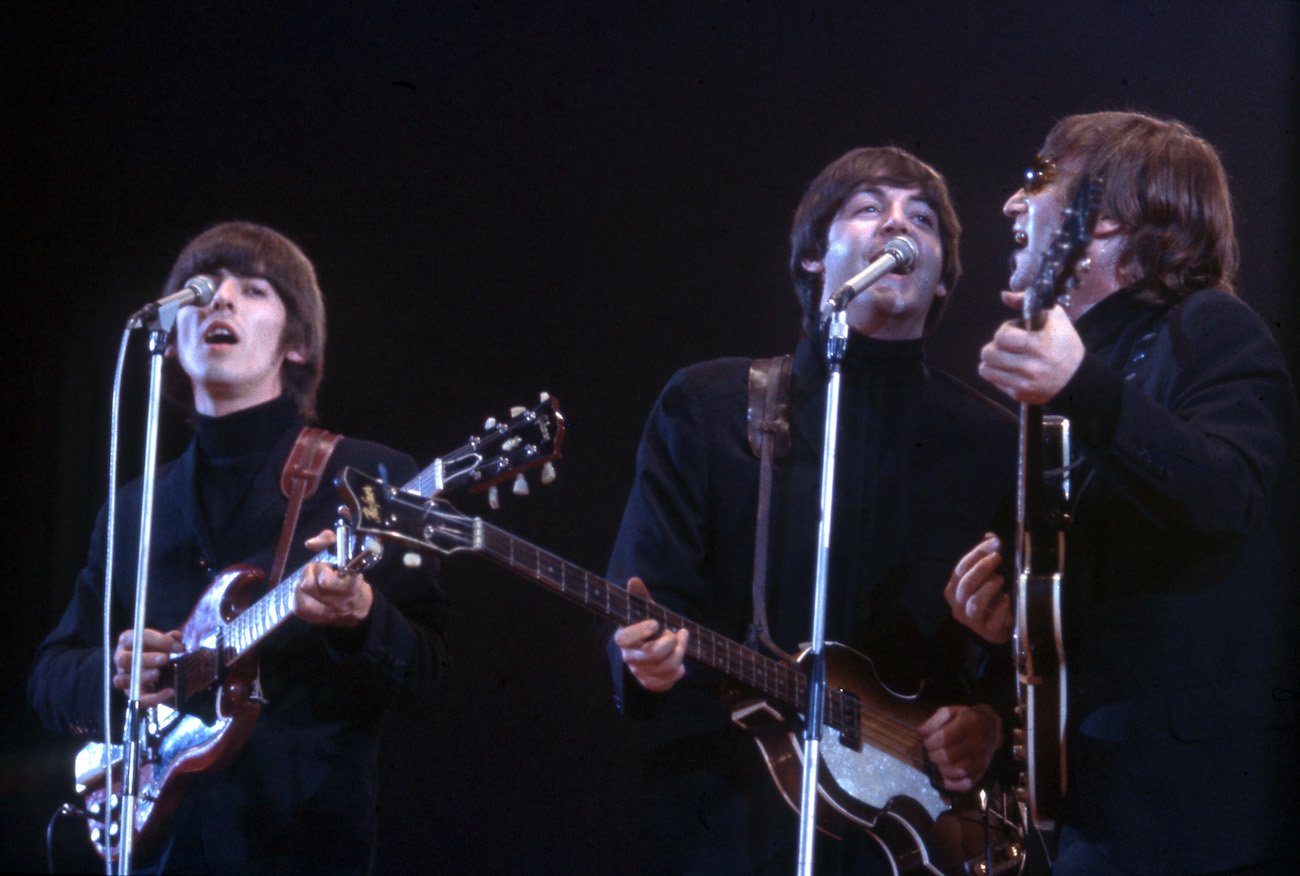 George Harrison said The Beatles became 'more conscious of so many things' after they stopped touring
Around 1966, The Beatles realized they were going nowhere and fast. While crowds of their screaming fans were happy to see them live, even if they weren't really listening to the music, the Fab Four started getting bored of touring.
During a 1987 interview with Entertainment Tonight, Harrison explained that he got sick of playing the same 10 songs. If they continued down that path, The Beatles wouldn't progress as musicians.
"We became popular, and all this stuff happened where we sang the same songs a lot, we still had a laugh, it was still good fun though," Harrison said. "But you know the-that side of it, of playing like as a musician lost the edge there because we just played the same tunes that we play recorded, go around the world singing the same 10 songs and every year, we'd lose one and add a new one, and it got a bit boring being fab."
However, when the group decided to stop touring in 1966, the door to musical exploration opened up. In 1992, Harrison told Guitar World that Rubber Soul and Revolver saw massive positive changes in the band.
"We just became more conscious of so many things," he said. "We even listened deeper, somehow. That's when I really enjoyed getting creative with the music-not just with my guitar playing and songwriting but with everything we did as a band, including the songs that the others wrote. It all deepened and became more meaningful."
Harrison was also experiencing a spiritual awakening around this time too, and it had a positive impact on his playing.
George Harrison's 'Revolver' song 'I Want To Tell You' was a source of pride
Listening deeper to music paid off. For the first time, songs were coming to the Beatles' guitarist like never before. His musical mentor, Ravi Shankar, taught him things he never imagined, and he brought some of his best songs to the table when The Beatles returned to the recording studio. For Harrison, Revolver and Rubber Soul offered a chance to showcase his talent.
Harrison's work on one particular song changed rock music forever. When fans listened to "I Want To Tell You," they couldn't believe what they heard. That wasn't how rock sounded at that time.
Harrison said he was very proud of the song. Guitar World said, "The song marked a turning point in your playing, and in the history of rock music writing. There's a weird, jarring chord at the end of every line that mirrors the disturbed feeling of the song. Everybody does that today, but that was the first time we'd heard that in a rock song."
"I'm really pleased that you noticed that," Harrison said. "That's an E7th with an F on the top, played on the piano. I'm really proud of that, because I literally invented that chord.
"The song was about the frustration we all feel about trying to communicate certain things with just words. I realized the chords I knew at the time just didn't capture that feeling. So after I got the guitar riff, I experimented until I came up with this dissonant chord that really echoed that sense of frustration.
"John later borrowed it on Abbey Road. If you listen to 'I Want You (She's So Heavy),' it's right after John sings 'it's driving me mad!' To my knowledge, there's only been one other song where somebody copped that chord-'Back on the Chain Gang' by the Pretenders."
George Harrison had many influences in 1966
Besides having Shankar as a musical guru, Harrison also had other musical influences at the time, including Bob Dylan. Harrison and Dylan later became extremely close friends, but in 1966, they were simply influences on each other.
Guitar World pointed out to Harrison, "Dylan inspired you guys lyrically to explore deeper subjects, while the Beatles inspired him to expand musically and to go electric. His first reaction on hearing the Beatles was supposedly, 'Those chords!'" They went on to ask the ex-Beatle, "Did you ever talk to him about the way you influenced each other?"
"Yes, and it was just like you were saying," Harrison replied. "I was at Bob's house and we were trying to write a tune. And I remember saying, 'How did you write all those amazing words?' And he shrugged and said, 'Well, how about all those chords you use?'
"So I started playing and said it was just all these funny chords people showed me when I was a kid. Then I played two major sevenths in a row to demonstrate, and I suddenly thought, 'Ah, this sounds like a tune here.' Then we finished the song together. It was called 'I'd Have You Anytime,' and it was the first track on All Things Must Pass."
The musical experimentation and learning didn't stop with Harrison, Revolver, or Rubber Soul. The Beatles continued to push the envelope with their new music. They did things no one else dared to, and it continued to make them one of the best bands in the world.