George Harrison Said Waiting to Perform at the Prince's Trust Concert Was Like Waiting for the Electric Chair
Between 1982's Gone Troppo and 1987's Cloud Nine, George Harrison made very few public appearances and performed only a handful of times, including at the Prince's Trust Concert on June 5, 1987. George played with Ringo Starr, Eric Clapton, Elton John, Jeff Lynne, and Phil Collins.
There was a reason why George's performance at the Prince's Trust Concert was rare. After suffering through The Beatles' tours and a disastrous 1974 solo American tour, George had become disenchanted with performing. He hated being the guy up front, alone. So, waiting to go on during the charity event was like waiting for the electric chair.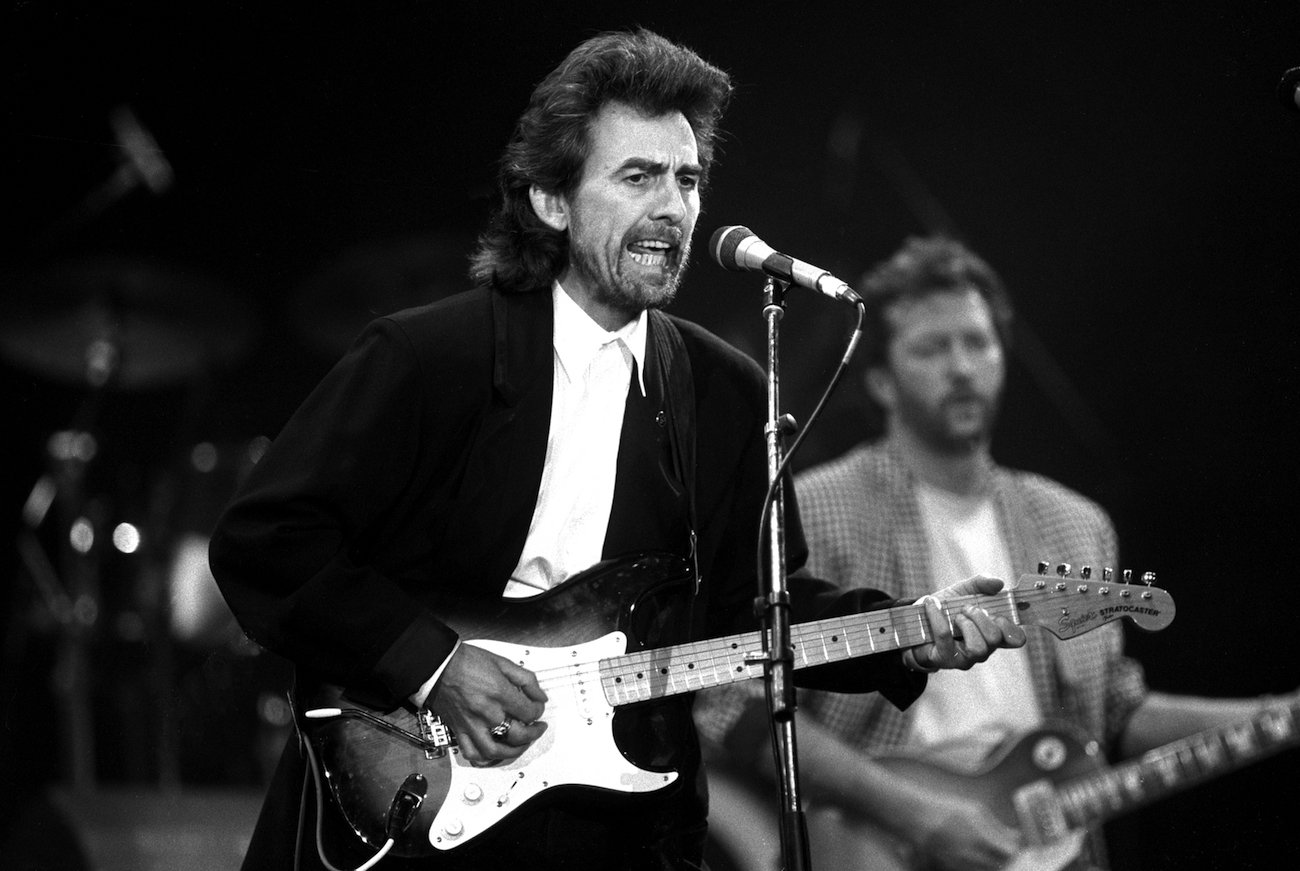 George thought he was being tricked into a Beatles reunion at the Prince's Trust Concert
Before becoming uneasy about performing, George was uneasy about something else concerning the Prince's Trust Concert.
George didn't know Starr was also called to perform. He found out when Ringo called him. According to Rolling Stone, George and Ringo had been contacted without the other knowing about it.
"Ringo phoned me up," George said, "saying, 'Somebody's asked me if I'm doing this Prince's Trust, and of course, I can't really do it without playing on it with you.' I said, 'Ooo, I don't know about that.' I mean, Ringo will always be my friend, but that made me nervous.
"I felt straightaway, somebody's trying to set this up again.' This being a Beatles reunion. "You know, it's one thing going on as me. But if I'm going on as the Beatles, I want to be able to have some sort of control over it."
In 1979, George told Rolling Stone, "The pressure, you know, of the people expecting you to do something. It's a wonder we didn't all go bananas really because I mean just say for that instance that Prince's Trust. It was bad enough me and then Ringo.
"If you imagine Paul there as well, people are gonna-they're expecting to hear you know whatever, I don't know what they're expecting to hear, but we could never deliver that, can't deliver the goods."
George agreed to perform at the Prince's Trust Concert despite feeling like he was being tricked into a Beatles reunion.
RELATED: What George Harrison's Comments to Tom Petty Following Roy Orbison's Death Really Meant
George was so nervous about performing at the Prince's Trust Concert
During a 1988 interview on Aspel & Co., George admitted he was terrified of performing at the charity event.
"It felt like I was going to the electric chair," George said. "Sat there for hours waiting to go on. Very very nervous." Fortunately, George was around friends. "There was a lot of support from the gang," he added.
George's nervousness isn't surprising. After his 1974 American tour, George stopped performing live. George had exhaustingly toured the world with The Beatles. Then, on that tour, he was alone.
"I don't like going on the road," George told Rolling Stone in 1979. "Sometimes I feel physically very frail. I can feel knackered, really tired, just having to get up early to get an airplane – I can feel ill having to travel. On the road there're all these medicines flying about to help you catch the plane on time, all that sort of stuff. And I'm a sucker for that. I could do myself in."
On that 1974 tour, George had laryngitis too. Fans and critics were upset by George's voice, the long Indian music sessions, and the absent Beatles tunes. George came home exhausted.
"When I got off the plane, and back home, I went into the garden and I was so relieved," George wrote in his memoir I Me Mine. "That was the nearest I got to a nervous breakdown."
He didn't perform for a while after. Tom Petty said George dreaded being the guy up front. He also disliked catering to fans who only wanted to hear old Beatles tunes. George would have rather played a show at the Holiday Inn in Minnesota or somewhere quiet.
"The only regret I have about not touring more is that it's fun playing with a band, that's all," George told the Chicago Tribune.
"After three or four nights of doing the concerts, my ego was satisfied. I'm the kind of person who would love to play whenever I felt like, with a band, and it might as well be the Holiday Inn in Nebraska — somewhere where no one knows you and you're in a band situation just playing music."
RELATED: After John Lennon's Murder, George Harrison Didn't Live in Fear: 'What's the Point of Killing Me?'
The former Beatle's son wished he'd played Chuck Berry songs
George told Aspel that he didn't tell his son Dhani about the Beatles until he was older. Dhani started liking artists like Chuck Berry. The first time Dhani saw George perform was at the Prince's Trust Concert. Backstage, Dhani asked George why he didn't play some of Berry's hits.
"Like my boy's nine, and he just loves Chuck Berry," George told Rolling Stone. "When I did that Prince's Trust concert last June — that was the first time he ever saw me hold a guitar onstage in front of people.
"He's got to know a bit about the Beatles, but I've never pushed that on him, or tried to say, 'Look who I used to be.' I did my two cute songs: 'Here Comes the Sun' and 'While My Guitar Gently Weeps.'
"He came back after the show, and I said, 'What did you think?' He said, 'You were good, Dad, you were good [slight pause]. Why didn't you do 'Roll Over Beethoven,' 'Johnny B. Goode' and 'Rock & Roll Music'?' I said, 'Dhani, that's Chuck Berry's show you're talking about!'"
Maybe Dhani knew that his father had played "Johnny B. Goode" during a surprise appearance at the Birmingham Heart Beat Charity Concert in 1986.
Fortunately, George's last tour, the one he did with Eric Clapton in Japan, was a success.
RELATED: George Harrison's Wife Olivia Says She's Always Been Good Friends With Yoko Ono: 'She's the Most Disarming Person'