George Harrison Schooled His Son on Where The Beach Boys' 'Surfin' U.S.A.' Came From
George Harrison had to school his son Dhani about where The Beach Boys' 'Surfin' U.S.A.' came from. After Dhani found out where the song came from he became a huge fan.
George Harrison surrounded his son Dhani with loads of music when he was growing up. He never pushed his son to follow in his footsteps, but keeping him away from it all was hard. George had a recording studio in the family home, Friar Park, and many rock stars and musicians came and went. Bob Dylan or Jeff Lynne could pop through the door at any one time.
Despite not pushing music on his son or showing him what his days as Beatle George were like, Dhani found his own way to music. However, sometimes, George had to school his son on certain artists.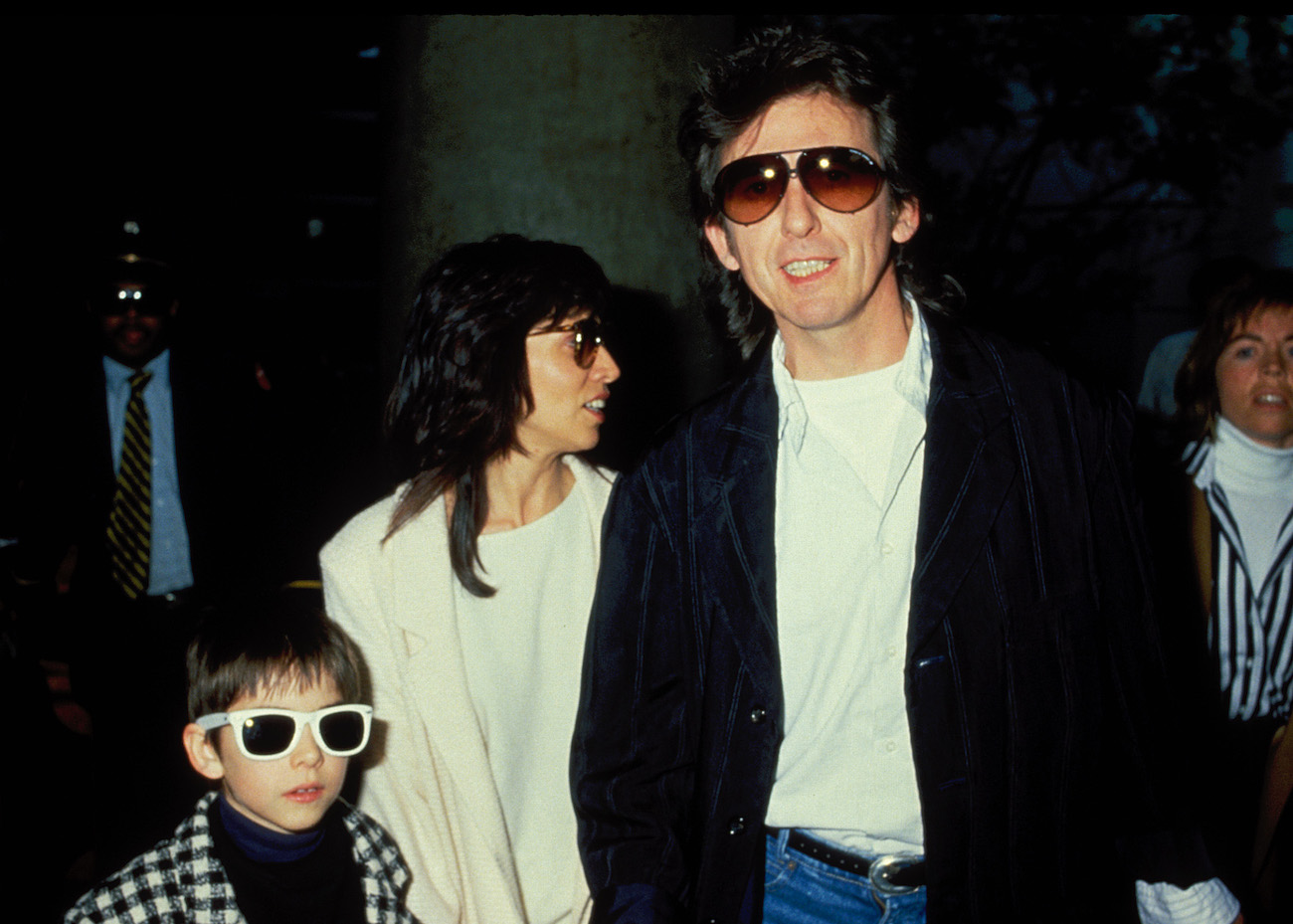 George Harrison schooled his son Dhani on where The Beach Boys' 'Surfin' U.S.A' came from
When Dhani was growing up, he formed his own music taste without the help of his father or any of his famous friends. It just so happens that he enjoyed the artists that inspired George. According to Rolling Stone, Dhani fell in love with The Beach Boys' "Surfin' U.S.A." after hearing it in the 1985 Michael J. Fox film Teen Wolf.
Dhani's mother, Olivia, dug out a copy for him. Although, George had a different reaction. He had to educate his son on where The Beach Boys got "Surfin' U.S.A.," Chuck Berry.
George told Rolling Stone, "I said, 'That's really good, but you want to hear where that came from,' and I played him 'Sweet Little Sixteen.'" Dhani loved Chuck Berry from that moment. "I made him a Chuck Berry tape, and he takes it to school with his Walkman."
George approved of his son's interest in older artists after that. "Little Richard, Chuck Berry, Jerry Lee Lewis — there hasn't been any rock & roll better than that," George said. Although, he recognized that Dhani's interest was part of a wider cultural phenomenon at the time. Dhani's generation had started bringing those older artists to the forefront again.
"I think primarily it's nostalgia," George said. "Everybody can remember where they were when the Beatles sang 'I Want to Hold Your Hand' on The Ed Sullivan Show, or I remember where I was when President Kennedy got assassinated. It's all part of our history or our nostalgia.
"As to how much it means now, I think that for a lot of the young kids, it's handy that this resurgence comes about. There's a lot of young kids who are starting to go back in time and listen and say, 'Hey!' Where maybe ten years ago, the Beatles were, like, nowhere to these kids, now the new generation latches onto them."
The first time Dhani saw his father perform, he was upset George didn't play any Chuck Berry songs
After talking about the younger generations listening to older rock music, George touched on Dhani's love of Chuck Berry, which started after George schooled him on "Surfin' U.S.A."
"Like my boy's nine, and he just loves Chuck Berry," George said. He added that Dhani was upset George didn't play any of Berry's songs during his Prince's Trust Concert performance in 1987.
"When I did that Prince's Trust concert last June — that was the first time he ever saw me hold a guitar onstage in front of people. He's got to know a bit about the Beatles, but I've never pushed that on him, or tried to say, 'Look who I used to be.'
"I did my two cute songs: 'Here Comes the Sun' and 'While My Guitar Gently Weeps.' He came back after the show, and I said, 'What did you think?' He said, 'You were good, Dad, you were good [slight pause]. Why didn't you do 'Roll Over Beethoven,' 'Johnny B. Goode' and 'Rock & Roll Music'?' I said, 'Dhani, that's Chuck Berry's show you're talking about!'"
Not a lot of current music gave the former Beatle a 'buzz'
While George introduced Dhani to a lot of older music, Dhani tried to show his father some of the modern rock he listened to at the time. It was hard to impress George with contemporary music. In 1992, Guitar World asked George if any contemporary bands struck him "as having a bit of the same spark" as his early heroes. George said no.
"I can't say I've really heard anything that gives me a buzz like some of that stuff we did in the Fifties and Sixties," George said. "The last band I really enjoyed was Dire Straits on the Brothers in Arms album. To me, that was good music played well, without any of the bulls***.
"Now I'm starting to get influenced by my teenage son, who's into everything and has the attitude. He loves some of the old stuff, like Hendrix, and he's got a leather jacket with Cream's Disraeli Gears album painted on the back. As for recent groups, he played me the Black Crowes, and they really sounded okay."
The old can school the young, but the young couldn't quite school the old in George and Dhani's case. However, what matters is that George and Dhani shared a love of music. Now, Dhani is safeguarding his father's legacy.