George Harrison Once Scolded Elton John About His Drug Habit: 'He Administered a Little Talk to Me'
George Harrison once scolded Elton John about his drug habit. 'He administered a little talk to me,' Elton John said.
George Harrison and Elton John weren't the closest of friends. They'd collaborated a couple of times, but that's as far as they went. However, George still felt he needed to warn the "Goodbye Yellow Brick Road" singer about his excessive drug use. He even gave Elton John a couple of tellings-off.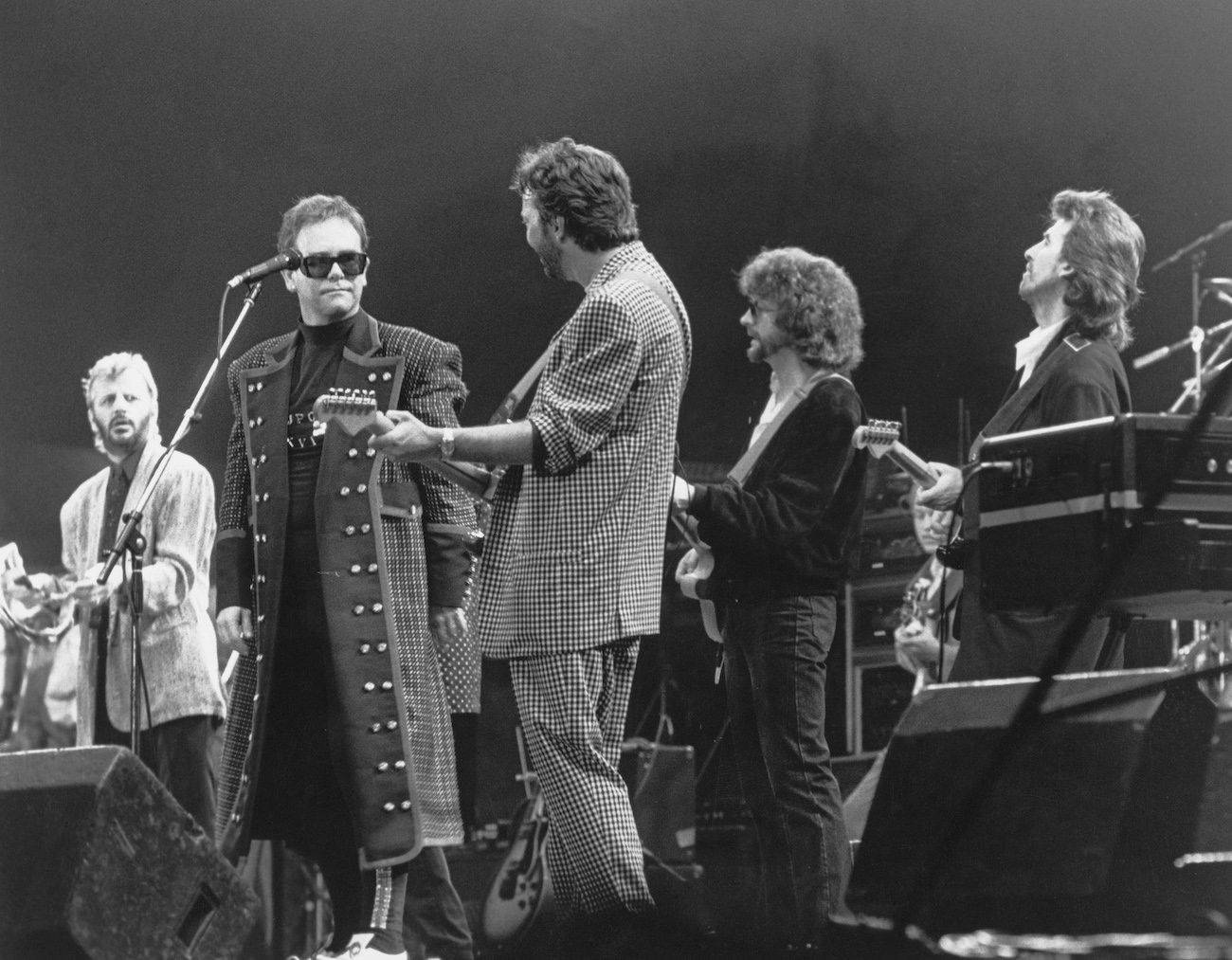 George Harrison scolded Elton John about his drug habit
In the special edition of Rolling Stone, "Remembering George," Elton John talked about his experiences with George over the years. He also explained that George gave him a couple of talks about his drug habits.
"It's very hard to put into words," Elton John said. "He was very forthright, and he actually administered quite a few tellings-off to me about my drug problem.
"There was this one night in Lose Angeles when he said, 'Listen, for God's sake, go easy on the marching powder, because it's not going to do you any good.' That was the evening I tried to change Bob Dylan's wardrobe. I was saying, 'You can't keep going round in clothes like that, you've got to come upstairs, I'll give you a few clothes.'
"And the abject look of horror on Bob Dylan's face was unbelievable. Because, can you imagine? I was like, 'Oh, yeah, I've got a couple of Versace numbers upstairs that'll really suit you, Bob.' And George was present for this. So he administered a little talk to me."
George could be 'intimidating when he wasn't in a good mood'
Later, Elton John told CBS News that his drug addiction "nearly destroyed my soul. My soul was black, like a charred piece of steak." We don't know if he actually took George's concern to heart, but at least he eventually got help.
"I said, 'I need help.' And suddenly, a little pilot light in my soul came along going, 'Yes, I'm still here. I'm still here. I'm still here. I can still be rescued.'"
Still, the "Your Song" singer said George could be "a little intimidating when he wasn't in a good mood." He continued to Rolling Stone, "George always spoke his mind. The last time I saw him, he was a bit grumpy toward me, and I felt, 'Oooh.'
"But who knows what he was having to deal with? He had a pretty rough ride the last four or five years."
Elton John thought there was a little 'curmudgeonly commentary' about newer bands with George
The "Rocket Man" singer also saw that George didn't like fame very much. "George was happiest with his close friends, who were mostly British musicians like Joe Brown and Alvin Lee," Elton John continued to Rolling Stone. "He didn't like celebrity. I think he'd had enough by 1970 to last three lifetimes. George just relished his gardening and his motor racing, and he loved his privacy."
Elton John was right. George didn't like being constantly watched and dissected under a microscope. However, Elton John isn't so correct In calling George a recluse. The ex-Beatle was not a recluse. He liked having his privacy, and he did go out, just not to places where the press could follow him. He enjoyed jamming with friends late into the night and doing as he pleased.
Elton John explained that as a result of George's reclusiveness, "there was a little bit of curmudgeonly commentary about bands-saying he hated Oasis and U2, bands today aren't as good. And they probably aren't.
"But, again, he was very forthright. There was no holding back. You know, at a time when Oasis were kissing the Beatles' feet, George Harrison said, 'Well, they're rubbish.'"
Elton John is right about George's distaste for newer music, but that's just what George thought. He had very specific tastes and surrounded himself with people he thought were good, including Elton John. Otherwise, George would have never worked with him.
How to get help: In the U.S., contact the Substance Abuse and Mental Health Services Administration helpline at 1-800-662-4357.