George Harrison Went Into a Shell After 1 Beatles Fight, According to Pattie Boyd: 'I Couldn't Reach Him'
George Harrison was the youngest member of The Beatles. He shot down Paul McCartney's idea for the hit "Something," but Macca and John Lennon shot down George plenty of times. He was a burgeoning songwriter, but they kept many of his songs off Beatles albums. His frustrations bubbled to the surface the closer the Fab Four got to the end of the road. Pattie Boyd once said George went into a shell after one Beatles fight, and she couldn't reach him no matter what she did.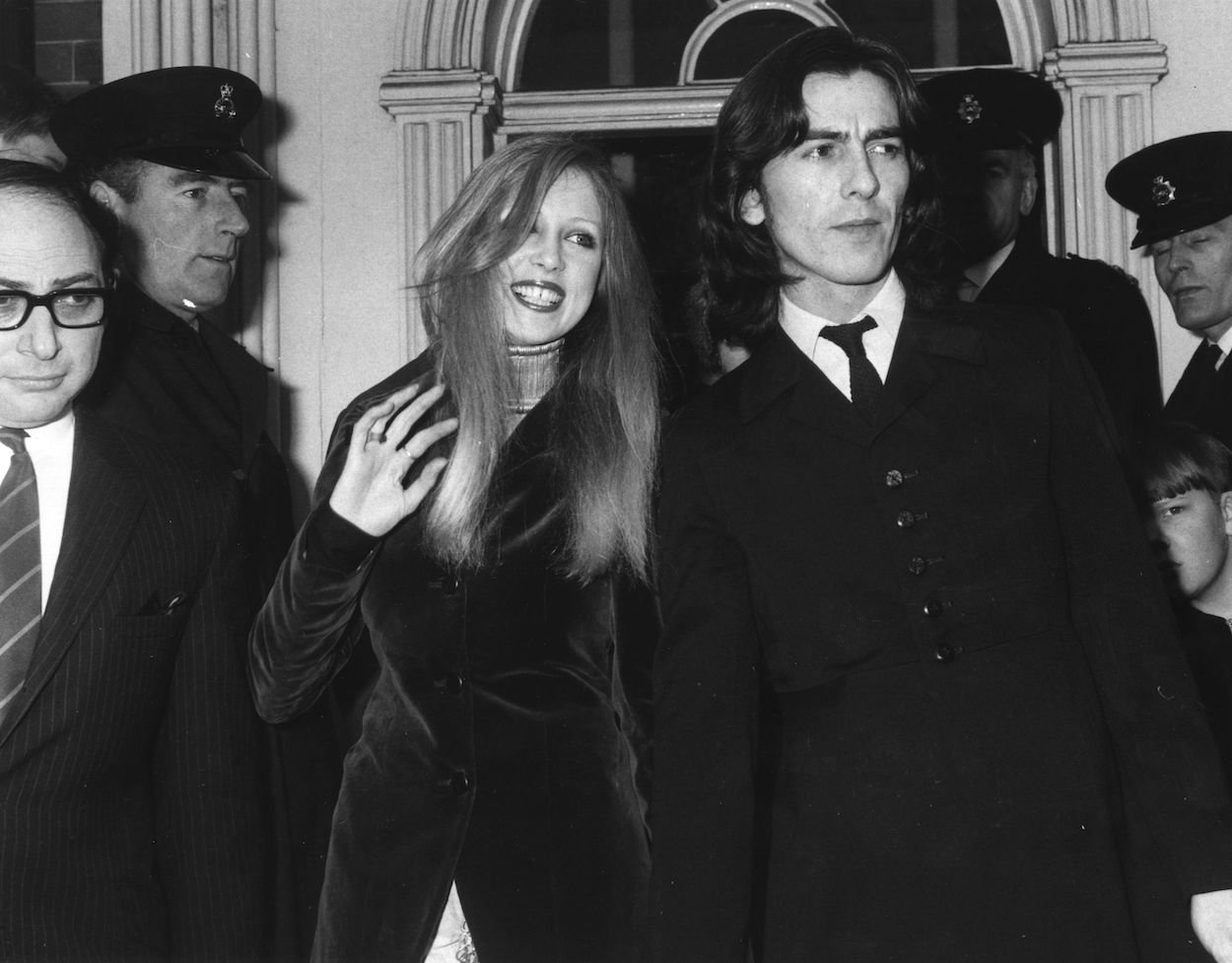 George Harrison felt his songwriting talents were being stifled by John Lennon and Paul McCartney
Paul and John Lennon wrote most of the songs that helped The Beatles climb the charts on both sides of the Atlantic. That hierarchy persisted even as George developed as a songwriter.
The so-called quiet Beatle often had one or two songs per Beatles album as John and Paul pushed for their tunes to make the cut. At that rate, George said he'd have to make a hundred Beatles albums to release the songs he penned during a particularly prolific year. 
John often offered nothing but biting criticism to his bandmates. George swallowed Paul's constant criticism over the years. Things came to a head in early 1969. After a tense day in the studio that included a fight among The Beatles, George went into a shell and stopped talking to his wife, Pattie Boyd, as he dealt with the frustration that led to him leaving the band.
George went into a shell and stopped talking to Pattie Boyd after one Beatles fight that made him leave the band
When John and Paul weren't bickering as they attempted to outdo each other with their songs, they often turned their sights on George. He later said he would join a new band with John, but George also had a fistfight with his bespectacled bandmate after a brutal argument.
After a January 1969 recording session that included tensions between him and Paul and the fight with John, George walked out on the band. He retreated to his home and brooded over what happened. His wife, Pattie Boyd, said George basically went into a shell, writes Peter Doggett in You Never Give Me Your Money:
"George would start to say something, then stop. He appeared unable or unwilling to share his thoughts with me. He kept his hurt, frustration, anger, or whatever it was, to himself. At times I couldn't reach him."

Pattie Boyd describes George Harrison's reaction to one Beatles fight
John once said Brian Epstein's 1967 death was the start of the end of The Beatles. Creative differences, egos, and elevated stress raised tensions. Ringo briefly left the band while recording The White Album in August 1968. George basically went into a shell and didn't even talk to his wife when he followed suit a few months later. Boyd said she couldn't reach her husband, and he retreated into a shell as he brooded over the Beatles fight that made him leave the band.
Harrison's marriage to Boyd lasted until 1977
Following John and Ringo, George was the third Beatle to get married when he tied the knot with Boyd in 1966 after dating for two years. It wasn't entirely smooth sailing until their 1977 divorce.
In addition to George going into a shell and not talking to Boyd after one brutal Beatles fight, he openly professed his love for and had an affair with Ringo's wife. 
Just as George proclaimed his love for Maureen Starkey, George's friend, Eric Clapton, didn't hide his feelings for Boyd. He wrote the 1970 song "Layla" for her. Boyd, who said her marriage to George was like being lost in a cloud of fame, married Clapton in 1979, two years after her divorce from George.
Pattie Boyd tried to be a supportive spouse after one nasty Beatles fight, but she said George Harrison retreated into a shell and was unreachable no matter what she did. Despite that moment and various marital misdeeds in the 1970s, the union lasted until 1977.
For more on the entertainment world and exclusive interviews, subscribe to Showbiz Cheat Sheet's YouTube channel.