George Harrison Thought The Beatles Would Survive Only a Couple Years, Here's What He Planned to Do After
In 1963, George Harrison expected The Beatles to go on for only a couple more years. After that, he wanted to go behind the scenes in the music industry.
George Harrison didn't think The Beatles would last very long, certainly not until 1970. When it was time for the Fab Four to go their separate ways, George ensured he had a plan.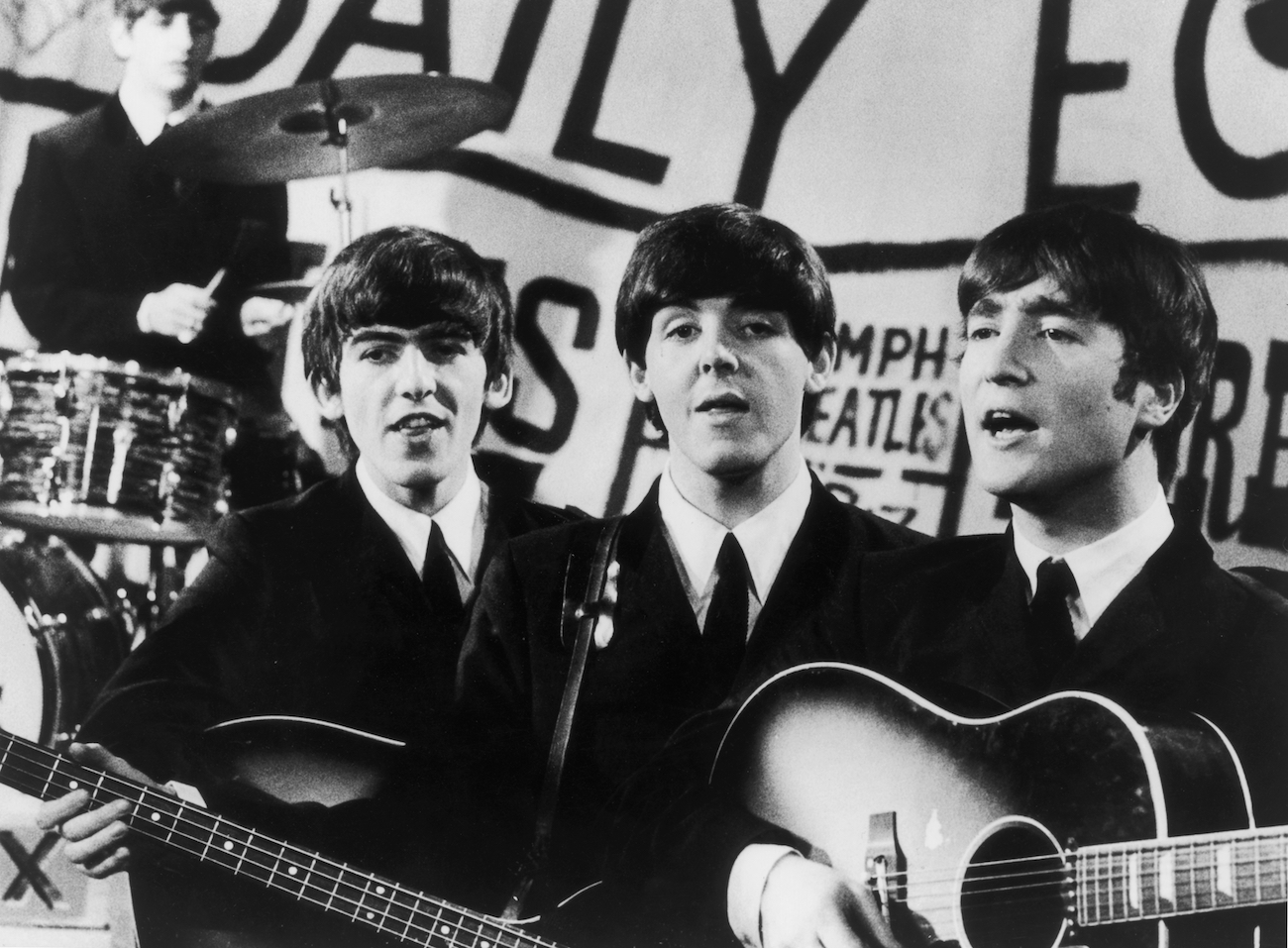 George Harrison thought The Beatles would only survive until about 1965
In 1963, at the start of Beatlemania, The Beatles had no idea how much longer they'd last. They expected the worst and hoped for the best.
In the book George Harrison on George Harrison, John Lennon said, "'How long are you going to last?' Well, you can't say, you know. You can be big-headed and say, 'Yeah, we're going to last ten years.' But as soon as you've said that you think, 'We're lucky if we last three months,' you know."
Paul agreed. He didn't think they could go on making songs like "From Me To You" in their forties. George also agreed. Although, he didn't think The Beatles would last past about 1965.
"Well, I suppose we'll stay doing this sort of stuff for a couple of years," he said. "Whether we're … I mean, naturally we won't be able to stay at this level. But, we should have another two years at least, I think."
None of them knew they'd be together for seven more years. However, George had a plan for whenever the band broke up.
George had a plan for when The Beatles split up
In 1963, George hoped he'd have enough money by the time The Beatles broke up. He planned to start a record company once the band went its separate ways.
"I hope to have enough money to go into a business of my own by the time we, umm, do flop," he said. "And we don't know—it may be next week, it may be two or three years. But I think we'll be in the business, either up there or down there, for at least another four years.
"I'd like to make records, you know, with other artists. I don't mean perform. I mean as a producer."
The Beatles lasted longer than he anticipated, but at least George's plans of starting a record company eventually came true.
He started Dark Horse Records in 1974
When The Beatles eventually broke up in 1970, George didn't have a plan, even though he'd expressed his wish to start a record label in 1963. In a special edition of Rolling Stone called "Remembering George," Tom Petty said George never pursued a solo career. George only released his first post-Beatles album, All Things Must Pass, as a reaction to leaving the band.
"He told me something once like, 'I never really pursued a solo career. All Things Must Pass was a reaction to leaving the Beatles. I had to do something.' And when that went so well, he made another one," Petty explained.
"But he never really had a manager or anybody to report to, and I don't think he had any interest in touring. He told me many times he was very uncomfortable being the guy up front having to sing all the songs. It was just not his idea of fun."
Eventually, in 1974, George finally did what he had wanted, found a record company. He started Dark Horse Records through A&M Records. On the label's first day, he met his future wife, Olivia, who had been working with A&M.
On George's website, Olivia wrote, "George spent a good deal of time at the Dark Horse office while recording his own album, Extra Texture, in A&M studios.
"Over two years, eight albums were released by artists on his label. Ravi Shankar, the band Attitudes (with friend Jim Keltner), the duo Splinter from South Shields (produced by George), R&B vocal group The Stairsteps, ex-Joe Cocker guitarist Henry McCullough and a California band named Jiva made up the Dark Horse roster.
"Some of these albums received more acclaim than others. The reward was in the creation of his songs as well as the companionship of other musicians during the recording sessions. All George's creativity, attention and unexpressed emotion went into his music.
"Once an album was delivered, the least enjoyable part for him (promotion and press) would commence. Sometimes he cooperated wholeheartedly, sometimes not. Whatever the outcome, he did not wait around for approval before beginning the writing process over again."
Now, Olivia and George's only son, Dhani, are reissuing Dark Horse's records. It's all part of keeping George's legacy alive.