George Harrison and the Traveling Wilburys Didn't Even Think About Replacing Roy Orbison After He Died
George Harrison said that he and the rest of the Traveling Wilburys didn't even think about replacing Roy Orbison after he died. How could they?
George Harrison formed the Traveling Wilburys by accident. That's why naming the supergroup after a slang term he used for mistakes in the recording studio made sense. What wouldn't have made sense is if the band had replaced Roy Orbison after he died in 1988. None of the remaining Wilburys, including George, Tom Petty, Bob Dylan, and Jeff Lynne, even thought about doing such a thing.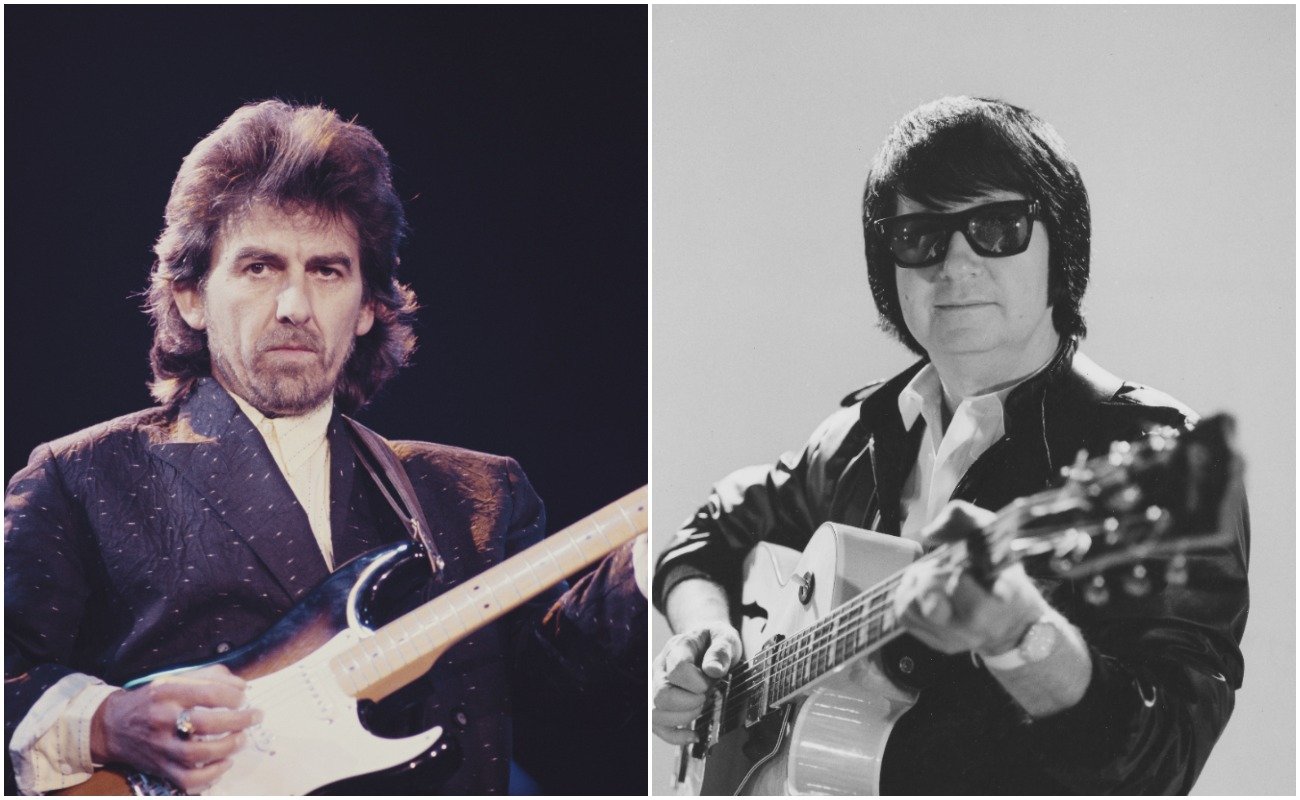 George Harrison formed Traveling Wilburys by accident
The Traveling Wilburys were an accident. After finishing his 1987 album, Cloud Nine, George realized he needed another song.
George told Lynne and Orbison about it over dinner and asked Lynne to help him. Lynne didn't know where they'd get a studio and engineer so quickly. Orbison told the guys to call him if they did something because he wanted to watch.
Then, George remembered that Bob Dylan had a studio in his garage. So, George called him and asked if they could use it.
Then, Tom Petty came along because George had to pick up his guitar from Petty's home. When George and Lynne started writing the song, George thought it was silly having Orbison watching, so he asked him to sing on the new tune. George and Lynne wrote the music first and the lyrics later.
When coming up with the song's name, George spotted a box that said "Handle With Care." So, they formed the lyrics around that. George started to feel silly that no one else was singing with him. So he asked Petty and Dylan to sing on the song too.
After recording it, the record companies thought it was too good to put on Cloud Nine, so George kept hold of it. Then, he later asked the guys if they wanted to record a whole album. Suddenly, the Traveling Wilburys were born.
George said that no one in the supergroup thought about replacing Roy Orbison
In between the Traveling Wilburys' first and second album, Orbison died in 1988. In 1990, Count Down asked George about the Orbison influence on the Traveling Wilburys second album, Vol. 3.
"Well, I don't know about his influence, but his-I mean, we still have the same feeling about him as we had when he was in the band. I mean, we don't sit around talking about him that much but-and we don't actually write-yeah, I think if he was there, you'd tend to write more, thinking about his voice.
"But this time, we just wrote tunes, you know, whatever came out that felt good, we used. We didn't think too much obviously about Roy's kind of songs."
George continued to explain that newspapers started rumors that they'd been thinking about replacing Orbison. "We never talked about it because you can't replace him. You could get any number of people if you wanted, if you needed other people, but the way happened as I just explained, it's just how it happened," he said.
"We didn't ask Roy to be in the group until after we'd already made the first record, and it was just the fact that he was there that he was in the group."
What George said to Petty after Orbison died
George was one of the first people to call Petty after Orbison died. In his own way, George reassured Petty that their Traveling Wilburys bandmate was going to be OK.
"It was very early in the morning, I think my wife took a call and then woke me up and told me that Roy has passed away," Petty explained in Martin Scorsese's documentary, George Harrison: Living in the Material World. "And then the next call was George.
"I don't even know if I should say what he said to me, but, you know, I will anyway [laughs]. When I came to the phone, he said, 'Aren't you glad it's not you?' I said, 'Yeah, yeah, I am, you know.' He said, 'He'll be OK. He'll be OK. He's still around. So just listen. He's still around.' That was all he had to say about it."
When the remaining Traveling Wilburys finished recording Vol. 3, they dedicated it to Lefty Wilbury, Orbison's pseudonym on Vol. 1. Orbison might not have played on the supergroup's last record, but you can hear him on it if you listen hard, just like George said.