George Harrison Explained Why the Traveling Wilburys Didn't Put Their Real Names on Their Debut Album: 'They Didn't Notice'
George Harrison once explained why his band, the Traveling Wilburys, didn't use their real names on their first album. No one even noticed.
George Harrison started the Traveling Wilburys by accident. The European record companies needed an extra song for Cloud Nine. So, he had to make a new one quickly. Harrison enlisted the help of his friends Jeff Lynne and Bob Dylan to expedite the process, and his other pals, Tom Petty and Roy Orbison, came along to watch.
Harrison and Lynne wrote the song, but they needed lyrics. After seeing a box in Dylan's recording studio that said "Handle With Care," they wrote the song around that. However, having his friends, each of them expert singer/songwriters themselves, in one place was ultra-rare. It would have been silly for Harrison to pass up an opportunity for all of them to sing on the song. Thus, the Traveling Wilburys was born. Thank god for happy accidents.
We never knew we'd get an album like Traveling Wilburys Vol. 1, just like we never knew the supergroup would try to conceal their identities on it.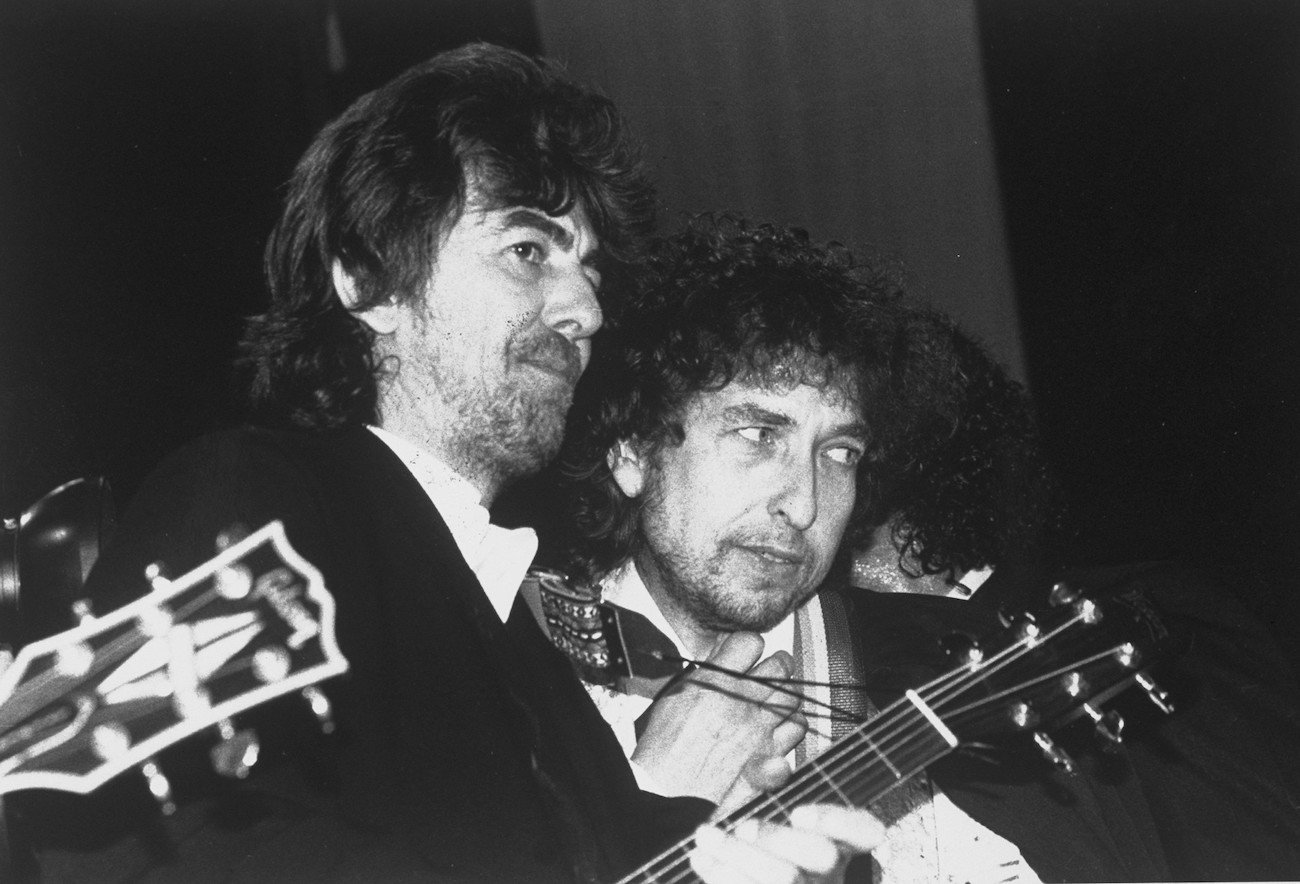 George Harrison named the Traveling Wilburys after a slang term he had for accidents in the recording studio
If any group member had tried to plan something like the Traveling Wilburys, they would have failed. It just wouldn't have happened. However, somehow, a little bit of magic pulled it all together.
So, if the band itself was an accident, it was only fitting they named it after a slang term Harrison had for accidents in the studio.
According to Rolling Stone, Harrison invented the word "Wilbury" while working on Cloud Nine with Lynne. When the faulty equipment sometimes caused recording errors in the studio, Harrison always assured Lynne, "We'll bury 'em in the mix." That eventually turned into "Wilbury," a slang term that described all mistakes or accidents.
After Harrison and the rest recorded "Handle With Care," the record companies told him to leave it out because it was too good as a single. Harrison carried the song with him for a while until he decided to ask the rest of the guys if they wanted to record a whole album around it. It was a miracle in itself that they were all able to record "Handle With Care," but they got lucky a second time when all their schedules lined up, allowing them to record an album together.
When the supergroup reconvened for just nine days to record Traveling Wilburys Vol. 1, centered around "Handle With Care," they had to create a name for their band. Initially, Harrison suggested the "Trembling Wilburys." Either Lynne or Dylan suggested "Traveling" instead. So the band's name really means the Traveling Accidents, which they were.
The supergroup chose to use pseudonyms on the album
Harrison told Count Down in 1990 that the whole point of the Traveling Wilburys was for five friends to jam and not get too hung up on everything, especially themselves as solo artists and as a supergroup. They just wanted to see what happened and to have fun.
They hated when famous musicians formed supergroups because they did it for the wrong reasons. Nothing good ever came out of them. They wanted success and, more importantly, money. Not the Traveling Wilburys, though.
So, they decided to use pseudonyms instead of their real names. Printed on all the albums, contracts, and anything else that identified them as a band were the names Nelson Wilbury (Harrison), Otis Wilbury (Lynne), Charlie T. Wilbury Jr (Petty), Lefty Wilbury (Orbison), and Lucky Wilbury (Dylan).
"I just thought it would be-I mean there was always those groups in the 70s that made these superstar groups, and we hated that," Harrison said. "The idea of these famous people all trying to make a record, most of the records weren't that good-doesn't mean it's going to be good if you just get these famous people together.
"I wanted to avoid that totally. If you look at the record, it doesn't have anybody's name on it. Now, with the new record, everybody knows obviously who it is, but for the first record, it was a surprise, and we didn't put our names, we just made up silly names.
"Even the credit to the record company like CBS were-you have to say, 'Bob Dylan appears courtesy of CBS.' Well, even that it says, 'Lucky Wilbury.' But they didn't notice. I put that on to see, I thought they were going to complain, but they didn't."
The Traveling Wilburys planned to stay anonymous
Harrison said the plan was to keep the identities of the Traveling Wilburys anonymous. They wanted to stay that way to "prolong the anonymity for as long as possible."
No one expected Traveling Wilburys Vol. 1 to do as well as it did. That wasn't their concern. They didn't release the album to see if it sold millions of copies. Still, they were all pleased it did. Harrison knew they had a great album because it had great songs by great artists. He was right; the album has been certified triple platinum by the RIAA.
Following their debut, there was so much pressure that, Petty once said, they didn't do Vol. 2; they just went straight on to Vol. 3.
Whatever the Traveling Wilburys accomplished, Harrison was proud. Petty told Rolling Stone that George's idea of a band was so that they could all hang. "George absolutely adored the Wilburys," he said. "That was his baby from the beginning, and he went at it with such great enthusiasm. The rest of his life, he considered himself a Wilbury."