George Harrison Used Chinese Philosophy to Write 'While My Guitar Gently Weeps'
George Harrison relied heavily on Eastern philosophy. When he grew disenchanted with Western thinking, the East drew him in. Something in it connected with George and helped him understand himself and the world a little better.
So, it's no surprise that George let these Eastern philosophies inspire his songs. It was fate.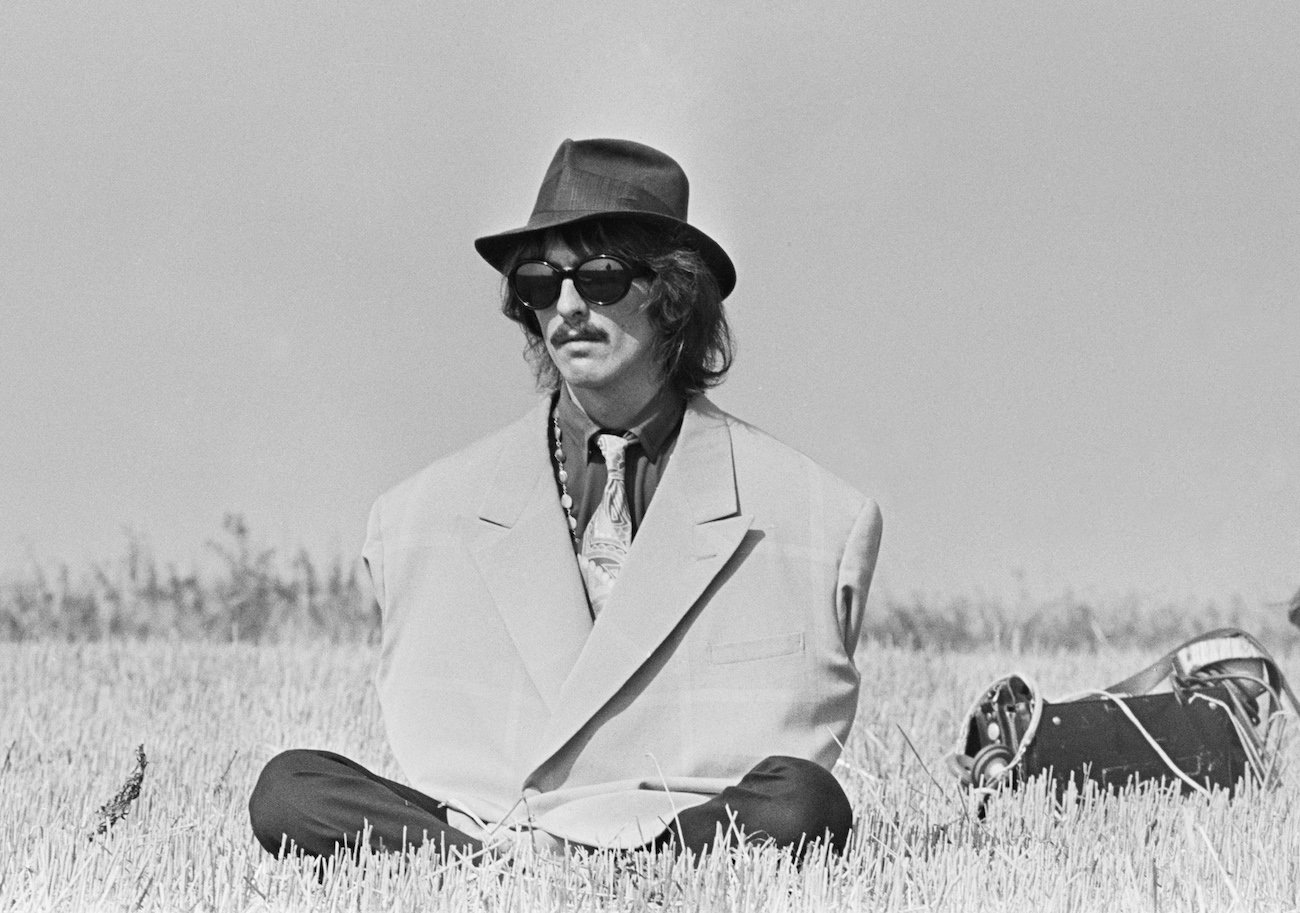 George Harrison used Chinese philosophy to write 'While My Guitar Gently Weeps'
In his 1980 memoir, I Me Mine, George said Chinese philosophy helped him write one of his biggest songs with The Beatles, "While My Guitar Gently Weeps."
"Around the time of writing 'While My Guitar Gently Weeps' I had a copy of 'I Ching,' the Chinese classic 'Book of Changes,' which seemed to me to be based on the Eastern concept that everything is relative to everything else, as opposed to the Western view that things are merely coincidental," George wrote.
"This idea was in my head when I visited my parents' house in the north of England. I decided to write a song based on the first thing I saw upon opening any book—as it would be relative to that moment, at that time.
"I picked up a book at random—opened it—saw 'gently weeps'—then laid the book down again and started the song. Some of the words to the song were changed before I finally recorded it—as can be seen here: "I look at the trouble/ And hate that is raging/ While my guitar gently weeps/ While I'm sitting here/ Doing nothing but ageing [sic]."
RELATED: The Doors: John Densmore Said George Harrison's Words Helped Him Grieve Ray Manzarek
John Lennon and Paul McCartney took the song more seriously once George got Eric Clapton to play on it
George's fellow Beatles, John Lennon and Paul McCartney, did not feel that the song was special. However, they started to take it more seriously once George got Eric Clapton to play on it. That was nothing new for George, though.
"We tried to record it, but John and Paul were so used to just cranking out their tunes that it was very difficult at times to get serious and record one of mine," George said in Anthology (per Beatles Bible). "It wasn't happening. They weren't taking it seriously and I don't think they were even all playing on it, and so I went home that night thinking, 'Well, that's a shame,' because I knew the song was pretty good.
"The next day I was driving into London with Eric Clapton, and I said, 'What are you doing today? Why don't you come to the studio and play on this song for me?' He said, 'Oh, no – I can't do that. Nobody's ever played on a Beatles record and the others wouldn't like it.' I said, 'Look, it's my song and I'd like you to play on it.'
"So he came in. I said, 'Eric's going to play on this one,' and it was good because that then made everyone act better. Paul got on the piano and played a nice intro and they all took it more seriously."
"While My Guitar Gently Weeps" went on to be one of The Beatles' greatest songs.
RELATED: Doctors Prescribed George Harrison Medicine That Contained Morphine When He Was Sick in 1963
'While My Guitar Gently Weeps' was performed during George's Rock & Roll Hall of Fame induction
George was inducted into the Rock & Roll Hall of Fame for his solo work in 2004. His friends and fellow Traveling Wilburys bandmates, Tom Petty and Jeff Lynne, inducted him. They later joined George's son, Dhani, and fellow inductee that year, Prince, on stage for a performance of "While My Guitar Gently Weeps."
"It was a funny ol' night. Being the youngest Wilbury, they stuck me in between them and Prince to kind of be the buffer zone," Dhani told Esquire. "We hadn't been told that he was playing and then suddenly the promoter said, 'He's playing with you, and that's final.' So there was a lot of tension, like what is this?"
Prince played a face-melting guitar solo at the end. Overall, it is one of the Rock & Roll Hall of Fame's most memorable performances. So, maybe George was right. Perhaps he was always supposed to write "While My Guitar Gently Weeps." There are no coincidences where he's concerned; it was all meant to be.
RELATED: George Harrison Was 'Disappointed and Disgusted' by Fabricated Reports of His Health Months Before He Died