George Harrison Wanted His Son to Grow up Away From Fame so He Wouldn't Turn Into a 'Pampered Little Horror'
George Harrison didn't enjoy fame, so, understandably, he wanted his son Dhani to grow up as far away from it as possible. Dhani was born in 1978, eight years after his father left The Beatles. It had aged him. George once told Rolling Stone that the magnitude of The Beatles' fame made him nervous.
His wife, Olivia, said, "If you had 2 million people screaming at you, I think it would take a long time to stop hearing that in your head. George was not suited to it."
Dhani grew up during a time when his father barely played music because of his disenchantment with the music industry. He enjoyed the simpler things in life instead of feeding his ego and releasing tunes for the satisfaction of record companies and fans. George religiously gardened and renovated his quirky mansion, Friar Park, instead.
However, George craved a quiet life so Dhani didn't have to deal with his fame.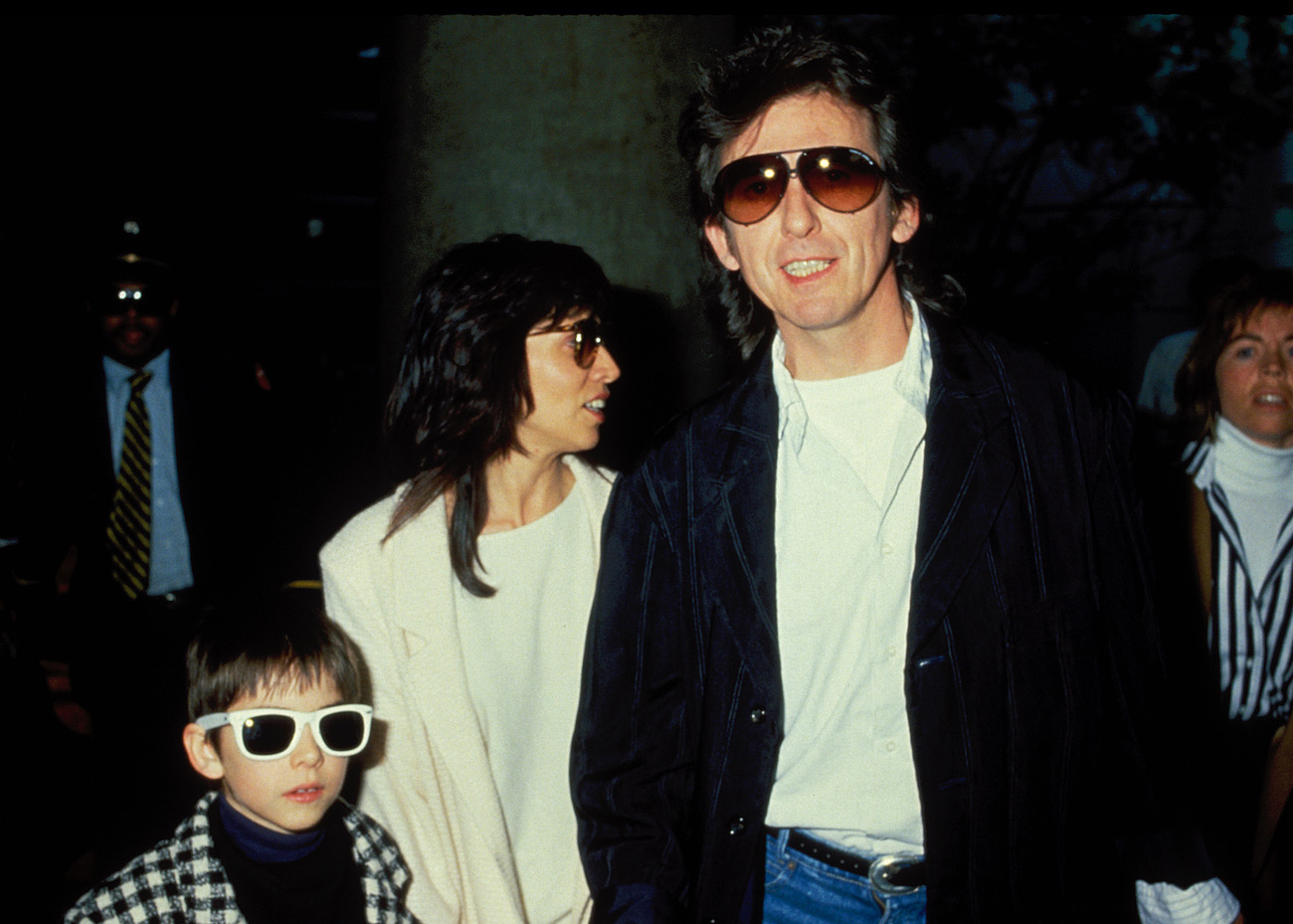 George Harrison named his son Dhani after two notes in the Indian musical scale
Indian music was a huge part of George's life. Listening to Eastern music brought him to his friend and mentor, Ravi Shankar. Then, Shankar brought George to spirituality and Hinduism. So, since it was a significant part of his life and spiritual development, George and Olivia decided to name their only son Dhani after two notes in the Indian musical scale.
"It's not as they say in the newspapers that it means fabulously wonderful rich person," George told After Nine. "I learned some Indian music from Ravi Shankar. As we have in the West, 'Do-Re-Mi-Fa-So-La-Ti-Do,' in India, they have [singing notes], so it's two notes of the scale. Dha and Ni."
RELATED: Tom Petty Said George Harrison Never Left Without Saying How Much He Loved Him
George wanted his son to grow up away from fame so he wouldn't turn into a 'pampered little horror'
Shortly after Dhani was born, George and Olivia decided to keep him as much away from the spotlight as possible. They didn't want him to become spoiled. George said it was unfortunate that John Lennon's kids had grown up in the height of publicity and hadn't gotten a chance to really be kids. However, he didn't want Dhani to go through a similar thing.
"Everbody wants to know about and find out about your kids, but I think that's unfair on them," George said. After Nine asked George if Dhani would be able to have a normal upbringing. "It's not normal anyway, having a dad who's an ex-Beatle, living in a sort of wacky castle. That's not normal.
"But to him it is normal, and within that framework, he's still-he's a good boy and knows that there's people who aren't as fortunate, and he's sensitive to the other things that are happening in the world. He's not just like, you know, some pampered little horror, like precocious and that. He'd good; I think he's OK."
RELATED: When George Harrison Came to Terms With Being a Beatle: 'Everything's Cool and It's Quite Enjoyable'
He still grew up around his father's music
When Dhani was a kid, he used to tell his friends that George "pushed buttons" for a living. He had no idea that those buttons were making hit albums. To Dhani, having his father's famous friends over was nothing extraordinary.
"I hung out with my parents. I was always trying to be with the big kids, and the big kids at my house were like (ELO frontman) Jeff Lynne," Dhani told Daily Mail. "You'd come home and it was like, 'Bob Dylan's here.' It's hard to get a bit of perspective on, like, 'How did your school test go today?'"
George always treated Dhani like an adult. "I got involved, he taught me how to make records from an early age. I grew up in a recording studio," Dhani said.
Dhani might have grown up with music all around him, but that doesn't mean George pressured him into following in his footsteps. George was a pretty cool parent. Besides raising his son in a recording studio, where all manner of legends came in and out, George had some unorthodox views of school. Initially, he tried convincing Dhani to stay home and hang out with him most of the time.
In Martin Scorsese's documentary George Harrison: Living in the Material World, Dhani said, "He used to say to me every day, 'You don't have to go to school today, do you just wanna go on a yacht in the South Pacific and run away forever?'
"People would probably say, 'You're an idiot for not doing that,' and maybe in a way, I am," Dhani explained. "But to rebel in my family it was to go to school, I went to like a semi-military school. We did CCF one day a week and he, that used to piss him off, me walking around in an Air Force uniform."
Eventually, Dhani began a music career when George was dying in 2001. He couldn't resist it anymore. Dhani has now remastered virtually all of his father's records and released some of his own music too. George did a great job of raising Dhani. However, he's George's most significant legacy.
RELATED: After John Lennon's Murder, George Harrison Didn't Live in Fear: 'What's the Point of Killing Me?'