George Harrison Wasn't Sure How Good of a Friend He Was to Bob Dylan
George Harrison and Bob Dylan had an interesting relationship. The pair met while George was with The Beatles. In 1968, George visited Dylan and The Band in New York over Thanksgiving. However, initially, George's trip was awkward because Dylan wasn't opening up to him.
George broke down Dylan's walls by suggesting they write a song. The result was "I'd Have You Anytime." Later, they became bandmates in The Traveling Wilburys. After nearly two decades of friendship, George was unsure how good a friend he was to Dylan.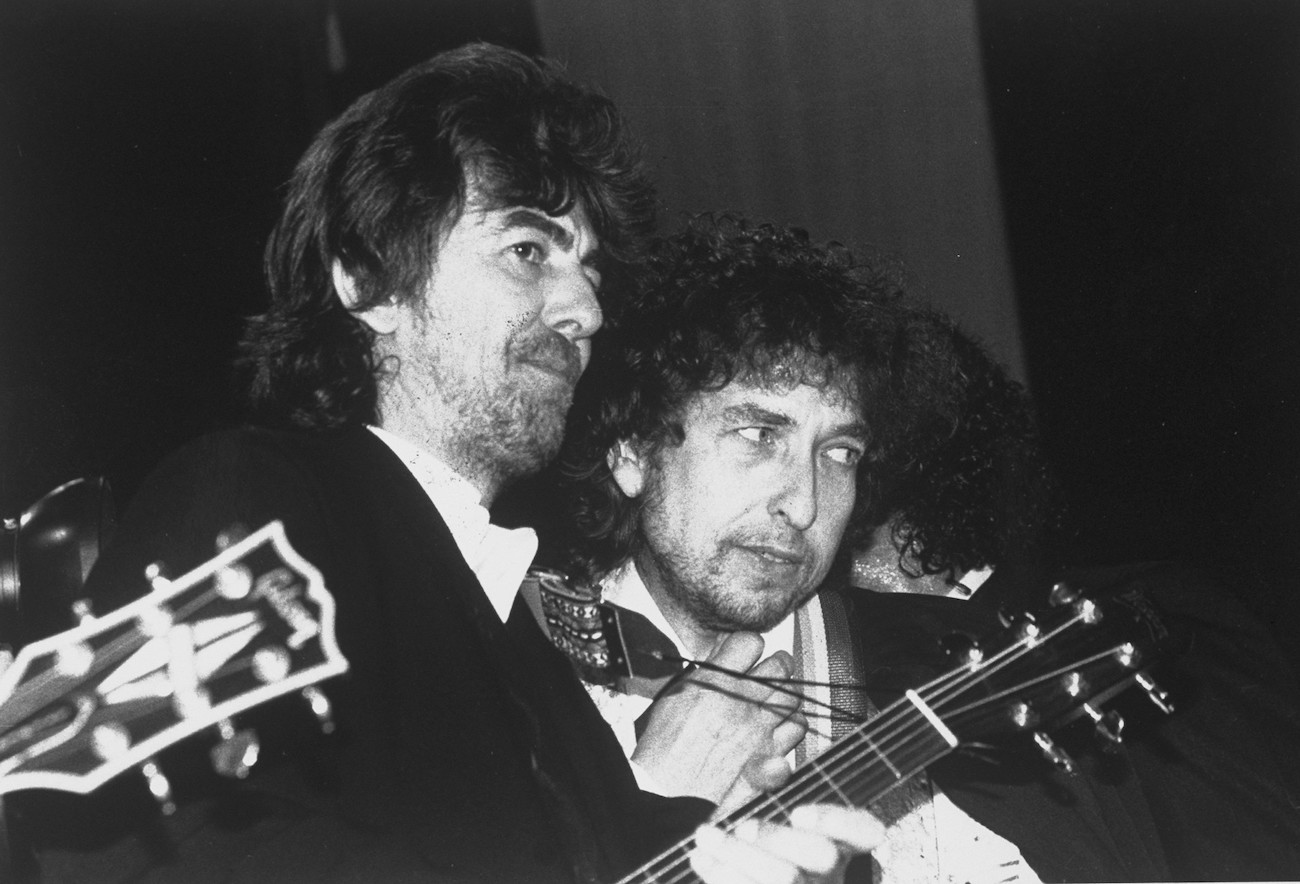 George Harrison and Bob Dylan wrote a song called 'I'd Have You Anytime'
In his 1980 memoir, I Me Mine, George wrote that it wasn't easy getting Dylan to relax around him during his 1968 visit.
"I was hanging out at his house, with him, Sara and his kids," George wrote. "He seemed very nervous and I felt a little uncomfortable—it seemed strange, especially as he was in his own home.
"Anyway, on about the third day we got the guitars out and then things loosened up and I was saying to him, 'Write me some words,' and thinking of all this: Johnnie's in the basement, mixing up the medicine, type of thing and he was saying, 'Show me some chords, how do you get those tunes?'
"I started playing chords, like major sevenths, diminisheds and augmenteds and the song appeared as I played the opening chord (G major seventh) and then moved the chord shape up the guitar neck (B flat major seventh). The first thing I thought was: 'Let me in here/ I know I've been here/ Let me into your heart.'
"I was saying to Bob, 'Come on, wrote some words.' He wrote the bridge: 'All I have is yours/ All you see is mine/ And I'm glad to hold you in my arms/ I'd have you anytime.' Beautiful!—and that was that."
Later, in Martin Scorsese's documentary, George Harrison: Living in the Material World, George's wife, Olivia, explained that George was "talking directly to Bob." She continued, "He'd seen Bob and then he'd seen Bob another time and he didn't seem as open and so that was his way of saying, 'Let me in here, let me into your heart.'
"And he was very unabashed and romantic about it in a sense. I found that he was very-he had these love relationships with his friends. He loved them."
RELATED: The Joke Bob Dylan Told Tom Petty Once George Harrison Was out of the Room
George didn't think he was that good a friend to Dylan
In a 1987 interview with Creem Magazine, George talked about his friendship with Dylan. George admitted that he didn't think he was that good a friend to him.
"I don't know how good a friend I am; he's my good friend, but I don't know how good I am to him," George said. "But I love him, I really do, and I think he's funny."
Creem pointed out, "It seems like it would be hard to be Bob Dylan or Elvis–­being just one guy." George replied, "I heard a funny story from somebody who once toured with Bob. He said, 'Well, it took four of them, it only took one of me.' But that's true, too–­just imagine four Bob Dylans! That'd be tough! I'm sure we've all enjoyed and influenced each other.
"I don't want to embarrass him because I'd like to meet him again some­ day, but he's special. And there's not a lot of people I'd say that about."
RELATED: George Harrison's Wife Olivia Received Hate Mail and Death Threats From Obsessive Fans, Here's What She Did
The pair became bandmates
Later, George and Dylan became bandmates in The Traveling Wilburys. George was amazed by what Dylan did in the recording studio while recording The Traveling Wilburys Vol. 1 in 1988. Their fellow bandmate, Tom Petty, said George loved everything Dylan did and would quote him like Scripture.
As Olivia said, George deeply loved all his friends. However, there was something about Dylan that amazed George.
RELATED: George Harrison Said Getting a Good Performance out of a 'Pissed off' Sean Penn for 'Shanghai Surprise' Was Hard