George Harrison Wrote 'Devil's Radio" After Thinking He Could Write Songs Like Eurythmics
Many things inspired George Harrison, even other rock musicians. After the former Beatle went to a couple of Eurythmics concerts, George left feeling like he could write similar songs. He came up with his song "Devil's Radio."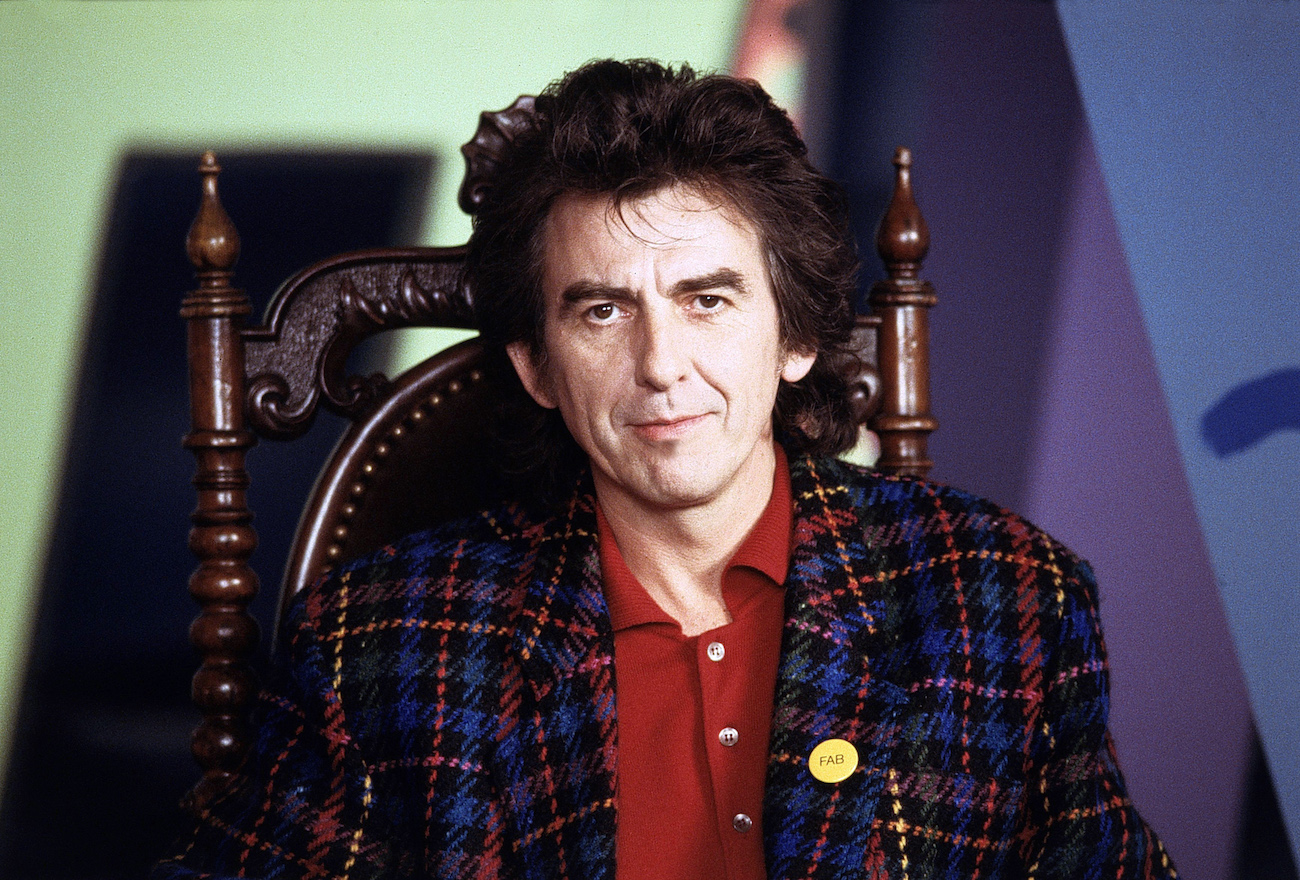 George Harrison wrote 'Devil's Radio' after thinking he could write songs like Eurythmics
During an interview with Creem magazine in 1987, George discussed how he came up with "Devil's Radio," the seventh track on Cloud Nine.
"I have to go past this little church to take my boy to school and they have a little billboard­ just a little board outside the church ­saying, 'Gossip: The Devil's Radio … Don't Be A Broadcaster,'" George said. "That's all. So I thought, that's good, that's a song, and I wrote it going to one of the Eurythmics concerts.
"I sort of spent a bit of time with Dave Stewart, checking out his live show on ­what was that tour called?­ Revenge. The Revenge Tour was coming around England and I went to a couple of shows and I thought, 'Yeah, I can do this. I can write these.' So I wrote a couple of rockers."
RELATED: George Harrison Said Waiting to Perform at the Prince's Trust Concert Was Like Waiting for the Electric Chair
George said a Beatles musical did something similar to what he warned against in 'Devil's Radio'
Elsewhere in the Creem interview, George spoke about the musical John, Paul, George, Ringo… and Bertie, which debuted in Liverpool in 1974 and then made its way to London. George said the musical did what he warned against in "Devil's Radio."
George explained, "I saw it up until the intermission and then ­I saw it with my friend Derek Tay­lor, who's a writer who used to work for Warner Bros. and Apple–­I said to him we either have to leave now or I'm gonna jump on that stage and throttle those peo­ple. It was awful stuff.
"All these idiots act­ing out people–­it's like I say in 'The Dev­il's Radio,' talking about what they don't know. It's like a rumor. It's like those Beatles cartoons, and it was so inac­curate it was nauseating, having been one."
In "Devil's Radio," George sings, "He's in the films and songs and on all your magazines/ It's everywhere that you may go, the devil's radio."
RELATED: George Harrison Used to Tell Paul McCartney There Was No Need to Feud With Yoko Ono
What George was really saying in the song
George perfectly describes his feelings about gossip in "Devil's Radio." He replaces "gossip" with words like "vultures," "weeds," "pollution," and "industrial waste."
It all goes back to talking about something you don't know, whether through media, film, TV, or anything. George hated the press, who spun lies about him just to sell a newspaper. With everything going on in his life, he was hell-bent on setting the record straight.
By 1987, George had had enough of gossip, and Eurythmics' music only motivated him to write "Devil's Radio" more.
RELATED: What George Harrison Thought of John Lennon's Comments About His Memoir