George Harrison Wrote a Heart-Breaking Song About Breaking up With Pattie Boyd
George Harrison was married to Pattie Boyd from 1966 to 1977. During their marriage George wrote many love songs about his wife, until they broke up and he wrote a breaking up song about their split.
George Harrison has given us some of the most inspiring songs in rock 'n' roll history. He was the first Beatle to have a No. 1 hit as a solo artist with his song "My Sweet Lord." However, before and after his time as a Beatle, George had one very special muse for all of his love songs; his wife, Pattie Boyd. George wrote many Beatles hits about Boyd, including the romantic "Something" and "I Need You." But George only wrote one song about her during his solo career, and it wasn't a love song.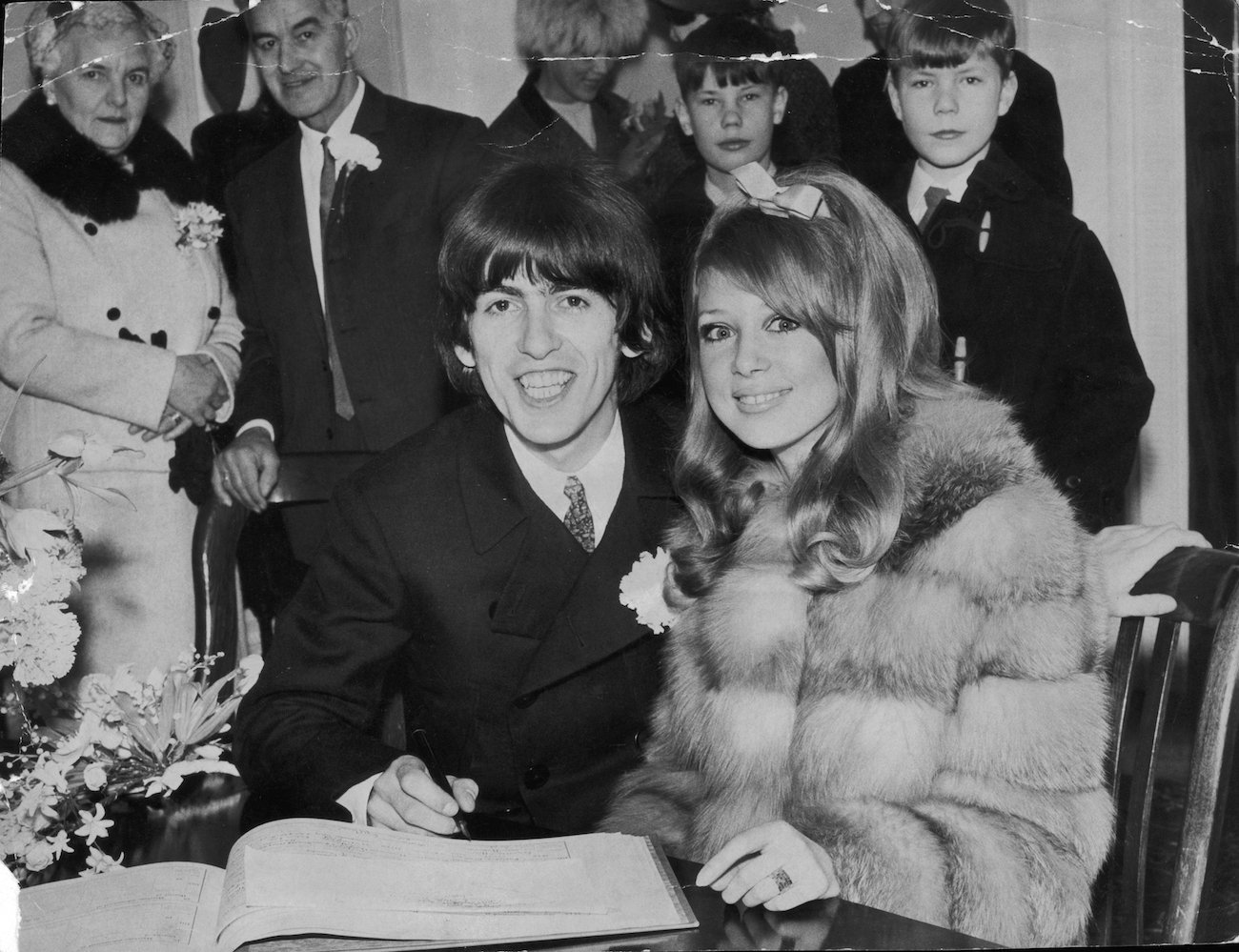 What happened to George Harrison and Pattie Boyd's marriage?
George met Boyd while The Beatles were filming A Hard Day's Night in 1964. They married two years later, and Paul McCartney was his best man. During their marriage, Boyd inspired George to write songs like "Something," "I Need You," and "For Your Blue."
However, after George cheated on Boyd multiple times, including having an affair with Ringo's wife Maureen, the couple's marriage started to disintegrate around the early 1970s. Speaking with Start at 60, Boyd talked about what the final years of her marriage to George were really like.
"It was really fabulous in the beginning. We were both so young, we were able to go out, hang out, play, I introduced him to my friends," she explained. "We had a wonderful time. He'd go off on tour and I'd hang out with my friends, while we all waited for George to come back. He was really the sweetest guy and my family loved him, my mother particularly adored him."
She then added that the tension within The Beatles started to reflect in their marriage. While the band broke up, she got close to George's friend and fellow rocker, Eric Clapton. Later she found out about George's affair with Maureen. "I became aware [of the affair] when she would turn up at midnight and she'd still be there the next day. I'd have to be pretty stupid not to notice! Some girls… It was towards the end of our marriage."
The couple split in 1974, and their divorce was final in 1977. A year later, George married his second wife Olivia, and in 1979, Boyd married Clapton.
George Harrison wrote a song about his and Pattie Boyd's breakup
In 1974, George was recording his fifth studio album, Dark Horse. He was going through his breakup with Boyd at the time, and the music on the album reflected that. Critics did not receive Dark Horse well. In fact, it was the worst-reviewed album of George's entire career, according to Express.
The third track on the album is "So Sad," which George wrote about his and Boyd's breakup. It's the only song that the ex-Beatle dedicated to the breakdown of his first marriage and perfectly explains his feels at the time. It's understandable with lyrics like "And he feels so alone. With no love of his own. So sad, so bad, so sad, so bad…Take the dawn of the day. And give it away. To someone who can fill the part. Of the dream we once held. Now it's got to be shelved. It's too late to make a new start."
It's probably one of the ex-Beatle's saddest songs. In his autobiography, I, Me, Mine, George said he wrote the song in a hotel room in New York City in 1972, when he and Boyd's marriage started having serious issues.
Eric Clapton wrote more songs about Pattie Boyd soon after
George might have written many songs about Boyd, but Clapton was not going to be outdone. He wrote just as many songs about the model. In 1970, when Clapton fell in love with Boyd, he wrote "Layla" for his band Derek and the Dominos. It became a massive hit.
In fact, the band's only album, Layla and Other Assorted Love Songs, is one big tribute to Boyd and Clapton's love for her. Mental Floss writes that Boyd said it was "the most powerful, moving song I had ever heard."
Clapton also wrote "Wonderful Tonight" for Boyd in 1977, as well as "She's Waiting" in 1985, and "Old Love" in 1989. The Rolling Stones' Ronnie Wood, who she's rumored to have had an affair with, also wrote her the songs "Mystifies Me" in 1974 and "Breathe On Me" in 1975. Boyd was a popular woman back then.