George Harrison Wrote One of His Last Letters to Mike Myers: 'It Burned in My Hands'
George Harrison was a fan of comedian, Mike Myers. George wrote Myers his last letter which Myers is honored to have.
George Harrison and comedian Mike Myers never met, but they were fans of each other from afar. Myers is a huge Beatles fan, being the son of two Liverpudlian immigrants. However, Myers didn't find out that George was just as much a fan of his work until the day George died in 2001.
Even more remarkable, Myers read about George's admiration of him in one of George's last letters.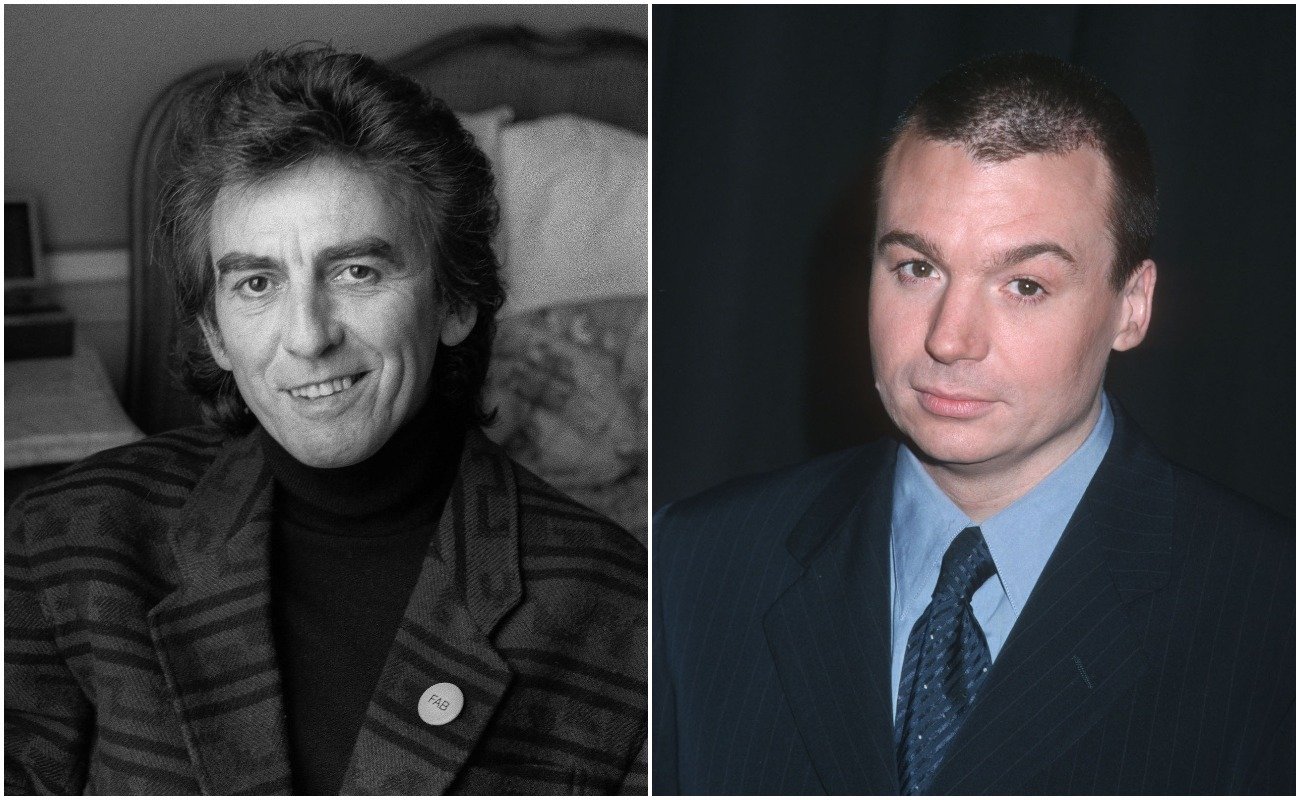 George Harrison is one of Mike Myers' idols
As the son of two Liverpudlian immigrants, Myers shares a connection with The Beatles. The actor is a huge fan, but Myers never expected to receive George's last letter. The Canadian comedian explained the situation during an interview on The Late Show with Stephen Colbert in 2018.
"Coming from Liverpool parents, George and The Beatles represented like the best of our gene pool," Myers joked. "All I ever wanted was to just have a sense that The Beatles knew I existed. There's six faces in Liverpool and I have one of them. You know what I mean? It's true.
"I remember being in Liverpool for 'Wayne's World' and seeing the-you know the American said, 'Hi, how are you?' with my face. The driver said, [in a Liverpudlian accent] 'You alright Mike?' with my face, you know? A guy in a chippy looks up and says, [in a Liverpudlian accent] 'Hi Mike, you alright?' My face.
"I always thought I had, I mean, the George Harrison family of faces. My dad looked exactly like George Harrison, so George was always my favorite."
Myers got his wish at the last possible moment. The comedian finally got a sense that The Beatles, George in this case, knew he existed. Myers found out on the day George died.
George wrote one of his last letters to Myers
Myers explained that while he was filming Austin Powers, he got more shocks in one day than he ever imagined.
"I was doing Austin Powers 3, and we're doing that fake start … and it's like Tom Cruise, Gwyneth Paltrow, Danny DeVito, Steven Spielberg is in it. We were about to go to the studio, shooting outside, and I look, and it's raining, it's a million dollars to make this-we didn't pay the people, but moving the schedule around to have them come out."
"Then I see George Harrison has died. I started crying. I thought, 'This is the worst day of my life.' We get on set, Jay Roach, the director, had managed to get towels to clean up the rain… and I get a call from Gavin de Becker, who's this brilliant security guy, lovely, close friend, but he's on a cellphone [imitating indistinguishable noises]."
"We shoot the scene because he's a security guy; why would he call? Shoot the scene, get a knock on the door, and at the end of it, it's Gavin de Becker, and he says, 'Here, this is the last letter George Harrison ever wrote — to you.'"
The letter's contents shocked Myers even more than the news that George had died.
The letter's contents warmed Myers' heart
Myer never expected to read the things George put in his letter. Myers told Colbert that George talked about his role as Dr. Evil in the Austin Powers films. George loved a good comedy, although he had one problem with Myers' accent in the films.
George's letter read: "Dear Mike, I've been looking all over Europe for a mini-you doll. But I haven't found one yet. I know your parents are from Liverpool, but no Scouser would say 'frickin' but 'friggin' as in a 'four of fish and finger pie.'" Myers said, "He's referencing a lyric, right?"
Ultimate Classic Rock added that George also wrote, "Thanks for the movies, so much fun." They also reported that Myers once spoke about how much the final scene of The Beatles' A Hard Day's Night affected him. George allegedly referenced Myers' earlier comments on the scene.
"I'm sorry I left you on the helicopter that day. I promise I won't do it again," George wrote in the letter.
Continuing to Colbert, Myers said, "That letter, it burned in my hands. It's now in a frame in my house like what the Constitution is in. And it's just so incredibly amazing."
"That's the greatest thing that's ever-I don't even have words," Myers continued. "The Beatles were primo, and George was the man."
"Then I was told by Gavin that when he was in meetings for The Beatles because all The Beatles had to get together and have board meetings, but he had lost his voice because he was ill, he had a mini-me, Dr. Evil doll and the only thing he would ever say was, he'd pull the cord and say, 'Why must I be surrounded by frickin' idiots?' [Myers makes a mind-blowing gesture]. It's unbelievable."
According to Ultimate Classic Rock, Myers later learned the backstory of George's letter but prefers to keep it private. "I can't really speak of it," he said. "But it is fantastic and sad and awesome, and this is the magic that I'm talking about that I feel very grateful and privileged to be part of it."
George's letter certainly rocked Myers' world. However, it would have been even better if Myers had gotten the chance to meet the ex-Beatle.