Why George Harrison's 1974 Dark Horse Tour Was Doomed to Fail From the Start
George Harrison was a touring veteran by the time he organized his first solo American tour in 1974. But it didn't go as well as he expected.
George Harrison didn't like touring when he was in The Beatles. However, no matter how bad things got on tour, the band's sets were only about 30 minutes. So it's interesting that George wanted to do his first solo tour of America in 1974, especially since his sets were well over half an hour, and he was physically and mentally unprepared.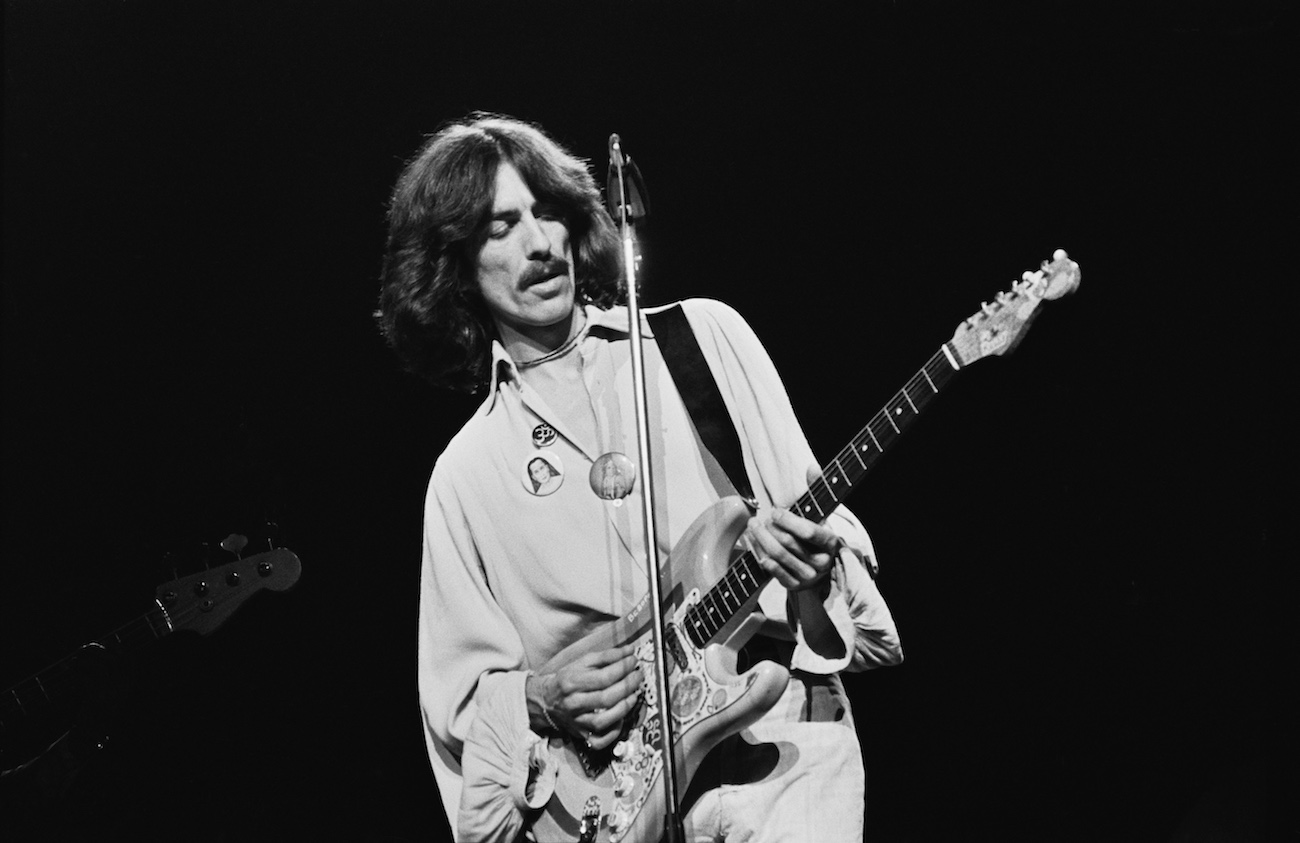 George Harrison hated going on the road
In an interview with Rolling Stone in 1979, promoting his newest album, George Harrison, George confessed he hated going on the road. We don't blame him. During his time in The Beatles, George had major anxiety about being locked in either a car, a train, a plane, a hotel room, or anywhere else to keep safe from the thousands of screaming fans.
There was also that plane crash prediction. Then, after John Lennon told the world that The Beatles were more popular than Jesus Christ, George feared someone would assassinate them all. Their trip to the Philippines was one of their most violent too. However, that all stopped when The Beatles chose to stop touring in 1966. Still, George was left scarred from it all.
So it's no wonder that George was disenchanted with going back on the road. "I don't like going on the road," George told Rolling Stone. "Sometimes I feel physically very frail. I can feel knackered, really tired, just having to get up early to get an airplane – I can feel ill having to travel. On the road there're all these medicines flying about to help you catch the plane on time, all that sort of stuff. And I'm a sucker for that. I could do myself in."
If George felt this way about touring and still felt the effects of Beatlemania, why did he decide to embark on his first-ever solo American tour?
George Harrison exhausted himself before his Dark Horse tour started
Before starting his Dark Horse Tour in 1974, George did a lot of recording. When he left for America, he was still recording. Choosing to fill his schedule before starting a huge tour probably wasn't the best idea because it ended up exhausting all of his energy before he even made it to the plane.
"That was the problem in 1974, when I toured America," George explained. "I'd done three albums before I went on the road, and I was still trying to finish my own album as we were rehearsing, and also we'd done this other tour in Europe with these classical Indian musicians. By the time it came to going on the road I was already exhausted.
"With the Beatles we used to do thirty minutes onstage, and we could get it down to twenty-five minutes if we did it fast. We were on and off and 'thank you,' and back to the hotel. Suddenly to have to be playing two and one-half hours for forty-seven gigs, flying all round, I was wasted," George continued.
"But I had that choice of canceling the tour and getting everybody uptight, or going through with it. So I decided, 'Sod it, it's probably better to do it.' But no, I don't miss it at all – being in crummy hotels, eating lousy food, always having to be somewhere else."
George wore out his voice before starting the tour
George might have physically and mentally exhausted himself before the tour, but he also drained his voice as well. By the tour's first show in Vancouver, Canada, George already had laryngitis. His voice sounded so bad that many critics dubbed it "The Dark Hoarse Tour."
The tour was so chaotic that Rolling Stone wrote that George had to resort to "snorting mountains of cocaine" to keep up. It didn't help. "He had a nasty case of laryngitis, and snorting mountains of cocaine didn't exactly make his voice any sweeter. By the end of the tour, his voice was absolutely shredded," Rolling Stone wrote.
George constantly gargled with a mixture of honey, vinegar, and warm water throughout the tour to soothe his aching throat.
George hated the tour's reception
Before the tour began, George said (per Ultimate Classic Rock), "I either finish this tour ecstatically happy and want to go on tour everywhere, or I'll end up just going back to my cave for another five years." It proved to be the latter, unfortunately.
The Dark Horse Tour didn't inspire fans and critics. They didn't enjoy the long sets of Indian music or George's strange renditions of his most famous Beatles tunes either.
"The flak about the tour was terrible," George told Rolling Stone. "There're always people who don't like something, but on the average it wasn't a disaster. I wanted it made clear that it was a tour with Ravi Shankar, but Bill Graham wouldn't do that. They tried to make it look like it was just me coming, that sort of trip. But even in the Indian music section there was a part of that, every place we played, where the audiences were up on their feet screaming and shouting their approval.
"But the press clippings were unbelievable. By the time I got back to England people were saying, 'That's it, you're finished, man.' It was the worst thing I'd ever done in my life according to the papers. But really, there were moments of that show that were fantastic. So all the negativity about that was a bit depressing, but [grinning triumphantly] I fought my way back to recovery!"
Coming home, George went straight to his garden to reconnect with God and rejuvenate himself. He didn't tour for many years later, but not because he was felt the Dark Horse Tour failed. George doesn't do anything if he doesn't want to.