George Harrison's Awkward Joke in Response to Meeting Mel Gibson
George Harrison had many hilarious run-ins with other celebrities, including one with actor Mel Gibson. Even though George wrote a song for Gibson's Lethal Weapon 2, the pair didn't meet until years later.
However, Gibson should have known that the "quiet Beatle" wasn't so quiet. George knew how to give a witty response in any situation, even if he was meeting a famous actor.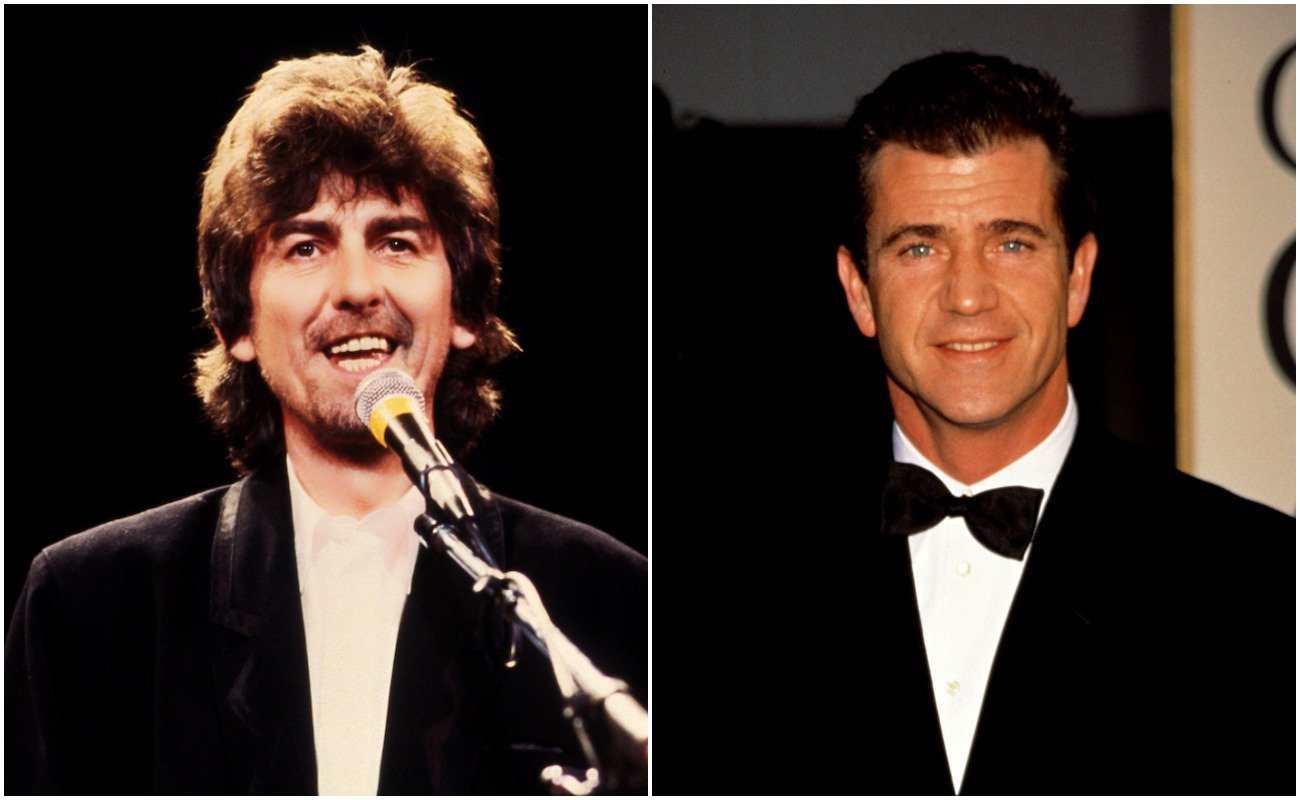 George Harrison's witty remark to Mel Gibson during their meeting
In Abbey Road to Ziggy Stardust: Off the Record with The Beatles, Bowie, Elton & So Much More (per the New York Post), Ken Scott, one of the five main engineers for The Beatles, recalled the time George met Gibson.
Around 1999, George was working on a "Yellow Submarine" remix at Abbey Road Studios. Gibson was downstairs working on the score for his latest film, The Patriot. When Gibson found out George was also in the studio, he asked to meet the ex-Beatle.
When Gibson went to shake hands with George, the rock star looked up confused. He said, "Oh, I thought they said Mel Brooks." George's favorite film was Brooks' The Producers, after all. Still, the comment allegedly crushed Gibson. However, George quickly laughed and told Gibson he was only joking.
Although George had contributed a song on Lethal Weapon 2's soundtrack in the late 1980s, this was the first time the pair met.
RELATED: John Lennon's Aunt Wasn't Happy That George Harrison's Mother 'Encouraged' The Beatles Early On
George contributed 'Cheer Down' to the soundtrack for Gibson's 'Lethal Weapon'
George wrote his 1989 song "Cheer Down" with Tom Petty. It appeared at the end of Lethal Weapon 2 after the chaos finally finishes, and Riggs and Murtaugh can… cheer down. It's a perfect song for that moment because its origins were similar. "Cheer Down" comes from the moments in George's life when his wife told him to calm down.
In a special edition of Rolling Stone, "Remembering George," Petty revealed that the song's name came from something George's wife, Olivia, used to say to him when he got overexcited.
"Olivia would say that to George when he got a little too happy," Petty explained. "He would get a burst of enthusiasm, and she'd say, 'OK, cheer down, big fellow.'"
In George Harrison on George Harrison: Interviews and Encounters, George explained why he wrote "Cheer Down" for Gibson's film.
"I did see it before I wrote the song, and I think because my friend was doing the score to it and he was, I think, trying to get me involved because Eric [Clapton] was going to do some music with David Sanborn, and he showed me the rough cut of it with no sound on it at all — just the live sound, no dubs," George explained. "The reason I did that I think basically was because Michael Kamen was doing music to it, and he wanted me."
George liked working with Lethal Weapon 2's director, Richard Donner, but he didn't cross paths with Gibson until years later.
RELATED: George Harrison Once Lived Next to an All-Girls School That Didn't Give Him Any Privacy
The 'Lethal Weapon' actor denied claims he said John Lennon 'deserved to be shot'
Gibson has become a controversial celebrity over the years. According to NME, one of his controversial moments involved another Beatle, John Lennon.
In 2012, news broke that work on The Macabees had stopped. Then, Joe Eszterhas, who was working on the script with Gibson, claimed that the Braveheart actor had made several controversial comments. Eszterhas wrote a letter about his experience working with Gibson, obtained by The Wrap.
In the letter, Eszterhas claimed Gibson said the following comment about John. "I'm glad he's dead. He deserved to be shot. He was f***ing Messianic! Listen to his songs. 'Imagine.' I hate that f***ing song. I'm glad he's dead."
However, Gibson denied Eszterhas' claims. At least Gibson got to meet George, though, even if George made a joke about wishing he'd met Mel Brooks instead.
RELATED: The Heartbreaking Song George Harrison Wrote While His Mother Died