George Harrison's Heartbreaking Last Words To His Wife Olivia Still Ring True
George Harrison had some truly heartbreaking last words for his wife, Olivia, and they still ring true today. They gave Olivia hope for the future.
George Harrison died of cancer 20 years ago today. For many, including his wife, Olivia, that day feels like yesterday. Not because of its incredible sadness but because of its beauty. Despite having the press hounding him and one of his doctors trying to get one last autograph from him, George was able to leave his body the way he wanted and with dignity. Olivia said it was one of the most profound things she's ever witnessed.
However, George wouldn't want fans and his loved ones to dwell on his death. Olivia has a reason to, though. She'll never forget the day she lost her husband, not just because it was a profound moment, but because George's last words to her were some of the most heartbreaking yet inspiring words he's ever said to her. They still ring true.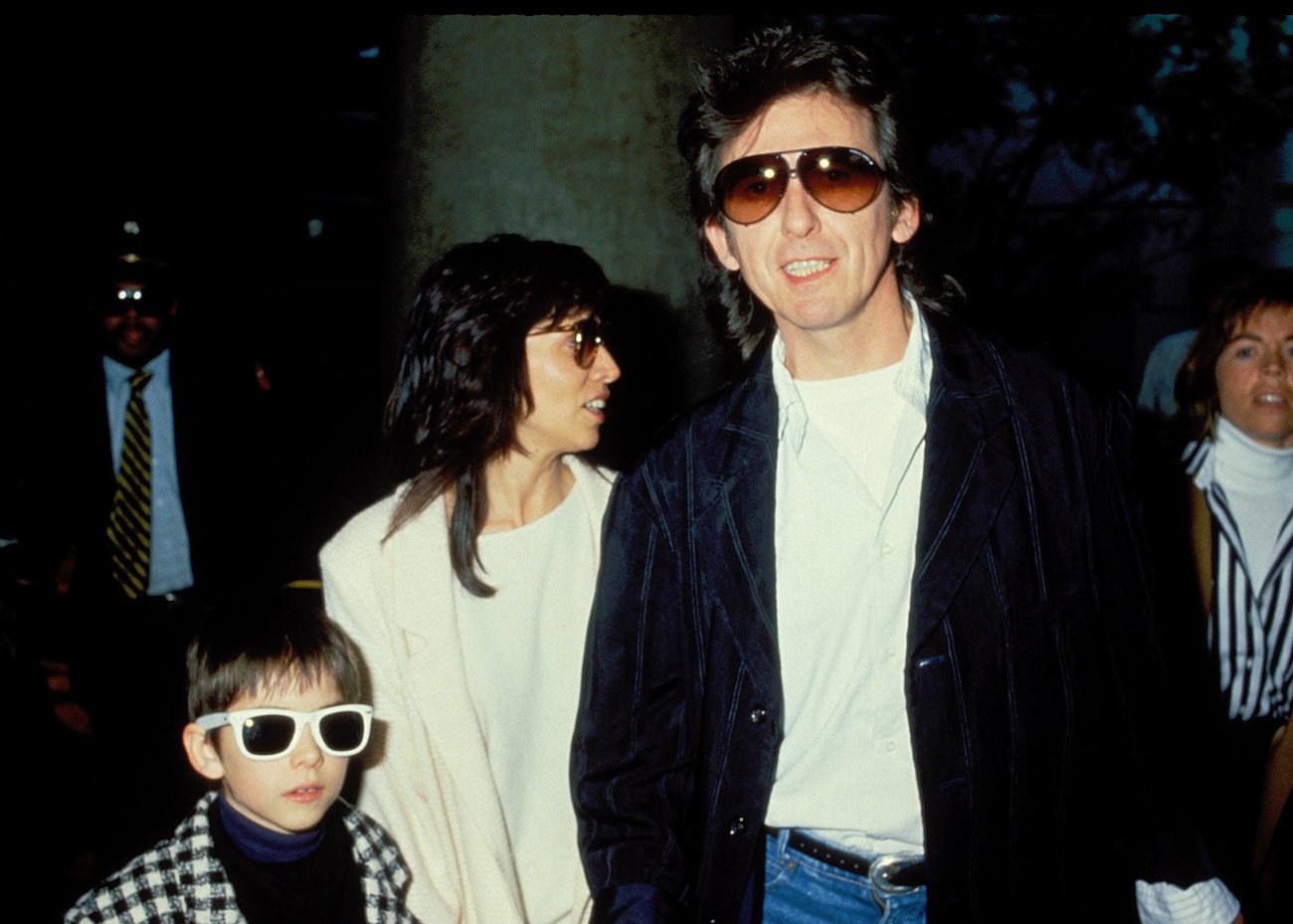 George Harrison had some heartbreaking last words for his wife Olivia
Sometime after George died, Olivia recalled her husband's last words to her during an interview with the Telegraph (per Express). They truly were the most heartbreaking words that a husband could say to his wife as he was dying.
Olivia told the publication that he would try to comfort her in the only way he knew how, as he was battling cancer. "Olivia, you'll be fine, you'll be fine," he said to her.
According to Marc Shaprio's Beatle Wives: The Women the Men We Loved Fell in Love With, Olivia continued to say, "For me, fine was okay but it was not really good enough. I am fine and I am okay. He walked his road and now I have to walk mine. There's no way of going around grief. I think it's better to just go through it."
After George died, Olivia released the following statement: "He left this world as he lived in it, conscious of God, fearless of death, and at peace, surrounded by family and friends. He often said, 'Everything else can wait but the search for God cannot wait, and love one another.'"
George Harrison's last words to his wife helped her grieve
George's last words to his wife still ring true. She was fine after he died, just like he said, and she still is OK. Still, she does miss him terribly. "But George was right, I am fine and I am okay, although I will miss him until my dying day," Olivia continued to the Telegraph.
During a 2005 interview with the Independent, Olivia said that George knew how to light up the room. "If he walked in the room now, he would make you smile. He had a great presence, and he was an uplifting person," she said. "He could be grumpy too, but he didn't like people around him to be unhappy. He liked everyone to be having a good time. Otherwise it was a waste of life. People say life is too short and it is."
George still had that light when he was dying. "There's no dying of the light," Olivia said. George was able to leave his body the way he wanted, and it had a profound effect on Olivia. She was no longer afraid of death. "I feel very fortunate," she told the Independent.
"I have a lot of joy because I know it's OK. This physical world is not the end by any means. It's just another place you pass through. I don't just believe that, I know it."
Olivia said she's still in touch with George and knows that they'll be together again one day
Now, Olivia still feels her husband's presence. The couple is still in touch with each other, just not in a physical way. "I'm still having a relationship with him but it is just not a physical relationship anymore. If you have ever had anybody go who you have loved, you do feel in communication with them because you feel so deeply in your heart that if you say a prayer, it goes straight to them," she told the Telegraph.
"And the sooner one comes to terms with that, the easier it is, rather than feeling George has gone and he is never coming back," Olivia concluded.
Olivia continued to tell the Independent that she knows there will be a day when she reunites with her husband. She said, "In the Vedas [ancient Hindu scriptures], it says you'll meet a multitude of past relatives and lovers and people and friends that you know, so why not think you're going to bump into somebody somewhere along the way?"
That's a great way of looking at it. Olivia will continue to communicate with George through her prayers, memories, and listening to his music.