George Harrison's Hilarious Response to Mark Hamill's Fanboy Moment
George Harrison had the best response when Mark Hamill came up to him to tell him what a big fan he was of George's work.
Even famous stars like George Harrison and Mark Hamill get starstruck. Everyone's a fan, after all. However, certain stars can contain their excitement better than others.
When the ex-Beatle and the former Star Wars actor found themselves traveling on the same airplane, Hamill had to be careful of opening his mouth in case a girly shriek emerged. On the other hand, George was restrained as ever and emitted a witty response to Hamill's fanboy moment.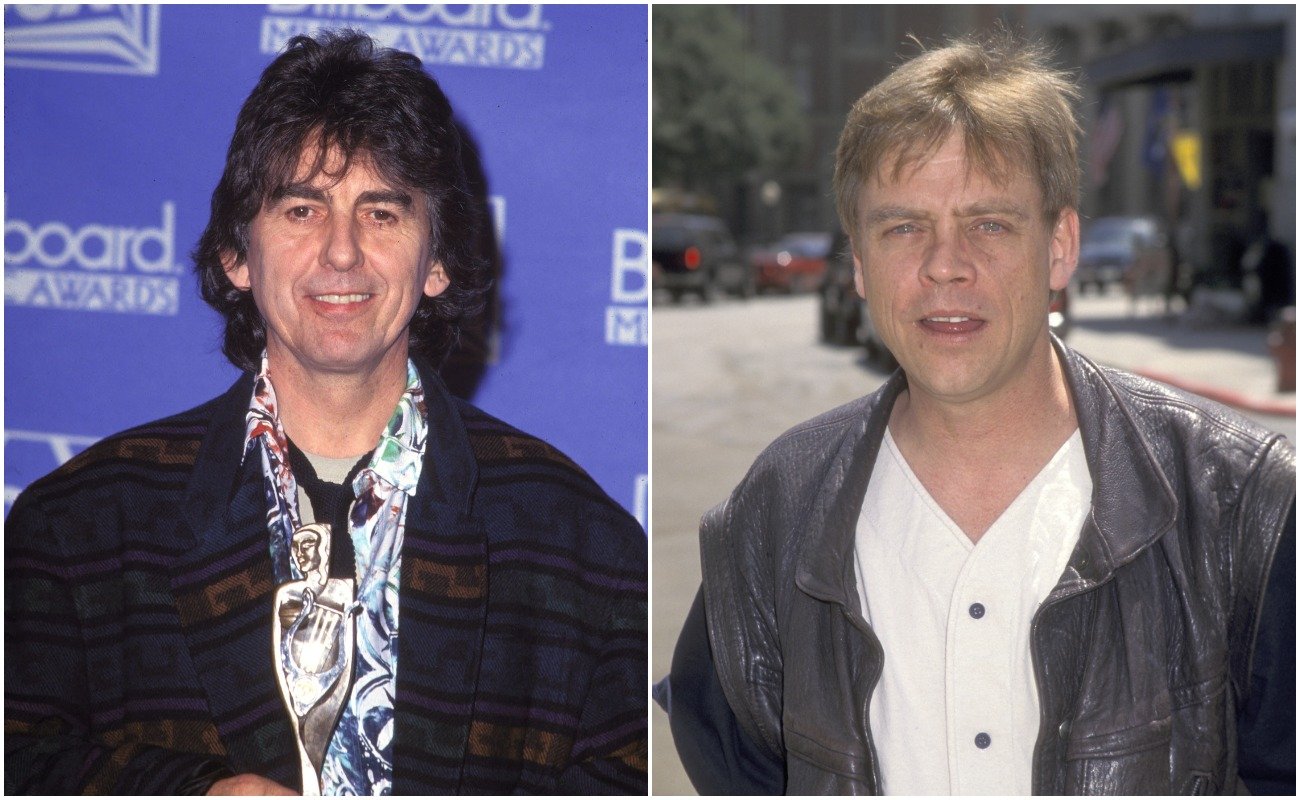 George Harrison had the best response to Mark Hamill's fanboy moment
Hamill explained the moment he met George in an interview on SiriusXM.
"I was sitting in the airplane and George Harrison was across the way from me, so I sent a little note over," Hamill said. "I didn't want to go up to him. And I never asked for autographs when I meet famous people. I'd rather ask them a question, you know? 'How did you do this?' Or whatever.
"So I sent the note over, it just said, 'Dear Mr. Harrison, thank you so much for supplying the soundtrack of a lifetime,' and so forth. And the stewardess came over and she said, 'Uh, he'd like to meet you.' I didn't know what to do with myself. I was walking over there, I got a lump in my throat. Like if I open my mouth, I'm gonna cry like a little girl.
"I remember managing to say, 'Gosh, Mr. Harrison, I just want to tell you that your music is so meaningful to me in my life, and I don't know what my life would've been without your music.' So I got my compliment out. Very cooly he looked up, he said, 'You're not so bad yourself.' I could die and go to heaven right now!"
So even Luke Skywalker can get starstruck, it seems. However, George was just as much of a fan of Hamill.
George loved 'Star Wars'
In an interview with StarWars.com, George's son, Dhani, explained that his father was a huge Star Wars fan. George found that the franchise helped him talk about God.
"We were always very into [The Empire Strikes Back], obviously," Dhani said. "My dad had a way of explaining things. He used to say things like, 'If you talk about God, you can watch people's toes curl.'
"But if you use the term 'the Force,' essentially to mean exactly the same thing, or the universe, it's a way more palatable thing that people with no spiritual or religious affiliations can get behind. So I think he always enjoyed that — the way that George Lucas explained that spirituality. Because it made his job easier. [Laughs] It made the explanations of things easier."
The ex-Beatle said 'That Which I Have Lost' sounds a bit like 'Star Wars'
Star Wars seems to have been lurking in the back of George's mind on more than one occasion. In his 1980 memoir, I Me Mine, George wrote that his song, "That Which I Have Lost," sounds a bit like Star Wars.
"'That Which I Have Lost' comes straight out of the Bhagavad Gita, which I was reading at the time and the I turned it into this little country and western tune," he wrote.
"The Gita is all about the struggle against the forces of darkness—limitation, falsehood and morality. It sounds a bit like Star Wars, but life is a battlefield. People think life is all about having fun, and if the fun gets taken away we get upset.
"But life isn't fun, it's like being prison—'I sentence you to life.' You have to go and fight your battles with duality. And that's what this song's about."
So, George related to Star Wars' deeper messages. Meanwhile, George's songs deeply touched Hamill. Years after meeting, Hamill honored George by appearing in the new music video for "My Sweet Lord." It's a beautiful full-circle kind of thing.