George Harrison's Last Tour in 1991 Went Smoother Than His First in 1974: 'I Feel Better Than I Have in 20 Years'
George Harrison embarked on a short tour of Japan with Eric Clapton in 1991. It went smoother than his 1974 Dark Horse tour.
In 1991, George Harrison set out on his last tour. Eric Clapton asked him to play a few shows in Japan. It took some convincing. George wasn't the biggest fan of touring.
Before going to Japan, George had only toured one other time during his first solo tour of the U.S. in 1974. That Dark Horse tour was a bit of a disaster. There were many complications. At the end, George came home mentally and physically exhausted and essentially swore off touring ever again.
However, George and Clapton's tour of Japan turned out much different.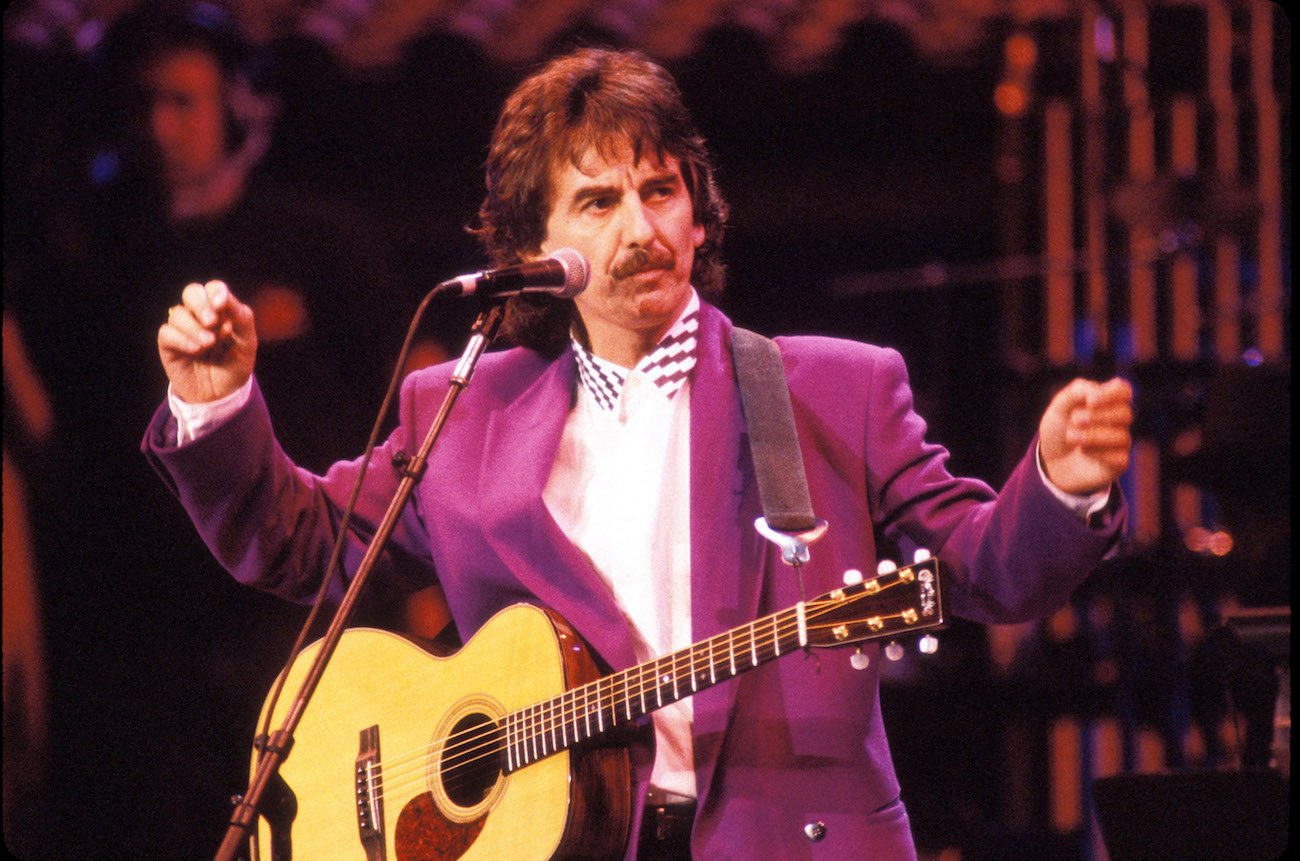 George Harrison's first solo tour in 1974 was a disaster
Before George started his Dark Horse tour in 1974, he did a lot of recording, which wasn't the best decision.
"That was the problem in 1974, when I toured America," George explained to Rolling Stone in 1979. "I'd done three albums before I went on the road, and I was still trying to finish my own album as we were rehearsing, and also we'd done this other tour in Europe with these classical Indian musicians. By the time it came to going on the road I was already exhausted.
"With the Beatles we used to do thirty minutes onstage, and we could get it down to twenty-five minutes if we did it fast. We were on and off and 'thank you,' and back to the hotel. Suddenly to have to be playing two and one-half hours for forty-seven gigs, flying all round, I was wasted.
"But I had that choice of canceling the tour and getting everybody uptight, or going through with it. So I decided, 'Sod it, it's probably better to do it.' But no, I don't miss it at all – being in crummy hotels, eating lousy food, always having to be somewhere else."
George also had laryngitis. Rolling Stone wrote, "He had a nasty case of laryngitis, and snorting mountains of cocaine didn't exactly make his voice any sweeter. By the end of the tour, his voice was absolutely shredded," they wrote.
George had to constantly gargle with a mixture of honey, vinegar, and warm water to soothe his aching throat. However, that didn't soothe crowds. Fans and critics were upset by George's voice, the long Indian music sessions, and the absence of Beatles tunes.
He said (per Ultimate Classic Rock), "I either finish this tour ecstatically happy and want to go on tour everywhere, or I'll end up just going back to my cave for another five years." It was the latter. George returned mentally and physically exhausted.
George's last tour in Japan went a lot smoother
After 1974, George rarely played live. He never embarked on another tour until Clapton asked him to go to Japan in 1991. George realized this last tour would be different after Clapton suggested it.
He'd have Clapton and his backing band with him. "Eric suggested to me it… would be a good time if I wanted to do a concert tour because he was not working and him and his band were available to become my band," George said in a press conference. "And that was one reason why I thought about working was because Eric asked me."
During the 12 shows, which didn't have much travel time, Clapton took a back seat and became the musical director. According to Ultimate Classic Rock, Clapton chose to start each show with The Beatles' "I Want to Tell You" because the group had played the song during their show in Tokyo in 1965.
George prepared his voice too. To keep it from failing as it had in 1974, George quit smoking before the tour.
George told the Chicago Tribune, "I feel better than I have in 20 years. I'm very straight. I don't even drink." Despite being more prepared than in 1974, George was still nervous about performing. Still, he said he played better than he'd ever done.
"The first real show I had some nerves, but it was just the right balance of nerves and adrenaline," George said in 1992, "and it proved to be one of the best performances." Fans and critics were extremely pleased by the 12 performances too.
Tom Petty said George was hesitant about performing on stage
George finished his tour of Japan with a satisfied ego, but he said he'd rather go back to playing smaller gigs. He said he was happier jamming with friends in some small Holliday Inn in the middle of nowhere.
"After three or four nights of doing the concerts, my ego was satisfied," George said. "I'm the kind of person who would love to play whenever I felt like, with a band, and it might as well be the Holiday Inn in Nebraska – somewhere where no one knows you and you're in a band situation just playing music. The adulation or the superstardom is something I could leave out quite happily."
George's friend, Tom Petty recognized this. "He was never far from music," Petty explained in a special edition of Rolling Stone, "Remembering George." However, George was hesitant about performing.
"I don't think he had any interest in touring. He told me many times he was very uncomfortable being the guy up front having to sing all the songs. It was just not his idea of fun. I remember him visiting me on tour in Germany.
"He would come to the side of the stage and look out. But he really didn't want to go on. He would go, 'It's so loud and smoky, and they are acting so crazy. I just feel better back here.'"
George's reluctance to perform didn't just stem from his 1974 tour. Touring for years in the thick of Beatlemania also affected George's nerves.
In 1979, George told Rolling Stone, "I don't like going on the road. Sometimes I feel physically very frail. I can feel knackered, really tired, just having to get up early to get an airplane – I can feel ill having to travel.
"On the road there're all these medicines flying about to help you catch the plane on time, all that sort of stuff. And I'm a sucker for that. I could do myself in."
Still, we're glad George got one last chance to tour.