George Harrison's Rock & Roll Hall of Fame Induction Included a Solo Performance That No One Saw Coming
If George Harrison had been alive to see himself inducted into the Rock & Roll Hall of Fame for a second time, only one thing would have gotten him to attend. George would have attended only if his friends were there to jam with him on stage. In 2004, his friends were there to help induct him once more, and they did jam, alongside George's son, Dhani, and, surprisingly, another of that night's inductees, Prince.
George would have said the more, the merrier because he wouldn't have seen his induction as a celebration of himself. It's about the music, and that's what Prince would have agreed with. However, not everyone was expecting the level of playing that Prince brought on stage. Well, that, and they weren't even sure he would materialize at all during the performance.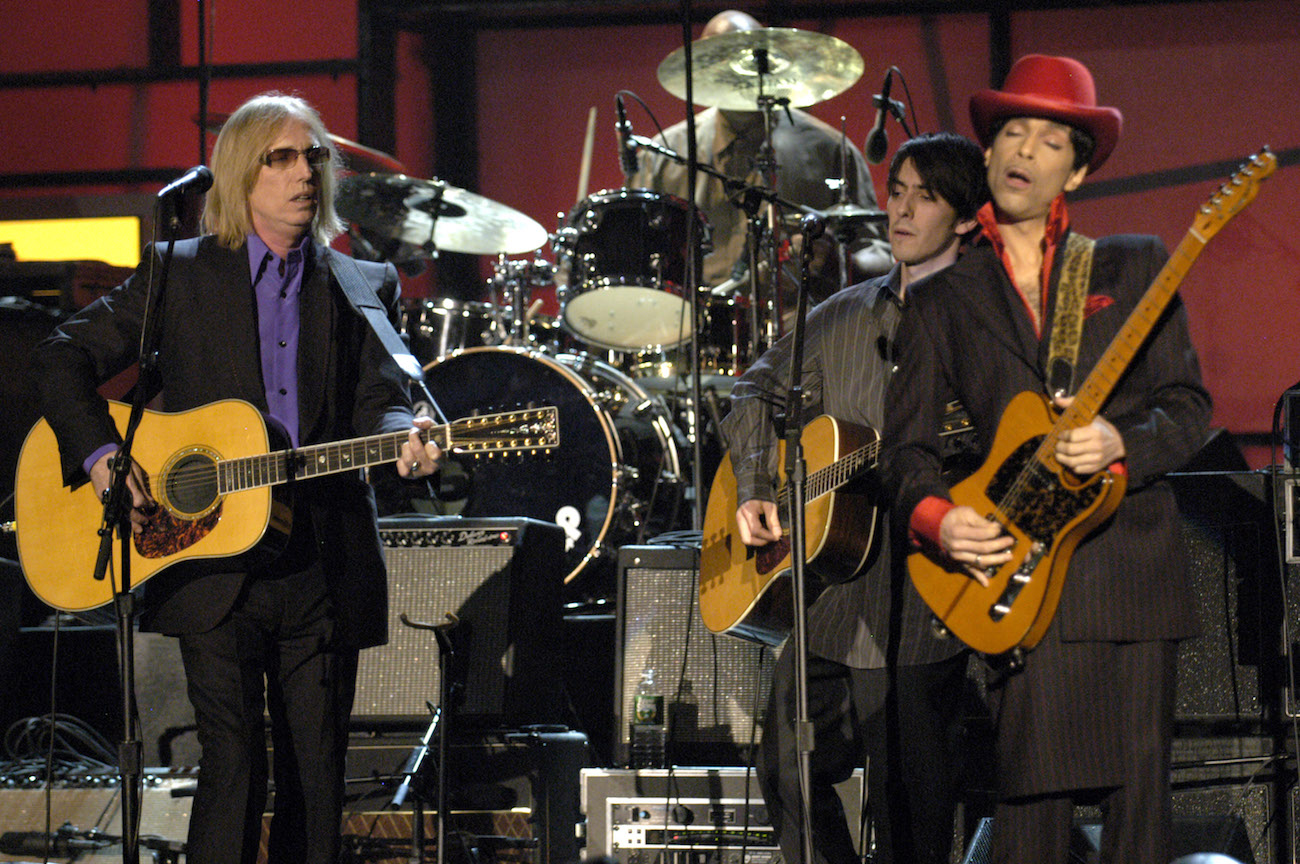 The Rock & Roll Hall of Fame's ceremony showrunner asked Prince to join George Harrison's induction performance
Both Prince and George were inducted during the 19th annual Rock & Roll Hall of Fame Inductions in 2004. So, the producer and director of the ceremony, Joel Gallen, thought it'd be great if Prince performed with everyone else during George's induction.
Set to take the stage to celebrate George were his Traveling Wilburys bandmates, Tom Petty and Jeff Lynne, and members of their respective bands (the Heartbreakers and ELO). There was also Steve Winwood and George's only son, Dhani. They chose to perform one of George's most popular Beatles hit, "While My Guitar Gently Weeps."
However, Prince was a last-minute and hardly ever confirmed addition. Gallen told the New York Times that he wrote to Prince to ask if he'd be willing to join the performance. "My dream right from the start was, imagine if I can get everybody up onstage at the end of the night to do 'While My Guitar Gently Weeps,' and Prince comes out and does the guitar solos. I wrote basically a personal letter to Prince, care of his lawyer," Gallen said.
One of Prince's guys got back to Gallen, saying Prince wanted to meet. They met, and Prince told Gallen, "You know, I got your letter, I liked the idea, I'm going to listen to the song a few times, and I'll get back to you." They met a second time, and Prince agreed to perform. But he was concerned about who would "own the performance."
Prince didn't really rehearse the song for added shock value later
Rehearsals at the Waldorf Astoria the night before the show didn't really go to plan. Prince had rehearsed the 10-12 minute medley he would do during his own induction, but the Purple One seemed less than enthusiastic about rehearsing for George's. It was all a ploy, though.
Gallen explained, "After that he went back to his hotel, and I said, 'You're going to come back at 10 o'clock tonight, that's when we're going to rehearse the finale,' and he says, 'I'll see.' [Laughs.] He didn't give me any guarantees, he just said, 'I'll see.'"
Prince did show up to rehearsals that night. However, he let Jeff Lynne's guitarist take all of the guitar solos, which surprised Gallen. Dhani thought something was fishy with Prince's rehearsal too.
"He turned up at soundcheck and he was really nice, very shy, but I was the only one that was talking to him, and I got the sense that he was holding back, he wasn't gonna play like that in the real thing," Dhani told Esquire. "I said to Tom, 'He's being really nice, but he's gonna come and blow us offstage later.' And they said whatever, it's gonna be great, whatever he does is going to be brilliant—it's Prince, so obviously we're not going to stop him."
Prince later told one of his friends that he did "half-gas" it during the rehearsals. By "half-gassing" it and seeming nonchalant about his solo, it kept everyone's guards down. That way, when it came time for Prince's solo, he'd be able to step on the gas and give everyone a moment they'd never forget. Prince works in mysterious ways.
Gallen was worried that Prince never rehearsed the George Harrison's song
Gallen was a nervous wreck leading up to George's induction. Prince never actually rehearsed anything with the rest of the guys.
"They finish, and I go up to Jeff and Tom, and I sort of huddle up with these guys, and I'm like: 'This cannot be happening. I don't even know if we're going to get another rehearsal with him. [Prince]. But this guy cannot be playing the solos throughout the song,'" Gallen said.
"So I talk to Prince about it, I sort of pull him aside and had a private conversation with him, and he was like: 'Look, let this guy do what he does, and I'll just step in at the end. For the end solo, forget the middle solo.' And he goes, 'Don't worry about it.'
"And then he leaves. They never rehearsed it, really. Never really showed us what he was going to do, and he left, basically telling me, the producer of the show, not to worry. And the rest is history. It became one of the most satisfying musical moments in my history of watching and producing live music."
Gallen is right; Prince's three-minute solo, which he virtually whipped out of nowhere, definitely ended up as one of the most famous moments in rock history. Dhani thinks it's "incendiary," while Petty said he thought George would have loved it.