George Harrison's Son Said Prince Created Tension During George's Rock & Roll Hall of Fame Induction
For his outstanding accomplishments in his solo career, George Harrison was inducted into the Rock & Roll Hall of Fame in 2004. His fellow Traveling Wilburys bandmates Tom Petty and Jeff Lynne inducted him. In Petty's speech, he talked about how George never pursued a solo career. He just liked making music with his friends.
So, had George been there for his induction, he would have told all the other inductees to come out on stage to perform with him. Even Prince, who famously stole the show during George's induction performance. However, the rest of the musicians on stage were tense about His Purple Badness joining them.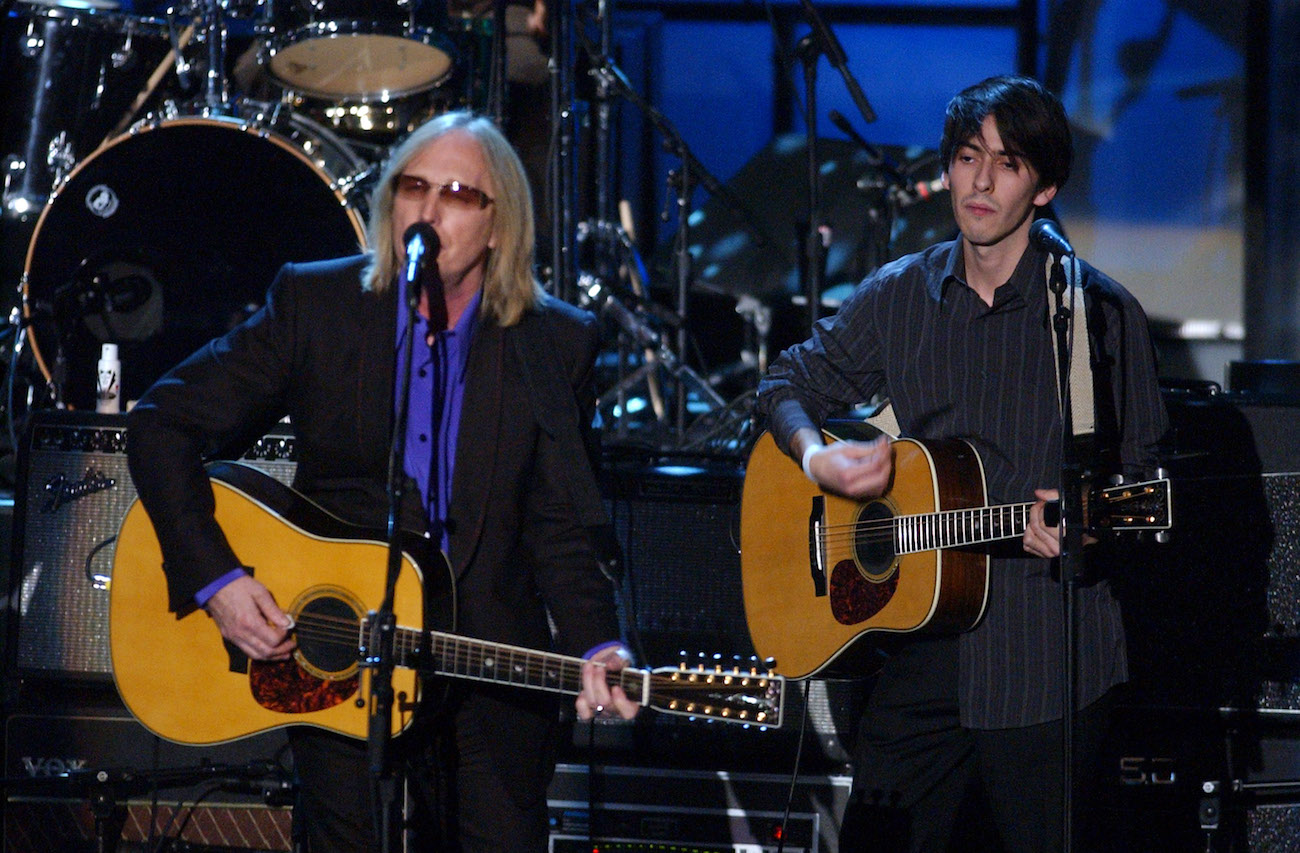 George Harrison's son Dhani said Prince created tension on stage
George's widow, Olivia Harrison, and the couple's only son, Dhani, accepted George's award. Then, Petty, Lynne, Dhani, Steve Winwood, and Prince took to the stage to perform one of George's most popular Beatles hits, "While My Guitar Gently Weeps."
Prince was a fellow inductee that year too, but no one knew he was actually going to take the stage amongst George's friends and son. The last-minute decision made things a bit tense, especially for Dhani, the "buffer zone" between the Purple One and the rest of the Wilburys/Heartbreakers.
"It was a funny ol' night. Being the youngest Wilbury, they stuck me in between them and Prince to kind of be the buffer zone," Dhani told Esquire. "We hadn't been told that he was playing and then suddenly the promoter said, 'He's playing with you, and that's final.' So there was a lot of tension, like what is this?"
During rehearsals, Dhani felt that Prince would unleash a powerful guitar solo at some point during the actual performance. He tried to warn Petty, but the musician didn't care.
"He turned up at soundcheck and he was really nice, very shy, but I was the only one that was talking to him, and I got the sense that he was holding back, he wasn't gonna play like that in the real thing," Dhani said. "I said to Tom, 'He's being really nice, but he's gonna come and blow us offstage later.' And they said whatever, it's gonna be great, whatever he does is going to be brilliant—it's Prince, so obviously we're not going to stop him."
Prince unleashed an unexpected, powerful guitar solo that no one saw coming
When the performance started, Dhani was nervous about what was going to happen. Throughout most of the song, Prince lingered mysteriously off to the side of the stage. But, low and behold, he emerged like a freed dove when it came time for his solo at the end. The three-minute solo is now one of the most famous moments in the Rock & Roll Hall of Fame history.
"When he opened up at the beginning, I was imagining what Tom Petty was thinking, and I just started nervous laughing. Then his solo was so incendiary that I started really laughing and enjoying it. But because they put me on stage in the middle, I'm in every shot right behind Prince, and it looks like I'm hysterically laughing while trying to play the end of 'While My Guitar Gently Weeps' and sing the backing vocals.
"Yesterday, I was on the phone talking to El-P from Run the Jewels and he was like, 'Dude, were you just sitting there laughing at Prince?' No, I was nervous laughing, because it was so awesome and yet it was so not what we were supposed to be doing."
Tom Petty thinks George Harrison would have liked Prince's solo
Despite Petty's stern-looking face during the performance, he was actually quite happy with Prince's solo. He didn't feel that the singer took over the performance in any way and thinks George would have loved how it turned out.
"Olivia Harrison [George's widow] asked me if I would come along and induct George," Petty told the New York Times. "I was told, 'Well, Prince is going to play too,' and I was like, 'Wow, that's fantastic.'
"Look, we got Prince here willing to play lead guitar. Why should we give him an eight-bar solo? Over a solo that — the Beatles solo, everyone knows it by heart and would be disappointed if you didn't play that particular solo there. And Prince was a great fan of George's, and the Beatles in general, but I think he particularly admired George. I think George would have liked it a lot."
At the end of his solo, Prince threw his guitar out into the crowd. To this day, many of the people who were on that stage don't know where it landed. That's the mystery of Prince, and George would have gotten a kick out of it.