George Harrison's Son Said 'Wonderwall Music' Is a 'Full-on Freakout Record'
Contrary to popular belief, George Harrison's solo debut album isn't All Things Must Pass. The triple album was George's first album outside of being a Beatle. However, his actual solo debut is Wonderwall Music, the soundtrack to the 1968 film of the same name. George's son, Dhani, calls it a "full-on freakout record."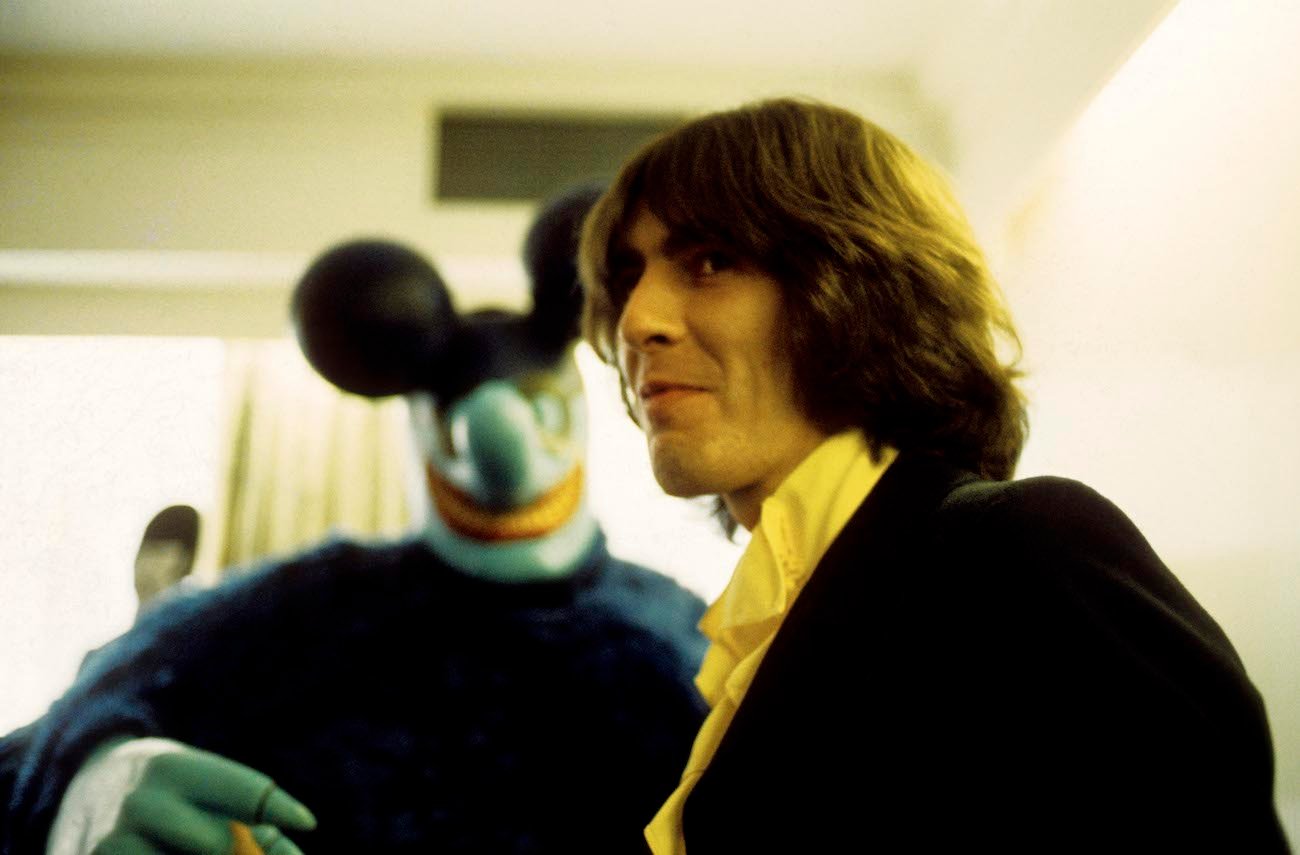 George Harrison recorded 'Wonderwall Music' because he wanted to turn the world on to Indian music
The Beatle signed on to make the soundtrack for director Joe Massot's debut feature-length film, Wonderwall, because he wanted to show the world Indian music.
"The predominantly instrumental album is an intricate, vibrant tapestry of Western rock music and compositions in an Indian classical style," George's website writes.
In 1992, George said, "I decided to do it as a mini-anthology of Indian music because I wanted to help turn the public on to Indian music."
The instrumental album sounds like many of George's songs with The Beatles during the time. It is the first solo album by any Beatle.
Dhani remastered it for 2014's The Apple Years 1968-1975. He added three bonus tracks to the remastered album:  "'In The First Place' by Liverpool group The Remo Four, who played the rock elements of the recording sessions, a previously unreleased alternate take of 'The Inner Light,' and the previously unreleased 'Almost Shankara,' a raga that was not used in the film or for the soundtrack LP," George's site writes.
RELATED: George Harrison Said His Best Slide Guitar Solo Appears on a Belinda Carlisle Hit—but He Forgot Her Name
George Harrison's son, Dhani, said 'Wonderwall Music' is a 'full-on freakout record'
Dhani told Rolling Stone that Wonderwall Music is his favorite album within The Apple Years 1968-1975 boxset. He also admitted he is still surprised by his father's music. "I was trying to work out some chords for one of those songs," Dhani said. "And I realized that you can't hear the chords in there – because there are 50 horns going on over the top."
Rolling Stone asked him why Wonderwall Music is his favorite, especially since it's one of George's least heard albums.
"I remember getting a CD of it in the early Nineties and thinking, 'What is this?' You're sitting there, almost meditating to the music, literally drooling in your lap," Dhani said. "Then a shenai [an Indian oboe] will come in and practically take the top of your head off.
"It's such a deep, psychedelic record. It had Eric Clapton in it, all this backwards guitar, horns – it's a full-on freakout record. And it was instrumental. Any singing on it was deep Hindu chants."
RELATED: Eric Idle Couldn't Get George Harrison to Be Friends With David Bowie
There's a lot of different parts to the soundtrack
Wonderwall Music has a lot of different parts working inside it.
Dhani said, "It was a cross of spaghetti-western music, the Chants of India things my Dad with Ravi [Shankar] and the Beatles' best freakouts. For people who haven't heard that record, that's the first thing you should listen to in the box.
"Wonderwall, for my generation, is a title associated with Oasis. It's not. It's one of the first things my dad did on his own, away from the Beatles.
"For someone who hasn't heard Wonderwall before but who knows 'The Inner Light,' this gives them a better idea of where that album fits into my father's history. That album is a missing link to the end of the Beatles."
Dhani is right; Wonderwall Music is a full-on freakout record. It's easy to get lost in its melodies. Although, there's one thing missing; George's voice.
RELATED: George Harrison Once Surprised Michael Caine by Playing Ukulele All Night