George Harrison's Wife Olivia Cherishes the Song Written About Her But It Isn't Her Favorite
Like his fellow Beatles, George Harrison wrote many love songs. He wrote an incredibly romantic tune called "Something" for his then-wife, Pattie Boyd. But George's second wife, Olivia, meant more to him than writing love songs. The couple went through a lot during their marriage. Olivia saved George during an almost deadly attack, but she saved him in other ways too.
She stayed by his side during his battle with lung cancer and protected his legacy after his death. Updating his memoir, cataloging, and releasing newly uncovered music is all thanks to her. So it's only fitting that George wrote her a love song that would survive until the end of time.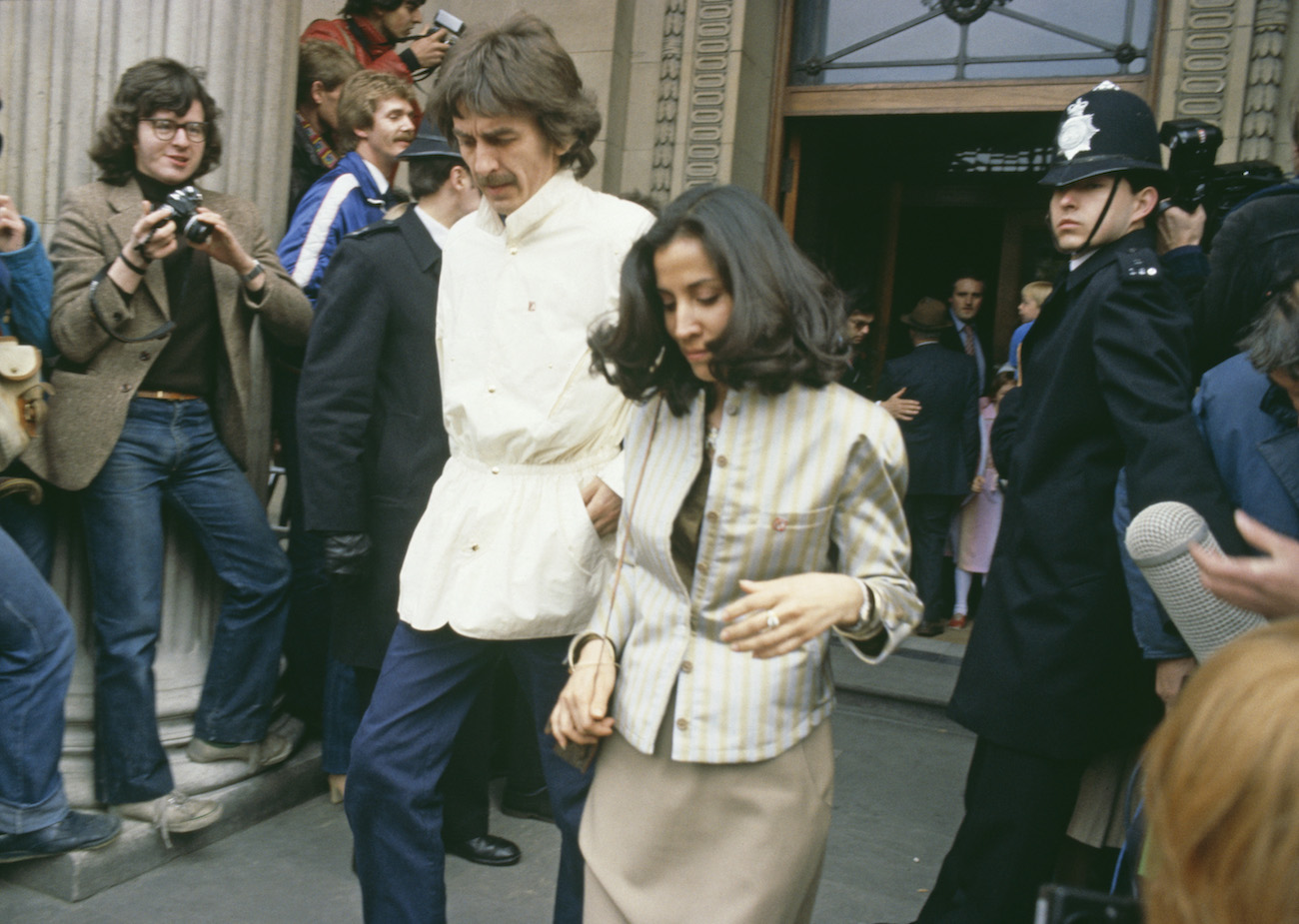 George Harrison wrote his wife Olivia a love song
In 1979, George released his self-titled eighth studio album. It's regarded as one of his best albums and featured a love song for his wife Olivia called "Dark Sweet Lady."
According to Beatles Wiki, the couple had met in 1974 at a party. While waiting for his divorce from Boyd to finalize, George invited Olivia to come along on his American tour. Shortly after, they moved into George's home, Friar Park. The couple found out they were pregnant in late 1977 and married in 1978.
After learning about Olivia's pregnancy, George finished writing the album while the couple was in Maui. It was on this trip that he wrote "Dark Sweet Lady."
The lyrics read: "My dark sweet lady. You really got to me. You gave me everything. I've really fallen. You came and helped me through. When I'd let go. You came from out the blue. Never have known what I'd done without you. My dark sweet lady. Your heart so close to mine. You shine so heavenly and. I love you dearly."
Listening to the song, you can hear how inspired George was. It's soft and sweet but not too sappy. It's a perfect memory encapsulated in a song.
RELATED: George Harrison Was Found Guilty of Plagiarizing One of His Biggest Hits and Is Still Paying for It
Olivia Harrison says "Dark Sweet Lady" means a lot to her
Speaking to Billboard about re-issuing her husband's memoir, I, Me, Mine, Olivia talked about "Dark Sweet Lady." She loves the song, but every song on that album is special to her.
"All those songs like say 'Your Love is Forever,' which has that line 'Sublime is the summertime warm and lazy/These are perfect days like heaven's about here.' That is so personal to me because I think about somewhere we were and it was beautiful and warm and there was no pressure and no angst. Those times in your life when everything is just smooth and beautiful and you can really be your best self and who you want to be. Songs like that, the lyrics to those, they're the ones that mean so much to me. They all do, but that one, 'Sublime is the summertime…'"
Many would assume that "Dark Sweet Lady" is Olivia's all-time favorite song, but that isn't quite the case. While she adores all of her husband's songs, only one is her absolute favorite.
Olivia Harrison loves George Harrison's "Run of the Mill"
How can you choose which George Harrison song is best? There are too many to choose from. Apparently, it's not that hard for Olivia. She told Billboard that "Run of the Mill" is her favorite song. It's off of George's first solo album; All Things Must Pass. George wrote the song when The Beatles were having trouble recording Let It Be.
RELATED: The Horrifying Night When Former Beatle George Harrison Was Stabbed By A Crazed Fan
All Things Must Pass seems to be Olivia's favorite album. She told the LA Times that she made her friends sit and listen through it after bringing it home in 1970, four years before she met her future husband.
"It really had a profound effect on me," Olivia said. "He would be surprised that I loved 'Let it Down.' 'Really? John didn't like that song.' And I thought: Well, I love it." Olivia remastered the album for its 50th anniversary, something she thinks will help keep her husband's legacy alive.