George Harrison's Wife Olivia Didn't Want Prince to Perform at George's Rock & Roll Hall of Fame Induction
George Harrison was posthumously inducted into the Rock & Roll Hall of Fame for his achievements in his solo career in 2004. George's widow, Olivia Harrison, and the couple's only son, Dhani, accepted the award on his behalf. Then, George's Traveling Wilburys bandmates and other friends took to the stage to pay tribute to the ex-Beatle, performing one of his biggest hits, "While My Guitar Gently Weeps." However, there was an unexpected presence on stage.
The producer and director of the Rock & Roll Hall of Fame ceremony, Joel Gallen, asked Prince, a fellow inductee that year too, to join in. Initially, Olivia was against the idea, but she came around eventually and thankfully too. Otherwise, we might not have gotten a certain iconic solo that no one saw coming. Later on, it became one of the most famous moments in the Rock & Roll Hall of Fame's history.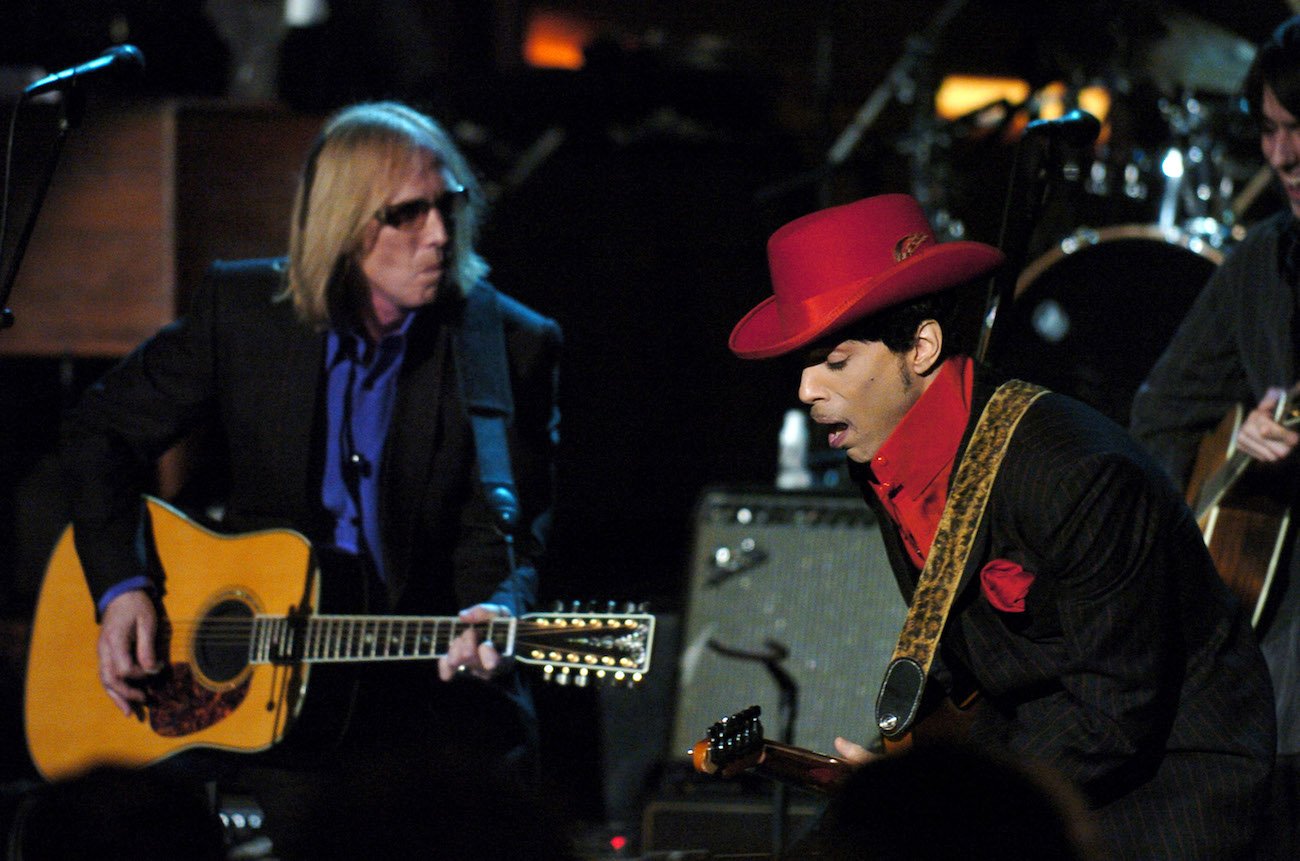 George Harrison's wife Olivia asked Tom Petty and Jeff Lynne to help inducted George posthumously
As George's widow, who'd only lost him three years prior, it's understandable that Olivia Harrison wanted George's solo induction into the Rock & Roll Hall of Fame to be special. She knew what George would have wanted better than anyone. So, she hit it on the nail by asking some of George's closest friends to come and help induct him once more.
She asked Tom Petty personally. "Olivia Harrison [George's widow] asked me if I would come along and induct George," Petty told the New York Times.
George's friends were very special to him. During his acceptance speech for the Billboard Century Award in 1992, George said that all the flattery was difficult to take without saying that he'd been very "fortunate to have such good friends and influences" on his career. "If you'd call it a career," George said.
Since George's friends were so important to him, Olivia also had one other request concerning George's induction. If that request had been followed through, Prince wouldn't have been on the stage that night.
Olivia Harrison didn't want Prince to perform during George Harrison's Rock & Roll Hall of Fame induction
Olivia clearly had very specific plans for George's induction. She wanted his friends to induct him, and she wanted them to be the ones who performed in the tribute.
Olivia didn't want anyone on that stage that didn't know George. Why should anyone else be up there on stage? So, when Joel Gallen, producer, and director of the ceremony, called her and asked if she was OK with adding Prince to the performance, Olivia initially denied his request. Prince and George didn't know each other.
However, The Current writes that Gallen and Petty convinced Olivia to change her mind. If she hadn't, we would have gotten a completely different performance.
Tom Petty thinks adding Prince was a great idea and that George would have loved it
Gallen told the New York Times that it was his "dream" to have Prince come out to do the solos in "While My Guitar Gently Weeps." This was a once-in-a-lifetime chance to hear what Prince would add to a Beatles song live on stage. Since Prince was an inductee himself that night, he was available.
"I wrote basically a personal letter to Prince, care of his lawyer," Gallen explained. After a couple of meetings, Prince told Gallen that he'd have to listen to the song a couple of times to make an educated decision on whether or not he'd agree to perform. Eventually, Prince did, but he still had some concerns about who would truly "own" the performance.
When Gallen told Petty that Prince wanted to join them on stage, he was surprised. "I was told, 'Well, Prince is going to play too,' and I was like, 'Wow, that's fantastic.'" Fast forward to the ceremony; Prince melted the faces of everyone in the room with an unexpected 3-minute solo that later became so iconic that it's gone down as one of the Rock Hall's most famous moments.
Some fans were skeptical about the performance. Dhani said it was tense on stage, and it seemed as if Prince was trying to upstage everyone else. However, Petty disagrees and thinks George would have loved it. "Prince was a great fan of George's, and the Beatles in general, but I think he particularly admired George. I think George would have liked it a lot," Petty said. One thing's for sure, Olivia probably did too.