What George Harrison's Wife Olivia Learned About Herself Following the Family's 1999 Home Invasion
George Harrison's wife Olivia saved his life during a 1999 home invasion. They both would have died if Olivia didn't have a fighting instinct. John Lennon's widow Yoko Ono once said being a Beatle wife is the most difficult thing to be in the world. Well, Olivia proved that on the night of the attack.
Since then, Olivia has continued to prove that being Mrs. Harrison is sometimes the hardest job in the world.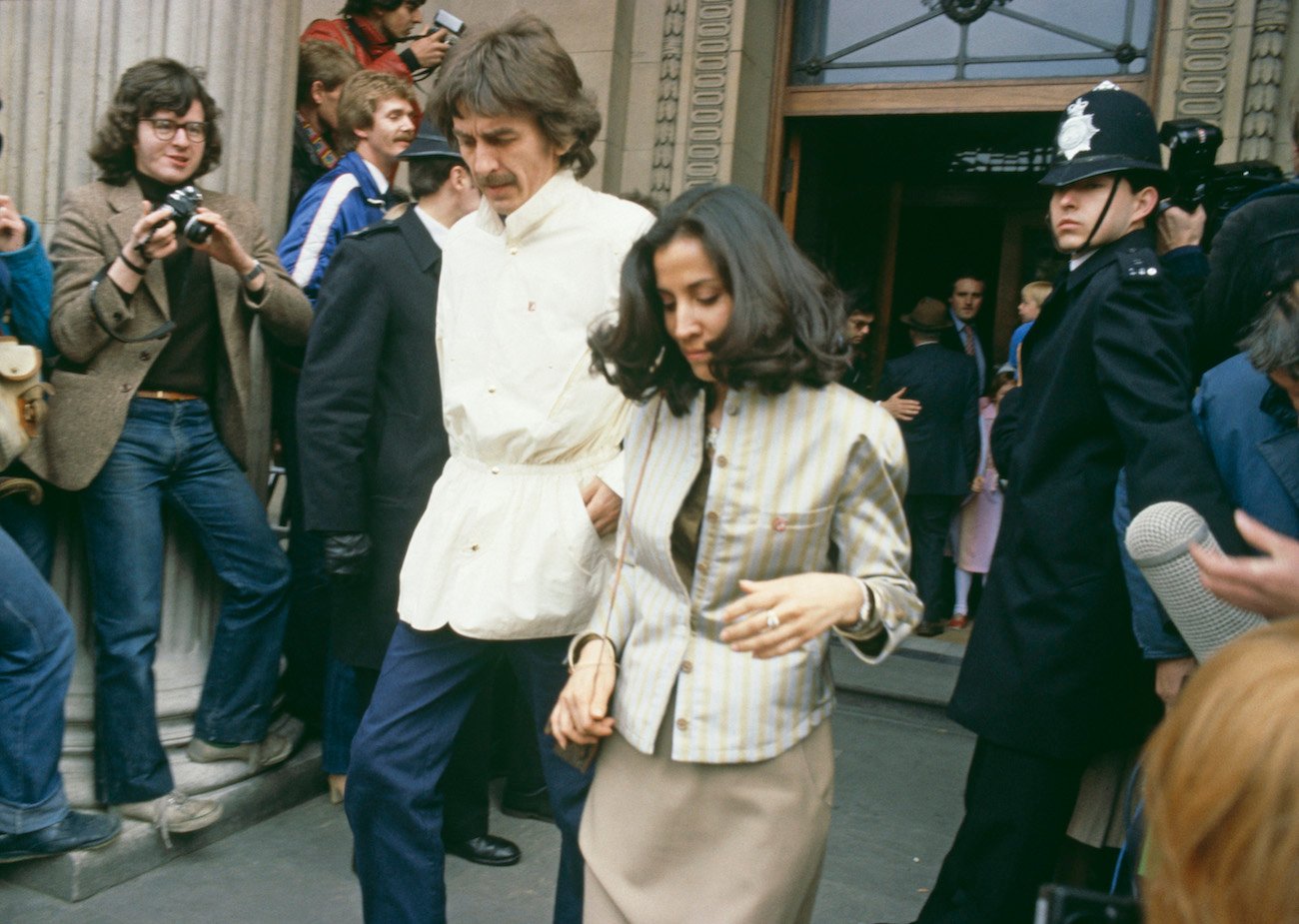 George Harrison's wife Olivia saved him during a 1999 home invasion
On Dec. 30, 1999, Michael Abram, a 33-year-old Liverpudlian, scaled the fence of George's home, Friar Park, near Henley-on-Thames, Oxfordshire. He entered the mansion at about 3:30 in the morning after throwing a statue through a window.

In Martin Scorsese's George Harrison: Living in the Material World, Olivia said, "This guy was saying, 'Get down here, get down here.' 'What do you want?' He said, 'You know what I want.' It was just horrible.
"It was just like this voice from the bowels of hell, and then he just tore up the stairs. He was in a florid psychotic state, and he was tall and young… and this man was on top of George, trying to kill him."
Olivia grabbed a poker and "hit the guy several times." She continued, "I could see the blood spreading down his blonde hair, and then he got up, and he chased me. He had me around the neck, and George got up and jumped on his back. And he'd already been stabbed."
They managed to get the attacker off them. George pinned the attacker down until the police arrived.
Later, in the hospital, George and Olivia looked at each other and couldn't believe what had happened. George almost died. The attacker almost took something precious away from him; how he wanted to leave his body.
"The next day, George said, 'You know, I was lying there, and I was thinking, I can't believe it, after everything that's happened to me, I'm gonna be murdered. I'm being murdered in my own home.
"'Since I'm being murdered and I'm going to die, I better start letting go of this life, and I better start doing what I've been practicing to do my whole life so that I can leave my body the way I want to.' He was so defiant and so determined. Nothing was gonna stop him from leaving his body and leaping as high as he could go."
RELATED: Yoko Ono Warned George Harrison's Wife Olivia About What Would Happen Following George's Death
What Olivia learned about herself after the home invasion
In a recent interview with The Sunday Times, Olivia talked about what she learned about herself following the home invasion. In the wake of John Lennon's murder in 1980, the Harrisons tried their hardest to live outside the spotlight. They grieved John, but they also had a good amount of fear. The 1999 attack didn't help matters.
On how that night changed her view of herself, Olivia is matter-of-fact. "I thought, OK," she says, "I know I'm not the flight person. Yeah, you know, something happens, I always have to go see what it is."
In Scorsese's documentary, Olivia explained that as she swung at Abram, she thought of what her father used to say, "Follow through."
That night, her actions were awe-inspiring.
RELATED: George Harrison Thought The Beatles Would Survive Only a Couple Years, Here's What He Planned to Do After
Her strength during the attack amazed Tom Petty
In a special edition of Rolling Stone called "Remembering George," Petty spoke about George's home invasion. He said Olivia's actions impressed him.
He said, "When I heard about it, I sent George a fax, and it just said, 'Aren't you glad you married a Mexican girl?' [laughs] Olivia really kicked a**. She is a beautiful person.
"Olivia had the hardest job in the world, because she loved George more than all of us, and she really took care of him and cleared the path in front of him, behind him, and inherited that crazy life, you know."
Olivia certainly had the hardest job in the world being Mrs. Harrison. However, she's done it impeccably.
RELATED: Why George Harrison Played Bass on The Beatles' 'She Said She Said'