George Harrison's Wife Olivia Never Felt Overshadowed by His Devotion to Music: 'I Was Never Jealous of It'
George Harrison's wife Olivia understood her husband enough to know that a song could come at any point. Like many songwriters, George often dropped what he was doing when a song came to him and started writing it down, wherever he was or whoever he was with.
However, instead of being angry at George's diverted attention or thinking he cared more about his songs than her, Olivia always helped her husband.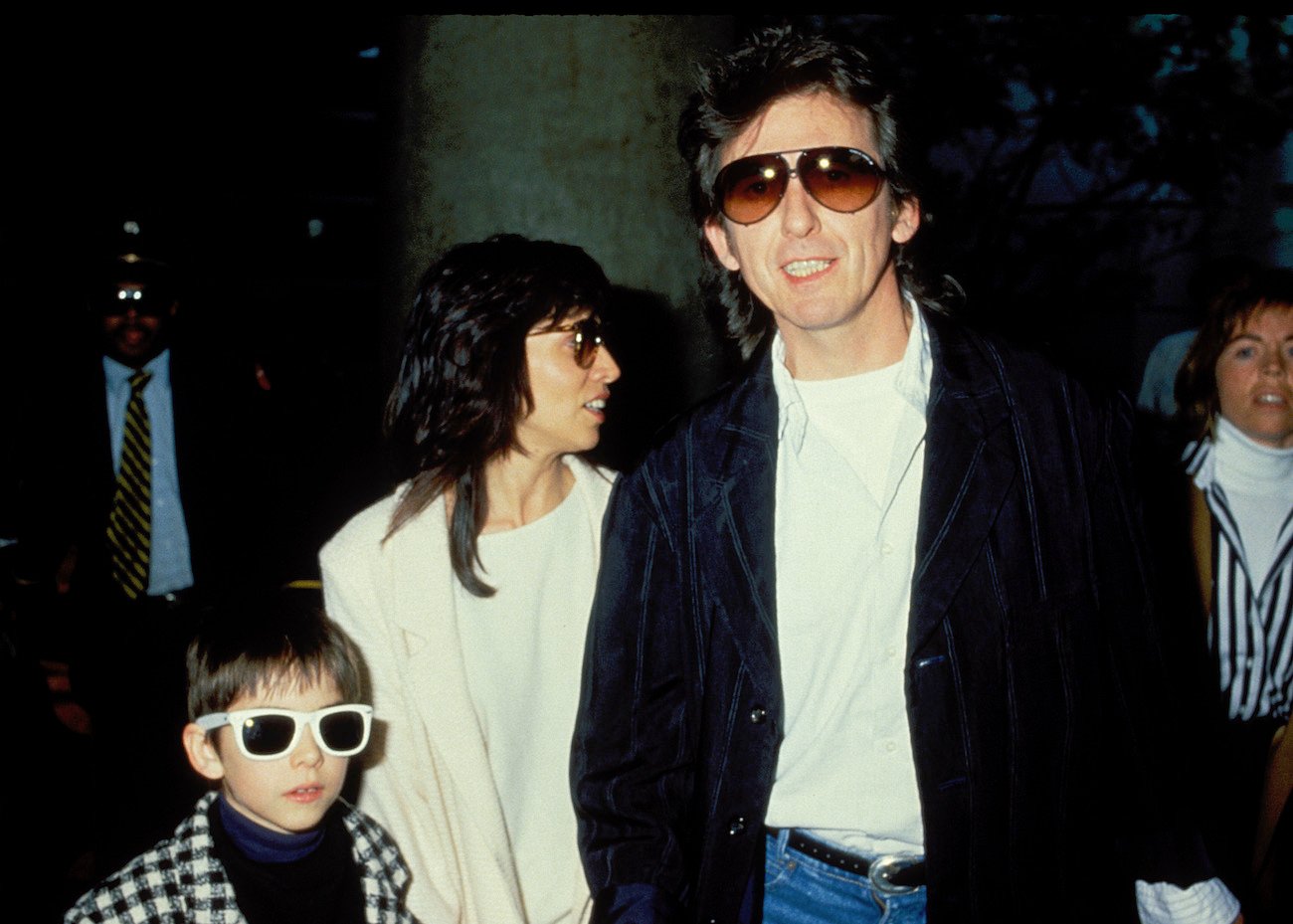 George Harrison's wife Olivia didn't get mad when he'd drop everything to write a song
In an interview with AARP, Olivia explained that she never felt overshadowed or jealous by her husband's devotion to music. She gave him the tools to write his songs and was in awe of his songwriting.
"'It's not a competition,' George would always say," Olivia explained. "I have so much respect for artists and the creative process. That gift is all-consuming and holds a place that floats above. You know it's coming from somewhere they don't even know.
"I experienced that myself when I was writing this book [her new poetry book, 'Came the Lightening']. If we were on holiday and George started to write a song, I would immediately hand him a pencil or paper. I was never jealous of it. I was in awe of it."
Olivia did so much more to help George in the songwriting process.
RELATED: What George Harrison's Wife Olivia Thinks He'd Say to Her if They Met One Last Time
George wrote songs with the help of Olivia
George had an interesting way of writing things down. Olivia told Billboard that George would walk around and "take a piece of paper out of his pocket and it would end up somewhere. Maybe he would stick it in a book or in a drawer or somewhere."
Sometimes they weren't even lyrics. George would often think of something, usually a strange, nonsensical sentence, and Olivia would find it later, confused.
"George wrote a lot of his thoughts down himself," Olivia explained. "Sometimes it was just one sentence that you just thought, 'What does this mean? 'Goats on my roof' what does that mean?' Or 'When you strip it all away, there is only love.' Which is a very beautiful line he just wrote on a piece notepad from a hotel."
When George began writing a song, Olivia would become his scribe, writing anything down that he needed to remember later. Essentially, she was his "amanuensis."
"Sometimes if he was working on playing the guitar he'd say some lyrics and if he didn't have a tape cassette I would try take the role of the amanuensis [laughs], you know, just copy down what he was saying so he wouldn't forget. Most of the time he'd say go and grab the cassette recorder," Olivia explained.
"It wasn't a trance. He was just like, 'Oh, I just had an idea' and a light bulb would go off and then off he'd go. I'm not a songwriter so I can't really explain it, but I'm sure anyone that with an idea like you as a writer, I'm sure you go, 'Ahhhhhh, I got to get that down.' It's the same in every creative process."
RELATED: Eric Clapton Warned George Harrison's Wife Olivia About Dating Him
She understands songwriting better now that she's written a poetry book
Following George's death in 2001, Olivia started writing poetry.
She told The Sunday Times that she started reading poetry five years ago after a "funny turn" caused temporary amnesia. Then, Olivia started writing poetry again. Suddenly, it came to her easier, and she couldn't stop. She thinks it's a positive side effect of the "funny turn." Now, because poetry is easier to write, she understands songwriting better.
"Carl Jung coined a phrase," she said, "a crazy word called enantiodromia. It's the reversal of poles. Left brain, right brain, all the things I couldn't get out suddenly were coming out. You know, I could organise you to death, but I could not get through that other creative side.
"And I think that's what happened. I understood George, I understand my son much better. He's a very creative person. I suddenly dipped into another world."
Olivia recently released a collection of 20 poems for George in a poetry book called Came the Lightening. In the book, there's a poem called "Her or Me," about George's love for his guitar. However, Olivia knows George's love for her was greater.
RELATED: George Harrison Wasn't Sure How Good of a Friend He Was to Bob Dylan