George Harrison's Wife Said Eric Clapton's Performance of 'Beware of Darkness' Was the 'Most Excruciating Song' During Concert for George
George Harrison's wife, Olivia, said Eric Clapton's performance of 'Beware of Darkness' during Concert for George was the hardest song to hear that night.
In 2002, a year after George Harrison died, his wife, Olivia, and George's friend Eric Clapton started organizing Concert for George. They felt they had to do something to celebrate George and his music. So, they rounded up almost every one of George's closest friends from all walks of life.
There was Ravi Shankar, George's spiritual guru, George's fellow Beatles, Ringo Starr, and Paul McCartney, George's fellow Traveling Wilburys bandmates, Tom Petty and Jeff Lynne, the guys from Monty Python, and many more. Together they paid homage to George and grieved his loss with fans at London's Royal Albert Hall.
However, Olivia was still mourning her husband. It had only been a year, and her grief was fresh. She didn't have to give fans and George's friend's Concert for George so soon. Yet she did, despite what she may have been feeling, especially hearing certain songs.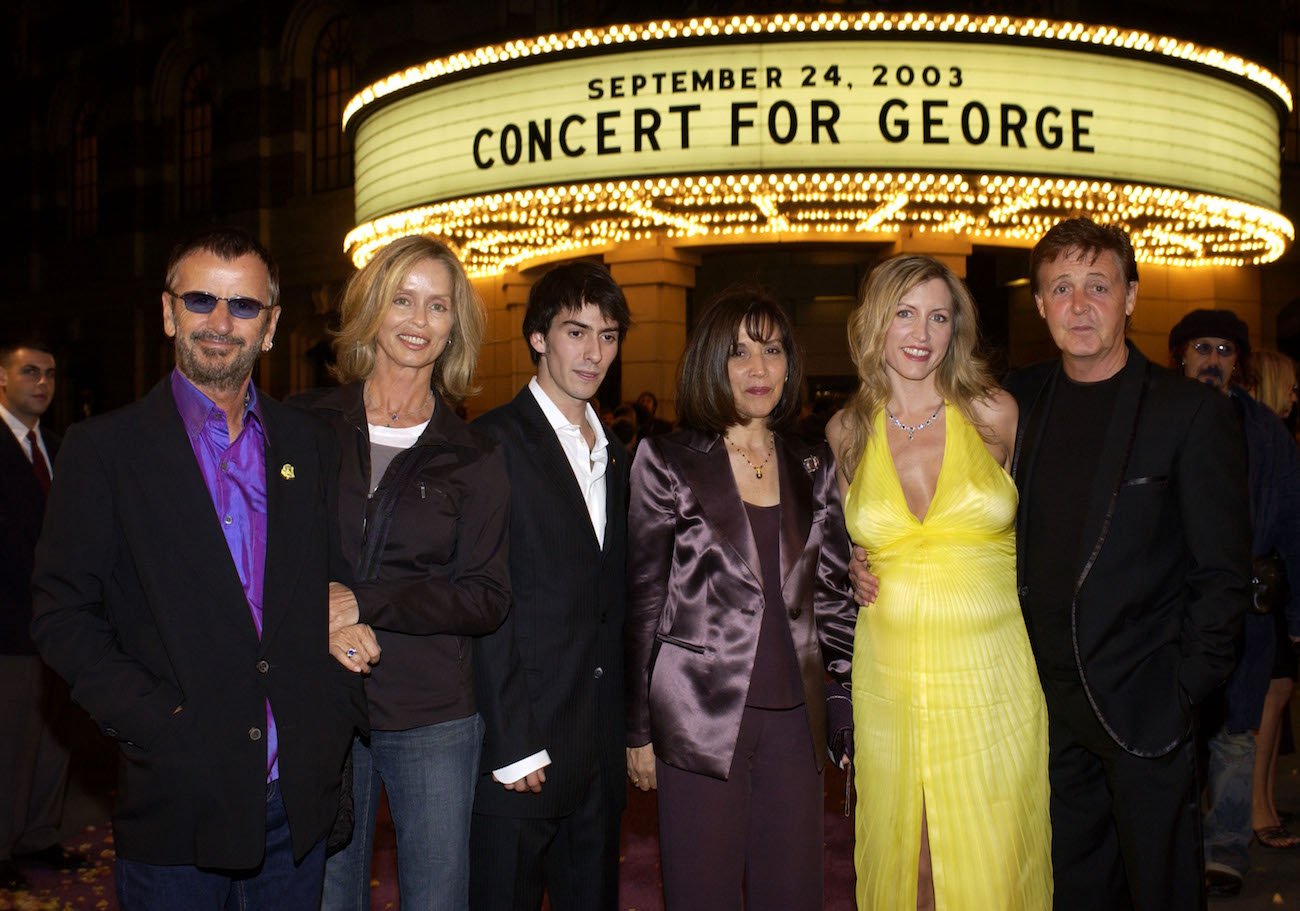 George Harrison's wife, Olivia, said Eric Clapton's performance of 'Beware of Darkness' was 'excruciating' to hear
Watching Concert for George, it's hard to ignore the amount of emotion from the performances. Even if George's death weren't so fresh, you'd be hard-pressed to find a single dry eye in the audience. We weren't the only ones who cried at some point during the concert.
Olivia told Rolling Stone that Eric Clapton's performance of George's 1970 song "Beware of Darkness" was the hardest song to hear.
"That was the most excruciating song," Olivia said. "It was obviously very emotional for me to see him [Dhani] up there paying tribute to his dad.
"And listening to George's words — 'Beware of sadness/It can hit you, it can hurt you, make you sore/And what is more, that is not what you are here for' — feeling so incredibly sad and trying not to be sad — taking George's advice."
Understandably, those lyrics would be hard for Olivia to hear. There are still songs that make Olivia cry.
It was hard for Olivia to hear remastered songs on 'All Things Must Pass'
During an interview with Esquire, George's son, Dhani, explained how remastering All Things Must Pass was. He and Paul Hicks would show Olivia their progress, and sometimes they'd cry hearing certain songs.
"It was clear to me and Paul what the cool stuff was," Dhani said. "So we'd make our selections and then take it to my mother and say, 'What do you want to hear, what do you not want to hear? What is the right path to go on this one?'
"We'd get to some takes and we'd just cry. It sounded so recent and new and fresh. We based everything on a family, emotional response to see what moved us the most."
Olivia's favorite is 'Run of the Mill'
George's "Beware of Darkness" might have made Olivia sad during Concert for George, but there are a plethora of her husband's songs that make her happy. Olivia told Billboard that "Run of the Mill" is her favorite, as well as the song George wrote about her, "Dark Sweet Lady."
Olivia explained, "All those songs like say 'Your Love is Forever,' which has that line 'Sublime is the summertime warm and lazy/These are perfect days like heaven's about here.' That is so personal to me because I think about somewhere we were and it was beautiful and warm and there was no pressure and no angst.
"Those times in your life when everything is just smooth and beautiful and you can really be your best self and who you want to be. Songs like that, the lyrics to those, they're the ones that mean so much to me. They all do, but that one, 'Sublime is the summertime…'"
Either way, whatever song of Olivia listens to, George wouldn't want her to cry. As she said, she needs to take George's advice in "Beware of Darkness." They're still in communication with each other anyway.