George Harrison's Wife Said She Was the Shelter From the Storm in George's Life
George Harrison's wife, Olivia, said she was the shelter from the storm in her husband's life. Olivia lived in a world outside of fame and that comforted George.
In the mid-1970s, George Harrison was in a bad place. He needed someone to pull him out of the dark pit he'd entered during his separation from his first wife, Pattie Boyd. That person ended up being George's future wife, Olivia Arias. She was the embodiment of all the things George craved. Shelter from a storm.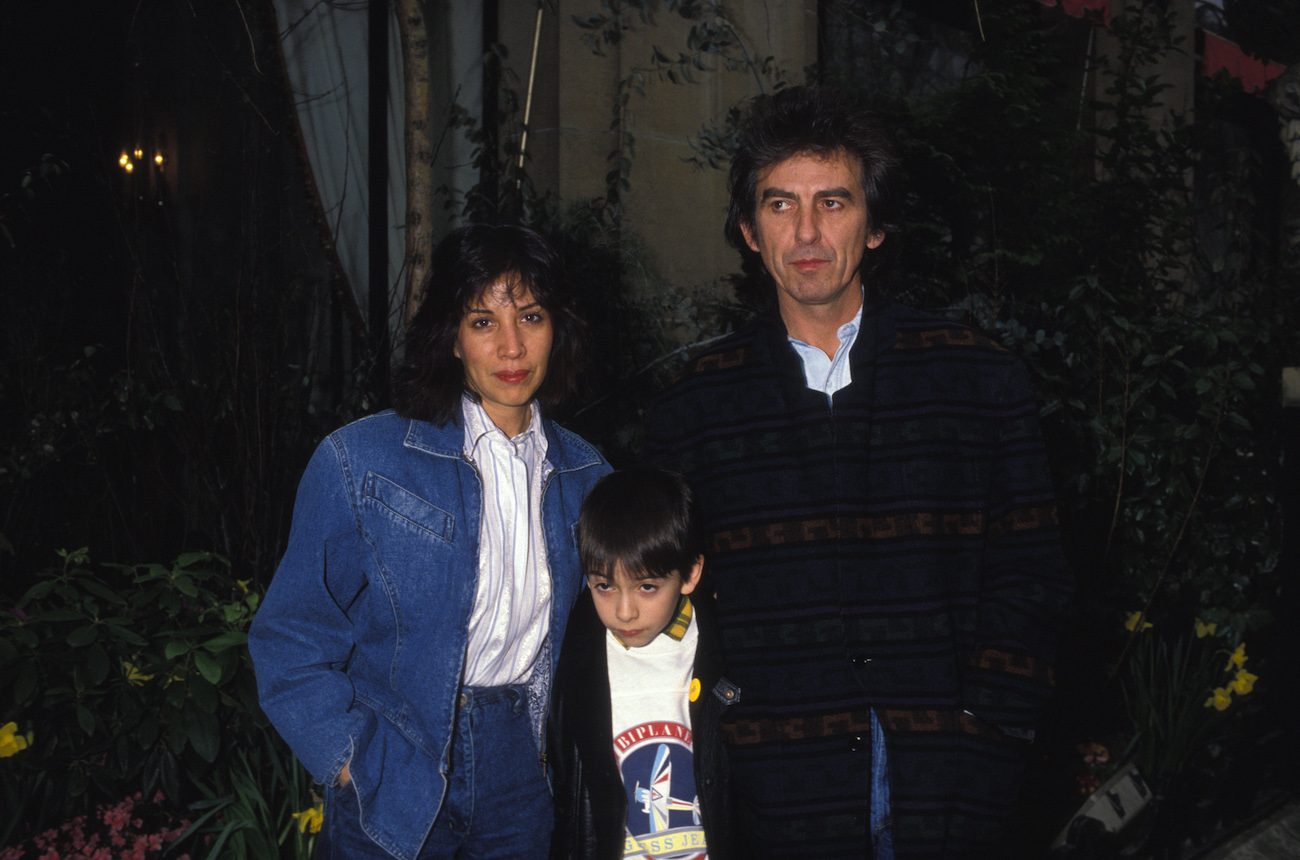 George Harrison met his wife, Olivia, when she started working for his record label
In 1972, Olivia Arias started working at A&M Records. She began having regular correspondence with George over the phone because A&M was distributing George's new record label, Dark Horse.
After many phone calls, George became impressed with Olivia and arranged for her to work at Dark Horse. The first time they met in person, Olivia greeted George outside the new record label's offices on its launch day.
No one arranged a welcoming party for George nor a celebration for the launch, yet Olivia felt like someone should greet him.
"I thought somebody should," Olivia told Rolling Stone in 2020. "He drove onto the lot by himself in this little car, and I thought, 'Jeez, this is a big day in his life,' and I went outside and said, 'Welcome!'
George asked Olivia, "What's going on?" Olivia said, "He was very excited, but it was just me."
Olivia wasn't just welcoming George to his new label; she welcomed him to his new life. George was going through a dark period in the wake of his first marriage to Boyd.
In 1979 George told Rolling Stone, "Yeah, well after I split up from Patti, I went on a bit of a bender to make up for all the years I'd been married. If you listen to 'Simply Shady,' on Dark Horse, it's all in there – my whole life at that time was a bit like [laughing] Mrs. Dale's Diary [a now defunct British radio soap opera].
"I wasn't ready to join Alcoholics Anonymous or anything – I don't think I was that far gone – but I could put back a bottle of brandy occasionally, plus all the other naughty things that fly around. I just went on a binge, went on the road… all that sort of thing, until it got to the point where I had no voice and almost no body at times."
Olivia said she was the shelter in the storm for George
After talking so much, George and Olivia found that they had similar interests in spirituality. However, that wasn't all that attracted the ex-Beatle to the California native. She lived outside of his world.
In 2005, Olivia told the LA Times, "I was from outside of his world. I was shelter from the storm. I was simple, and he needed some simplicity at that point."
Being in The Beatles and experiencing an extreme level of fame took its toll on George. Most of the time, he liked living away from it all and simply attending to his garden at Friar Park. Marrying someone outside of the bubble was comforting.
Olivia told the publication that she "never really stopped to think about the implications of getting involved with a musician, much less an ex-Beatle." She explained, "You can't really think about it that way, otherwise you're just playacting."
"I met Olivia and it all worked out fine," George told Rolling Stone. He mentioned the song he wrote about Olivia, "Dark Sweet Lady," which includes lyrics like, "You came and helped me through/ When I'd let go/ You came from out the blue/ Never have known what I'd done without you."
"That sums it up," George said.
The former Beatles always told his family to 'be here now'
Thankfully, Olivia was just as spiritual as George, a bonus in their relationship. However, there were times when George had to remind his wife about their mission as human beings.
Throughout the Harrisons' 30 years together, "the issues of possession, attachment and identification with the ego were in the forefront of our awareness and George was always quick to point out that in reality there is no I, Me or Mine," Olivia wrote in the new intro to George's 1980 memoir, I Me Mine.
"George was relentless at keeping our spiritual aim true," Olivia continued. "We were only humans walking a long road towards our shared goal of enlightenment and I, for one, welcomed any reminders.
"In the course of a day I might have said, 'Oh, your bit of the garden looks great,' to which he would reply, 'It's not my garden, Liv.' It was his way of reminding himself and me that we are pure Spirit, and that the Spirit is in 'every grain of sand,' belonging everyone and no one; that nothing is 'mine' and that the 'I' we all refer to must be recognised as the little 'i' in the larger scheme of the Universe."
Olivia explained to the LA Times, "One of his favorite things to say was, 'Be here now.' Sometimes he and Dhani would be talking and Dhani would ask, 'Well what if this happens?' or 'What if that happens?' George would say, 'Be here now. Be here now.'"
George might have died in 2001, but that doesn't mean Olivia hasn't been in communication with him. They talk pretty frequently.