George Harrison's Wife Said He Would've Gotten a Kick out of His Family's Recent Grammy Win
At the 2022 Grammy Awards, George Harrison's wife, Olivia, their son, Dhani, and Darren Evans took home a Grammy for Best Boxed or Special Limited Edition Package for their work on All Things Must Pass: 50th Anniversary Edition.
Olivia said George would have gotten a kick out of his family receiving the honor.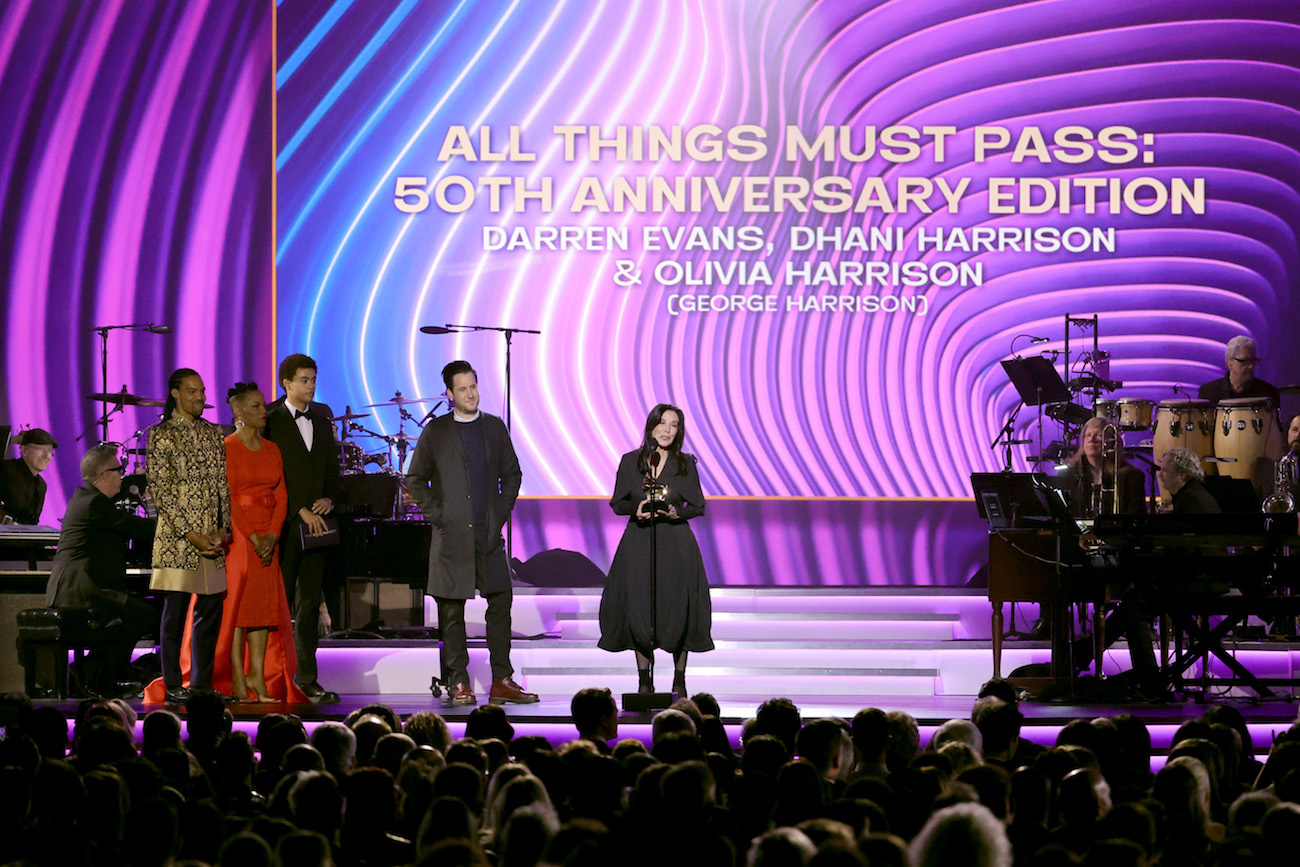 It wasn't easy working on 'All Things Must Pass: 50th Anniversary Edition'
The All Things Must Pass: 50th Anniversary Edition took a lot of planning. Dhani served as the executive producer of the project. He worked tirelessly with Paul Hicks to enhance the triple album and tons of never-before-heard tunes and demos "by way of a higher-resolution transfer that wasn't technically possible at the time of previous reissues," Rolling Stone wrote.
"You want to be respectful of the original," Hicks said. "Dhani and I hate the expression 'de-Spectorizing.' That's not the point of this project." Producer Phil Spector added reverb on the album that George himself hated.
George's website writes that the anniversary edition is decades in the making and fulfills George's longtime desire. However, the massive 5 CD/8 LP box set, which comes in "Super Deluxe" and "Uber Deluxe" editions, wasn't the only labor of love.
The edition comes in a wooden box. Dhani said its looks like it could come from George's home, Friar Park. There are also gnome figurines and one of George as well. Olivia contributed to the effort by curating a book that contains fragments of a 150-year-old oak tree in its cover. She said that they paid attention to every detail.
Olivia said it was great receiving the award. "Fifty years after this album was made and fifty-eight years since George got his first Grammy when at the seventh annual Grammys, The Beatles won Best New Artist. It's that amazing?" she said at the 2022 Grammy Awards.
"Forty-four years ago, 'All Things Must Pass' was inducted into the Grammy Hall of Fame. Here it is, 50 years, 50th anniversary. Really Dhani and I and our team, Paul Hicks, remixed it; not an easy thing to do because Phil Spector produced it, and there were a gazillions tracks on it, great musicians.
"I think the music is full of hope and compassion and curiosity and rock 'n' roll. Fifty years, here we are. I think the music is here to stay."
RELATED: Dave Grohl Had No Idea Who George Harrison's Son Was When They First Met
Olivia said George would have chuckled at his family's Grammy win
Olivia said the former Beatle would have appreciated his family's recent Grammy win. However, not because it's his music, but because it's their project.
"I think music is all out there in the great Akasha," Olivia said. "We can tap into it, and I think his is enduring. He liked the album, you know. He never talked about his music too much, but once in a while, would say I like that song, or I think this was a good album.
"I think he'd be really chuckling that this is happening. For us, really. It's for us because it's an expression of our love and our respect and what we think about his legacy and his music. Really, that's what we poured into it. It's always bittersweet when George is recognized, but it's all wonderful. It's always emotional."
RELATED: Concert for George Showed Dave Grohl That He'd Been Mourning Kurt Cobain Through Music
Olivia and Dhani hold records for their Grammy win
George's widow attended the 2022 Grammy Awards and picked up her and her son's Grammys. Both now hold an important record within the Beatle family. According to Billboard, Dhani is the first child of a Beatle to receive a Grammy.
Meanwhile, for her part, Olivia is the third wife or widow of a Beatle to win a Grammy. Linda McCartney shared two awards with her husband Paul McCartney for their work in Wings – "Band on the Run" (1974) and "Rockestra Theme" (1979). Yoko Ono shared the Album of the Year award with her late husband John Lennon for their work on John's last album, Double Fantasy (1981).
Olivia and Dhani are undoubtedly proud of their work on All Things Must Pass: 50th Anniversary Edition. However, they don't need a Grammy to carry on safeguarding George's legacy. Still, it is nice that the Grammys recognized them. George would be proud.
RELATED: George Harrison Rejected Crosby, Stills & Nash's Audition for Apple Records