George Harrison's Wife Said He Wrote a Song About Wanting to Be Closer to Bob Dylan
It took George Harrison and Bob Dylan a little bit to get comfortable around each other. All they needed to do is write a song together.
George Harrison's wife Olivia once said that George and Bob Dylan "had a soul connection." However, it wasn't always so. George had to coax Dylan into opening up to him and letting him in during one of the first times they hung out.
What loosened everything up and got Dylan to take down the protective walls around his heart in the otherwise awkward meeting was music, of course. And a song called "I'd Have You Anytime."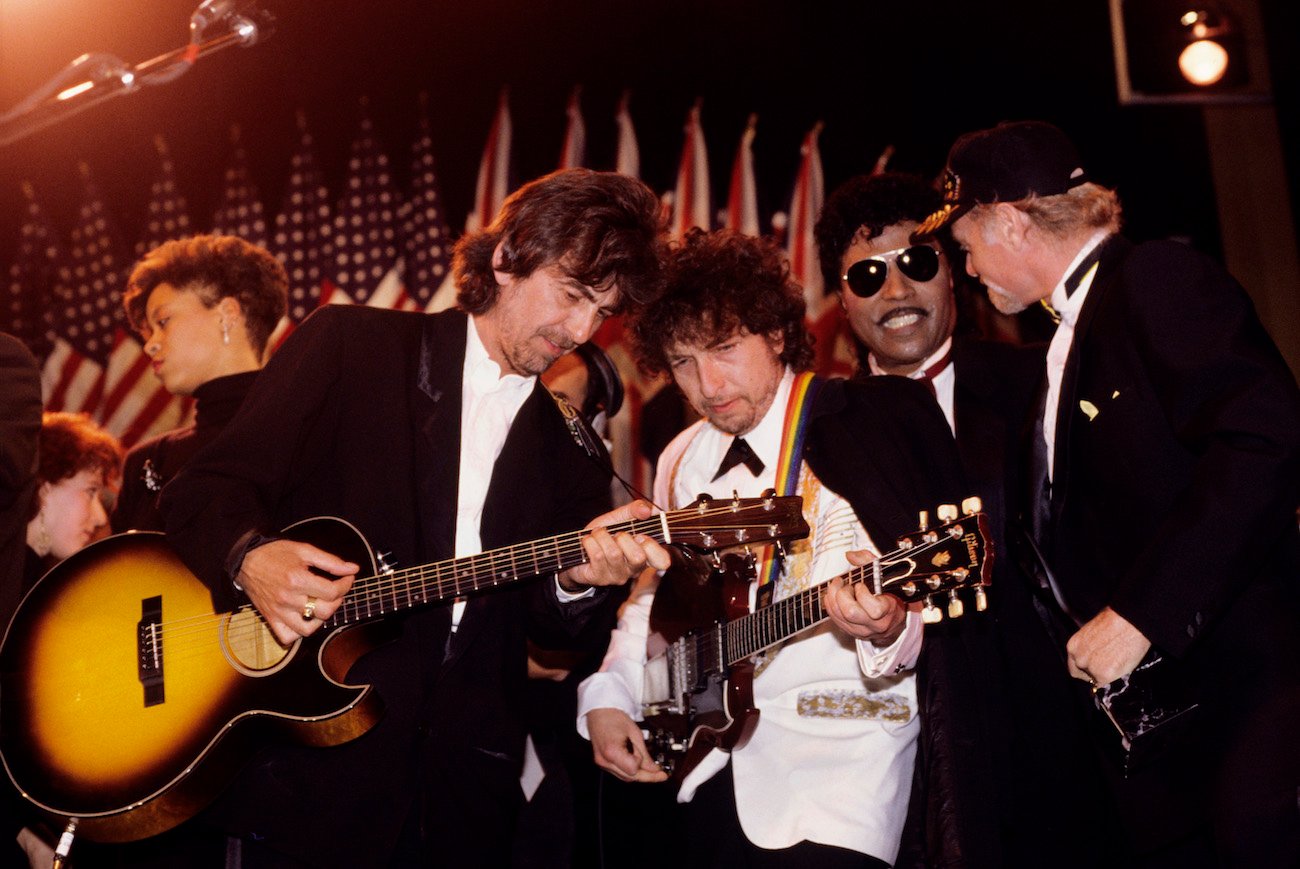 George Harrison wrote 'I'd Have You Anytime' with Bob Dylan
In his 1980 memoir, I Me Mine, George wrote about the origin story of his song "I'd Have You Anytime." He wrote it with Dylan when he visited him in America for Thanksgiving in 1968. However, it wasn't easy getting Dylan to relax around him.
"'I'd Have You Anytime' was started in America, in Woodstock—I was invited there by the Band," George explained. "It was Thanksgiving time and I'd just finished producing a Jackie Lomax album, directly after the Beatles 'White' album.
"Bob Dylan had gone through the thing of breaking his neck in a motor-cycle accident and being out of commission for a time. He'd got himself back together and had finished Nashville Skyline shortly before I arrived there.
"I was hanging out at his house, with him, Sara and his kids. He seemed very nervous and I felt a little uncomfortable—it seemed strange, especially as he was in his own home.
"Anyway, on about the third day we got the guitars out and then things loosened up and I was saying to him, 'Write me some words,' and thinking of all this: Johnnie's in the basement, mixing up the medicine, type of thing and he was saying, 'Show me some chords, how do you get those tunes?'
"I started playing chords, like major sevenths, diminisheds and augmenteds and the song appeared as I played the opening chord (G major seventh) and then moved the chord shape up the guitar neck (B flat major seventh). The first thing I thought was: 'Let me in here/ I know I've been here/ Let me into your heart.'
"I was saying to Bob, 'Come on, wrote some words.' He wrote the bridge: 'All I have is yours/ All you see is mine/ And I'm glad to hold you in my arms/ I'd have you anytime.' Beautiful!—and that was that."
George's wife, Olivia, said George was talking to Dylan through 'I'd Have You Anytime'
It's clear that George had to give Dylan a little nudge to get him to open up. That's where lyrics like "Let me in here" come from. George's wife, Olivia, explained that George talked directly to Dylan when they wrote "I'd Have You Anytime."
In Martin Scorsese's documentary, George Harrison: Living in the Material World, Olivia explained that George had an almost romantic relationship with Dylan and the rest of his friends.
"They say in this life you have to perfect one human relationship in order to really love God," she said. "You practice loving God by loving another human and by giving unconditional love. George's most important relationships really were conducted through their music and their lyrics.
"I mean 'I'd Have You Anytime,' the song that George and Bob wrote together. 'Let me in here/ I know I've been here/ Let me into your heart.'
"He was talking directly to Bob because he'd seen Bob and then he'd seen Bob another time and he didn't seem as open and so that was his way of saying, 'Let me in here, let me into your heart.' And he was very unabashed and romantic about it in a sense. I found that he was very-he had these love relationships with his friends. He loved them."
Dylan said his friend was like 'the sun, the flowers and the moon'
George and Dylan became close friends after writing "I'd Have You Anytime." Dylan participated in George's benefit concert, Concert for Bangladesh, and later, they became bandmates in the Traveling Wilburys.
George began to love Dylan like he did all his other friends. In a special edition of Rolling Stone, "Remembering George," Tom Petty wrote that George's love for Dylan grew so much that the ex-Beatle would often "quote Dylan like Scripture."
"Bob really adored George, too," Petty said. "George used to hang over the balcony videoing Bob while Bob wasn't aware of it. Bob would be sitting at the piano playing, and George would tape it and listen to it all night.
"George adored Bob Dylan, like 'Dylan makes Shakespeare look like Billy Joel.'"
Dylan adored George just as much; he just kept his feelings about his friend to himself for the most part. In "Remembering George," Dylan had some touching things to say about George after he died in 2001.
"He was a giant, a great, great soul, with all the humanity, all the wit and humor, all the wisdom, the spirituality, the common sense of a man and compassion for people," Dylan wrote. "He inspired love and had the strength of a hundred men."
Dylan concluded, "He was like the sun, the flowers and the moon, and we will miss him enormously. The world is a profoundly emptier place without him." Leave it to Dylan to say something so eloquent.