George Harrison's Wife Says He Wanted to Be Remembered as a Gardener Most of All, One Who 'Wrote One or Two Good Tunes'
George Harrison's wife Olivia says he wanted to be remembered as a gardener who made a couple of good tunes.
George Harrison was just as good a gardener as he was a musician, but he'd rather fans remember him as the former rather than the latter. He was first and foremost a gardener, with a couple of hits under his belt.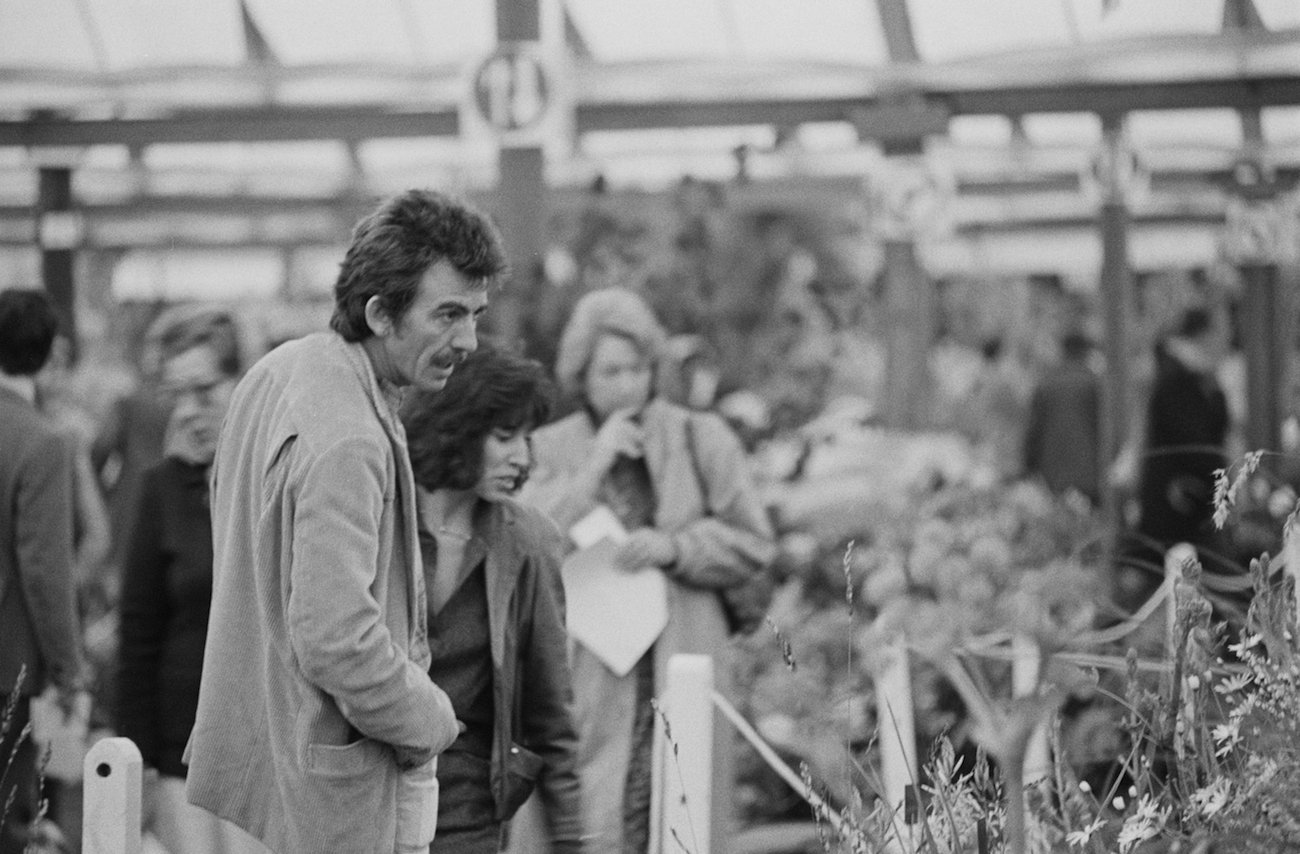 George Harrison's wife Olivia says he wanted fans to remember him as a gardener who had a couple of hits
George never concerned himself with his legacy. His wife Olivia told the LA Times she didn't think her husband thought fans would remember him.
He knew his first album outside The Beatles, All Things Must Pass, "meant things to people. He knew it helped people in their lives — people wrote to him, they told him. And he said, 'Even if it's one person, even if it helps somebody, then that's great.' But he wasn't concerned about how he would be remembered," Olivia said.
She added, "Not that he didn't want to be remembered, but he didn't expect to be remembered. Which I always thought was impossible."
However, if George wanted fans to remember him for anything, he wanted it to be for his gardening, Olivia claims in a new interview with the Sunday Times.
"George, she says, wanted most of all to be remembered as a gardener," the Times writes. "One who 'wrote one or two good tunes.'"
It's unsurprising that George wanted fans to remember him as a gardener.
George became a gardener when he bought Friar Park in 1970
Initially, gardening didn't interest George. When he bought his bungalow, Kinfauns, he didn't have a green thumb.
However, that changed when he bought Friar Park, a dilapidated Victorian neo-Gothic mansion in Henley-on-Thames, England, in 1970. Sir Frank Crisp built the property in 1889. It has 35 acres of gardens. So, George had to learn how to garden or let the grounds deteriorate further. However, that was fine with him because his home was his escape from fame.
"I decided to become a gardener," George said in an interview, explaining what he did after leaving The Beatles. "I like the garden… It's true, in the garden, you see all the seasons come and go, and whatever you do can affect it all. But at the same time, the flowers don't answer you back. Don't give you no trouble. It's very nice."
Later, all George cared about was being a gardener. George's son Dhani thought his father "was just a gardener."
In Martin Scorsese's documentary George Harrison: Living in the Material World, Dhani said, "He'd be like, 'Get that pond, put it over there, and move that hill. Don't like that hill.' And the next week, it would be pond over there, hill over there. And it would look better.
"He'd garden at nighttime. He'd garden until midnight, and he'd be out there squinting because he could see at midnight, he could see the kind of moonlight, and you could see the shadows, and that was his way of not seeing any of the weeds and imperfections that would plague him during the day. So he'd be able to imagine what it was gonna look like when it was done."
However, George wasn't gardening for himself or Friar Park.
The garden was God's
George dedicated his 1980s memoir, I Me Mine, to gardeners everywhere. However, by then, gardening became much more than weeding and planting. For George, gardening brought him closer to God.
He was always on the hunt for God. He listened to different music to get a "direct experience" and explored all types of religions. However, George didn't just use music and spirituality to reach his maker. He connected to God through nature. His garden was his temple. Everything was perfect in the garden, just like God is perfect.
"Being a garden­er and not hanging out with anyone and just being home, that was pretty rock 'n' roll, you know?" Dhani told Rolling Stone. "When you're in a really beautiful garden, it reminds you constantly of God."
In 2002, Olivia told Katie Couric on NBC that George "felt most at home outside — in the gardens of Friar Park."
"You know, it was really nature that he loved," Olivia said. "And I think he felt closest to God in nature. Yes, he loved it here. He found a place where he could get away from the crowds and this was it."
Then, in her forward in I Me Mine, Olivia wrote, "In the course of a day I might have said, 'Oh, your bit of the garden looks great,' to which he would reply, 'It's not my garden, Liv.'
"It was his way of reminding himself and me that we are pure Spirit, and that the Spirit is in 'every grain of sand,' belonging everyone and no one; that nothing is 'mine' and that the 'I' we all refer to must be recognised as the little 'i' in the larger scheme of the Universe."
Later, when Dhani visited Friar Park, he looked out at the garden. "He's probably laughing at me," Dhani said, "saying, 'That's what it's supposed to look like.' You don't build a garden for yourself, right now — you build a garden for future generations. My father definitely had a long view."
Regardless, George took care to make sure his gardens would last for future generations. Meanwhile, when Dhani asked George about making sure his music was on the record store shelves, George would shrug it off. However, music and gardening brought him closer to God.